Fidel Castro and the Father of US Presidential Candidate Ted Cruz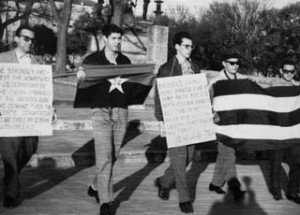 Miguel Fernandez Diaz  (Cafe Fuerte)
HAVANA TIMES — Not long before putting his hat in the electoral race, Republican senator from Texas Ted Cruz took up the entire hour of Sean Hannity's Fox News program to tell the story of his father's struggle against dictator Fulgencio Batista – but neither the presidential candidate nor Hannity made any allusion to a certain, subsequent story of struggle in favor of Fidel Castro.
This past March 23, Cruz told Hannity that, in 1957, police officers from the Batista regime captured and tortured his father. They released him on threat of death and, to escape from persecution, Rafael Cruz applied to universities in Louisiana, Miami and Texas. The latter accepted Cruz and he was finally able to leave on a ferry headed for Cayo Hueso, after a friend of the family bribed an immigration authority so they would let the 17-year-old from Matanzas with a criminal record for subversive activities leave with a US visa.
From Cayo Hueso to Austin
The young anti-Batista activist left from Cayo Hueso on a Greyhound bus headed to the university in Austin, without speaking a word of English and with only a hundred dollars to his name. Hannity immediately jumped over that part of the story leading to Austin, asking Cruz Jr. if he had indeed been born in Calgary, Canada. The constitutional clause which requires candidates to be US citizens by birth prompted a rather insipid controversy, fueled by claims that Ted Cruz, who was born in Canada, is not a legitimate candidate. His father is Cuban and became a naturalized American in 2005, but his mother was born in Delaware and, even though she gave birth to him outside the United States, passed on her citizenship to Ted, who did not require a naturalization process and can aspire to the presidency, as George Wilcken Romney, who was born in Mexico, or John McCain, who was born in the Panama Canal Zone, were able to do.
His father had worked as a cook to get free meals and to pay for his studies in chemical engineering. Two Internet journalists from Buzz Feed News, Andrew Kaczynski and Ilan Ben-Meir, followed another trail that, around 2013, the current evangelical pastor Rafael Cruz had offered at a forum of the conservative group Freedom Works: "I started to speak in favor of Castro at different rotary clubs around Austin, Texas. I thought he was the country's salvation."
Ben-Meir and Kaczynski revealed that, the day after Castro entered Havana, January 8, 1959, Cruz Sr. told the student newspaper Daily Texan that: "Castro is an educated man, with no ambitions of power." On that occasion, he took the opportunity to speak against supporters of Batista and those who called Castro a communist.
There were 15 Cuban-born students enrolled at the University of Texas and six took to the streets with two banners and Cuban and 26th of July Movement flags, to protest against the United States' decision to harbor "Batista government criminals." Rafael Cruz was carrying a banner that read: "Batista's gang have paved their way into the U.S. with Cuban bodies. Let the innocent fear not. Let the guilty face their victims, signed by the 26th of July Movement," as can be seen in the photo that accompanies this article.
Winds of Change
Cruz Sr. told the Daily Texan that he would travel to Cuba in May of 1959 and would return to continue his studies in September, but, on arriving at the island, he became disillusioned with Castroism and, upon his return, or so Cruz Jr. told The New Yorker in 2012, he made a list of places where he had spoken in favor of Castro, to go there again and beg people's forgiveness for having led others to error and even collected money for such a foul cause.
Rafael Cruz' life in the United States continued. He had married Julia Ann Garza in 1959, had had two daughters and become divorced. He had then moved to New Orleans, married again to Eleanor Darragh and then relocated to Calgary, where Ted was born. Around 1974, he had sold his company, returned to Texas and, by 1975, was already a secular pastor.
Cruz claims to have had "two heroes in my life: my father and Ronald Reagan." Cruz Sr. tells that his after-meal conversations with his eight or nine-year old son always revolved around politics: "You know, Ted, when I faced oppression in Cuba, I had a place to come to. If we lose our freedoms here, where are we going to go?"
Cruz' political makeup not only stems from Texan conservatism but also his father's anti-Batista activism and the latter's disillusionment with Castro. In his sermons, Rafael Cruz insists that, in his tendency to act unilaterally when Congress does not, Obama is not too different from that "old, bearded friend he left behind in Cuba."
On another occasion, Cruz Sr. compared Obama's message of hope and change to Castro's first harangues. Conservative radio star Rush Limbaugh absolutely loved this, saying Rafael Cruz had hit a homerun.
With yet another Cuban-born candidate, Republican senator for Florida Marco Rubio (who is apparently about to announce his candidacy to the US presidency), and Obama's new policy now in vogue and being spoken about by businesspeople, academics and travelers in the country, the race for the 2016 presidency promises to have a good dose of Cuba-related campaigns, debates and old grievances.