Good Cuban Jazz in the Gardens
Irina Echarry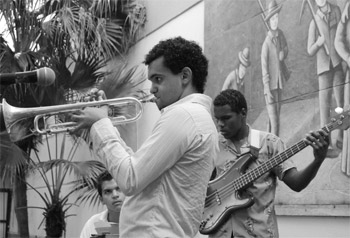 HAVANA TIMES — It was Friday as I was walking down Linea Street in the capital. Despite the honking of the P1 bus, the sound of a trumpet could be heard, a sound that invited me into the gardens of the Mella Theater.
It's a refuge for young people who perform and listen to jazz, though in recent months they've hardly had any functions.
The fact that so few seats were occupied (mainly by family members and friends of the musicians), this made me think I was at a rehearsal, but Kali Rodriguez and the group "Ta Bueno Jazz" erased that idea from my mind.
They performed as if they were on stage in a large auditorium, playing "Equinox" by John Coltrane, which was followed by Cedar Walton's "Bolivia," as well as some of their original compositions.
These Friday performances for young jazz enthusiasts have been less frequent, and what's worse is that you'll almost never know when a function is going to be held. You have to call to confirm every Friday. Nor is it possible to know in advance who will be the guest musicians, you have to wait until 6:00 pm to be surprised.
Is it so difficult to specify a schedule? This question remains unanswered. The musicians want to play there, and the theater wants to continue offering them space. That's all we know.
It's likely that in November, due to the annual "JoJazz" youth jazz festival, a youthful spirit will again invade this place.
Meanwhile, we must remain vigilant so as not to miss performances like those given by Kali on trumpet, Alberto Diaz (keyboards), Rafael Aldama (bass) and Leandro Fonseca (drums), and guests such as "Pupo" on piano and Emir Santa Cruz with his sax.
Kali — who Wynton Marsalis found to possess "something special" when he heard the young Cuban playing — told us that right now he doesn't have a regular venue. Nonetheless, whenever they invite him, you'll be able to hear him here in these gardens
—–
Address: Teatro Mella, Calle Linea (Linea Street) between A and B streets in the Vedado district
Telephone: 835-1662

Click on the thumbnails below to view all the photos in this gallery. On your PC or laptop, you can use the directional arrows on the keyboard to move within the gallery. On cell phones use the keys on the screen.