HT Cuba Photo Contest WINNERS for 2013
By Circles Robinson
HAVANA TIMES — With the publication of the winners and special mentions we conclude today the Fifth HT Cuba Photo Contest.
Let us first thank the record 90 participants who sent in 538 entries to the contest. Likewise hats off to the 20 jury members that took a critical look at each of the three rounds of selection to come up with their picks.
This year we had three winners from Cuba: Jaime Prendes (Gardens), Eduardo Javier Garcia (Lines) and Orlando Garcia (Dance).  The prize for (Transportation) went to Linda Klipp (USA) and for (Rain) to Marcin Jucha (United Kingdom).
The special mentions went to:
Dance: Matt Smith and Ghyslaine Peigné
Gardens: Marie Pierre Allard and Bill Klipp
Lines: Bill Klipp and Linda Klipp
Rain: Marcin Jucha and Bill Klipp
Transportation: Zoltan Balogh and Benjamin Bruce
We asked each of the winners to write something about themselves and about the winning photograph which we present below. We also post the photos that received a special mention.
Editor's Note: To give people traveling to Cuba during the northern winter (Dec.-March) a chance to take photos specifically for next year's contest we will be announcing the categories by late November.  The deadline for entries will be the same on September 15th.
See the photos that made it to the final round.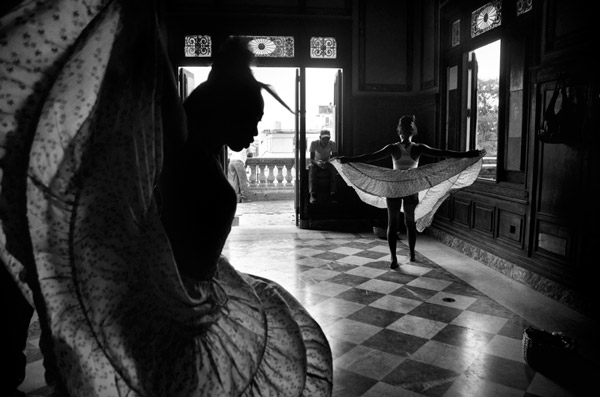 Dance: ORLANDO GARCIA
The winning photograph was taken in the Casa de la Cultura of Centro Habana during a practice of Afro-Cuban folklore by a local community dance group. When taking a picture I always try to wait for the right balance of forms and lighting within the composition.
I graduated in industrial design in 2006 but since 2003 I have been doing photography for online media. Along with my brother, Eduardo, we have participated in expositions both in Cuba and other countries including Bolivia, Ecuador, Venezuela and the United States.
My greatest desire is to travel throughout the island and be able to show in daily life the real and spontaneous Cuba.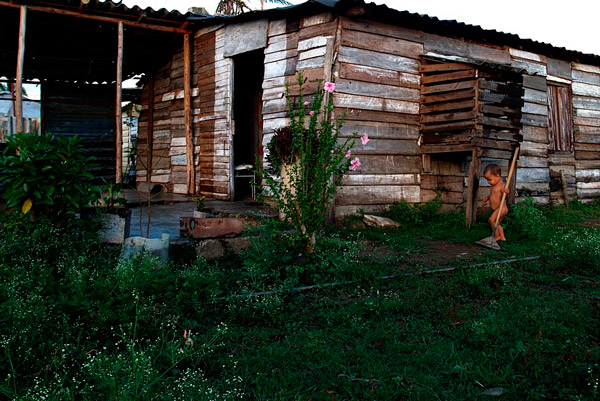 Gardens: JAIME PRENDES
"Adam" was taken in May 2010 in a rural community called "Mella" in the center of the Isle of Youth (Isla de la Juventud), which has a very rich lighting around its sunsets. I was making a study of the place for a series of nighttime photos that I want to produce at some time in the future when I came across many picturesque scenes like this one.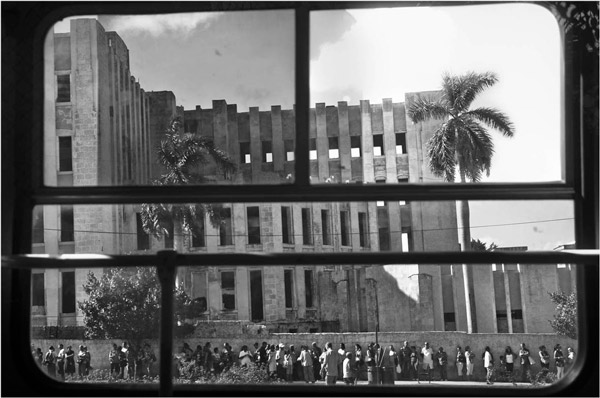 Lines: EDUARDO JAVIER GARCIA
I was born on March 14, 1978. I graduated as an English teacher, but since 2005 I'm an independent artist. I am a full-time freelance photographer and member of the Cuban Writers and Artists Association (UNEAC) since 2012.
"From where the palm tree grows", is an everyday scene in Havana. It's the line for the P11 bus that goes from Alamar to El Vedado. Alamar is a large community located on the east side of the capital with irregular transportation.
The picture was taken through the windows of a P11 bus. I took into account the composition of a very important Cuban element: the royal palm. This contextualizes the image because people associate the scene with the Island.
For me the presence of people and what is around them is very important when composing an image.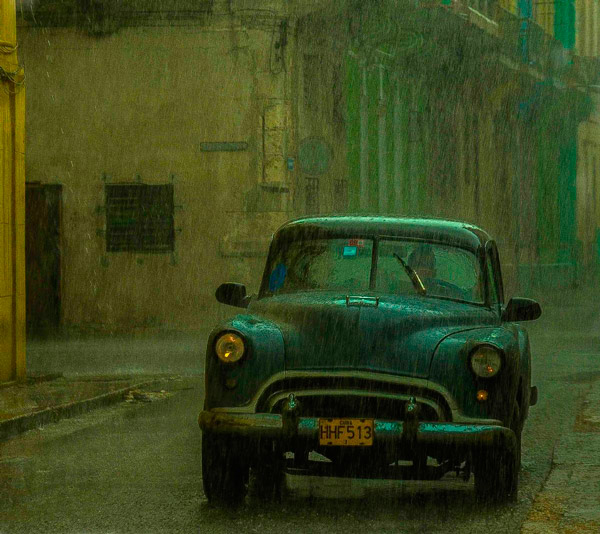 Rain: MARCIN  JUCHA
There are so many things that are going on in Cuba during the rain, especially in Havana Centro, great people and a specific atmosphere make this place my favorite photography destination. It has its own atmosphere not found anywhere else, also when it rains. The winning photo was taken in one of the streets of Centro Havana during a tropical storm.
I've been Interested in photography for over a dozen years, and although most often I do landscapes, documentary and street photography is what I'm passionate about. Cuba is the best place to improve skills in every field of photography. Good job to all the participants and see you next year!"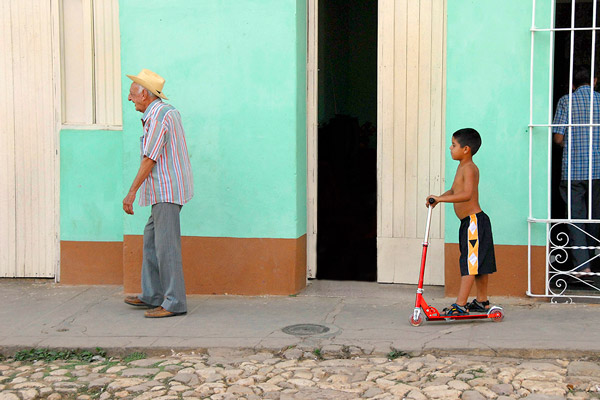 Transportation: LINDA KLIPP
My photo Trinidad Transportation struck me as generational, an old man followed by the next generation-"walking to scootering" indicates the progress being made in this colorful, well preserved city in Cuba.
Photography is the perfect way for me to capture my unique view of nature's beauty and culturally packed world. I strive to capture images that will invoke emotions to increase ones appreciation of our planet and inspire them to help preserve it for generations to come.
I'm overcome by a feeling I call soulful every time I set foot in Cuba. I fell in love with Cuban people so proud and colorful, the natural beauty of the island not to mention it's sounds. My husband and I have visited many times interacting with the locals while on humanitarian missions and now count many as friends.
Click on the thumbnails below to view all the photos in this gallery. On your PC or laptop, you can use the directional arrows on the keyboard to move within the gallery. On cell phones use the keys on the screen.