Welcome to Perico, Matanzas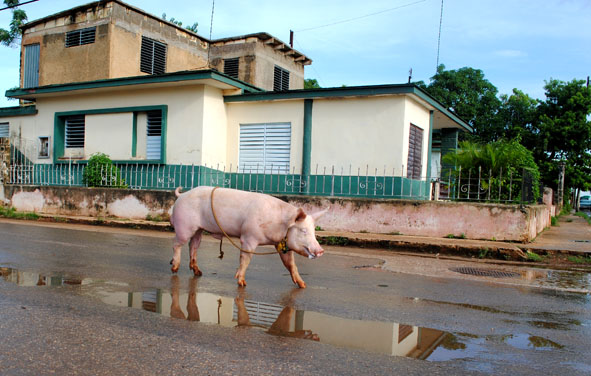 Photo Feature by Irina Echarry
HAVANA TIMES — The invitation came with a warning: "We're going to Perico, don't expect anything marvelous. The town is depressing and boring." Was I to trust the comments about a town in the countryside made by someone from Havana?
The road to Matanzas was full of immense puddles and flooded pot-holes. The rain accompanied us the whole trip. Most of the land had crops, sugarcane most of all. There was little space left for marabou shrubs, but these weren't entirely absent.
I arrived at night. My bath and dinner unfolded to the pace of the Brazilian soap on TV and were peppered by some bits of small-town gossip. A mouse was running around on the roof of the house, and the early morning was long and bothersome for me. "Could the mouse come into the house through a hole somewhere?" I wondered. "Will it get tired of running around at some point?" This noise was coupled with the crying of a new-born, Arianne, every three hours.
I got up at sunrise. Even though it was drizzling, the sun was out. When it stopped raining, I went out to take some pictures.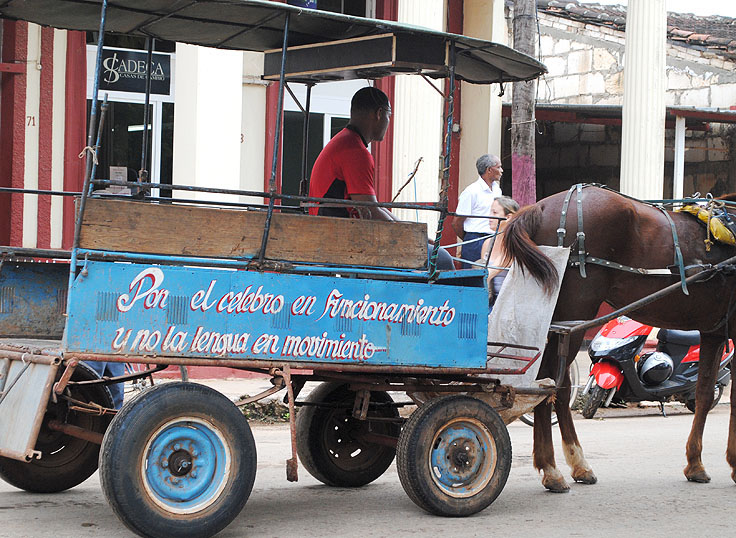 There were no surprises, save for how clean the streets looked. Despite the puddles and mud, I saw no bits of paper or garbage anywhere. People even went out to sweep or clean, not only their porches, but the sidewalk and part of the street as well. I walked with the ease allowed me by the intermittent drizzle.
In addition to its extreme cleanliness, what's special about Perico? I honestly don't know. Like most towns, people get around on horse-drawn carts or bicycles. Here, horse-drawn carts gather in front of the bus terminal. The coachmen are kind and look after their animals. Some wanted me to take pictures of them and one even asked me to photograph the stones that block the way in the middle of the road.
The coaches have signs with texts aimed at improved social exchange: "Stop staring at me," "My job is an art, but I don't want to be a starving artist," "Don't do unto others as you wouldn't have them do unto you," and others.
The streetlights are protected by charming little cages. I see a pig walking down the street, several feet ahead of its "owner." You would think he was out and about if it weren't for the rope tied to his neck.
An old man sells bicycle pedals made of white oak. They are pretty, resistant and strong, a good solution to the shortage of industrial pedals.
A push cart draws everyone's attention and, like a magnet, attracts most of the town's inhabitants. It is selling pineapple and peach juice condensate at 10 pesos the bottle, and that's not an opportunity to be missed. With this, they can ensure their kids have snacks, at least for a while. A veritable hive of people descend on the cart. The same thing happened on my block in Alamar a few days ago, when a truck loaded with onions pulled up. People became very aggressive. That's the starkest difference with the capital: here, life is simpler and more peaceful.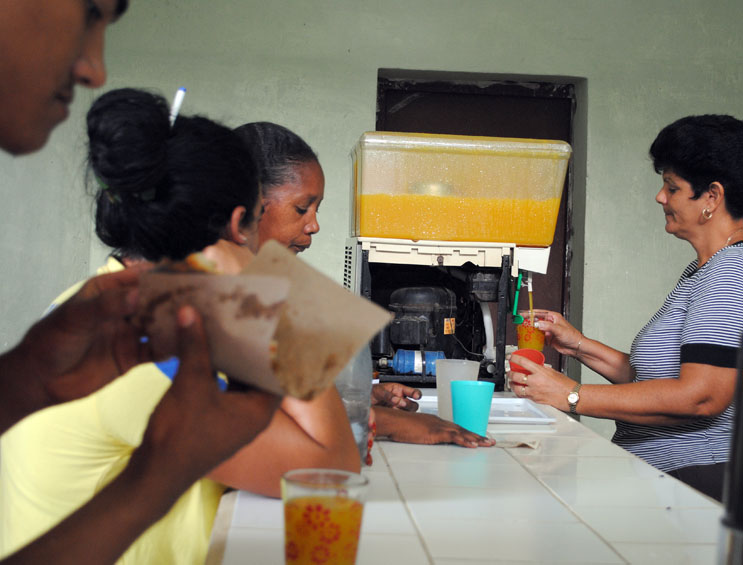 People's doors in Perico remain open and bicycles are parked in the middle of the main road. I'm told there are barely any patrol cars in town. The police don't bother people much, though, recently, they took away a camera from someone who was filming a stream of sewage spilling out of a broken drain pipe.
The person who tells me this complains about the sewage and foul smells, but concludes by saying "it was probably a human rights activist," justifying the humiliating police action. [Anything to do with the term Human Rights is looked down upon by the government and Communist Party].
That may be the reason many people asked me who I was, rather worried. At the art gallery, they had an exhibition by an illustrator of children's books. The curator said no photos were permitted and asked me inquisitively if I was an artist, where I came from and what institution I belonged to. She asked me all of these questions, just like that, out of the blue.
"Who am I, who am I with? You're asking difficult questions," I said to an old man who intercepted me on the sidewalk.
"Sorry, I just need to know. Why are you taking pictures?"
"Well, that's easier."
The old man tried justify his curiosity saying that, "since structural repairs were expected," he thought I was an architect. He was referring to the poor state of most roofs. They promised to fix them and people were anxious. He then mentioned the family I was staying with and asked what my relationship with them was.
But that's nothing out of the ordinary, right? Anywhere you go in this country, people either smile at the camera or fear it, lining up to buy the newspaper or a shot of coffee wherever these are sold.
Click on the thumbnails below to view all the photos in this gallery. On your PC or laptop, you can use the directional arrows on the keyboard to move within the gallery. On cell phones use the keys on the screen.