Nelson Dominguez 'Self-portrait' in Pabellon Cuba
By Irina Echarry, photos: Caridad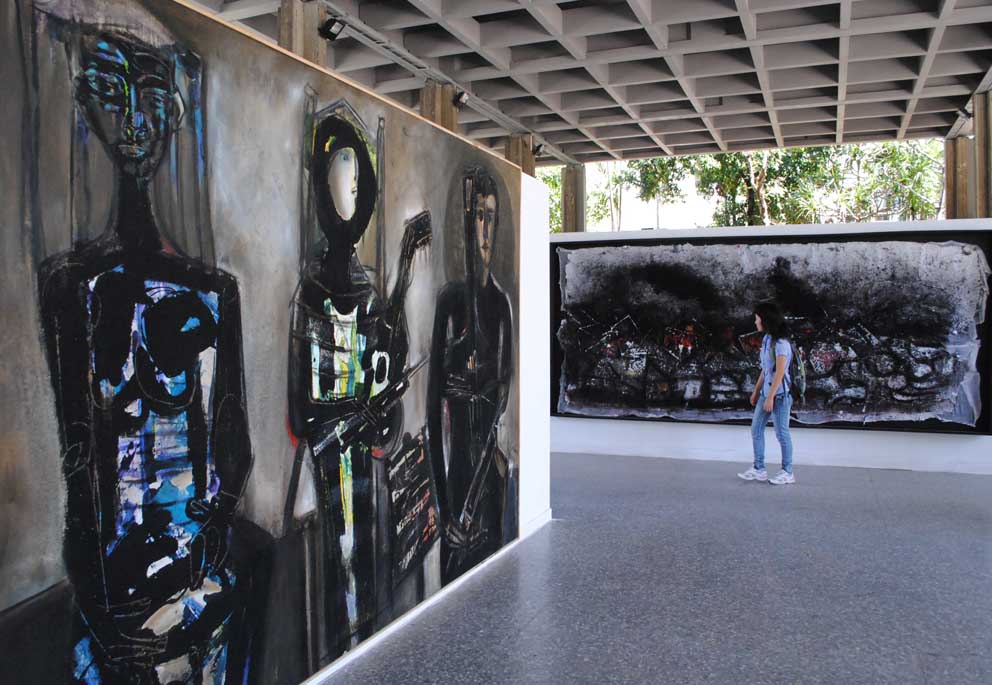 HAVANA TIMES, May 16 — The Pabellon Cuba space on Havana's trafficked 23rd ave. has a different look these days:  it's filled with paintings, installation art, engravings, ceramic works, drawings and sculptures welcoming its visitors.
Nelson Dominguez, the national art award winner in 2009, decided to transform this downtown site into a huge art gallery.  With free admission through June 4, one can enjoy the works of this artist in the most varied of mediums: wood, paper, metal, mud or marble
When the public passes through the entrance they're liable to find anything. That's why it isn't surprising to discover an immense spinning top rotating in the center of the hall or a suggestive parlor game decorating one corner with its stylized forms and strong colors.  Likewise, one will find oversized canvases covering the walls like murals, and strange and suggestive metal seats inviting everyone to admire them.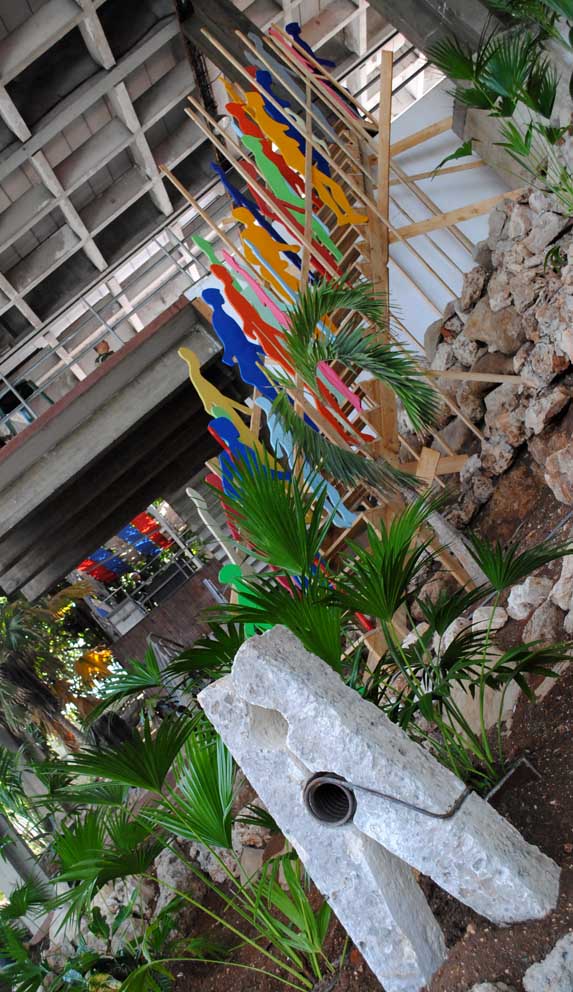 Clothes pins reflect day-to-day life artistically inserted into a bed, into different pieces of furniture or as three-dimensional figures made with different materials and textures.
The exhibition "Autorretrato" (Self-portrait) assembles almost a hundred pieces created over the last ten years, with recurrent issues such as the family and nature.  Also, in what could be called his family corner, are displayed works by his children (Li, Liam and Nelson Gabriel), in addition to those of artists and graduates from the Superior Institute of Art and the San Alejandro Academy, and works by the well-known creator Flora Fong.
As its title indicates, the exhibit allows us to see the personality, feelings and yearnings of Nelson Dominguez, the first artist to organize an individual exhibit filling all the rooms of Pavilion Cuba.
Over these next several days there will be workshops on the art of the bonsai, a technique with which he is closely connected.  Being shown from Tuesday to Sunday at 3:00 in the afternoon, will be the documentary Desafios, which is dedicated to Dominguez's work and was directed by Boris Fuentes.  Teachers of ceramists will also be giving workshops.
This is an opportunity to come closer to the life and work of this important Cuban visual artist.
Click on the thumbnails below to view all the photos in this gallery. On your PC or laptop, you can use the directional arrows on the keyboard to move within the gallery. On cell phones use the keys on the screen.