New Cuba Policy Lobbying Group Mounts Ad Campaign
#CubaNow shields donors from attack
By Tracey Eaton  (alongthemalecon)
HAVANA TIMES — The leader of a new advocacy group called #CubaNow declined on Monday to name its private donors, saying it wanted to spare them from personal attacks.
Ricardo Herrero also declined to give any details on his group's finances. He would not reveal, for instance, the cost of #CubaNow's ad campaign that debuted Monday. But after a reporter suggested that #CubaNow isn't likely to match the resources of the influential pro-embargo U.S.-Cuba Democracy PAC, Herrero shot back: "We are certainly not outgunned financially."
#CubaNow said its ad campaign was aimed at pressuring President Obama to change U.S. policy toward Cuba. The group said its campaign:
"…comes almost exactly five years to the day since President Obama first took steps to allow greater contact between Cuban-Americans and their friends and families in Cuba, helping usher in more change in that time than had been seen in the previous fifty years. #CubaNow is launching with the mission of informing, connecting and inspiring a new conversation around those changes and advocating for practical and effective policy solutions that empower individuals to serve as catalysts for meaningful change in Cuba."
In series of ads that will focus on the Washington, DC metro system targeting the State Department and the White House, #CubaNow will make the case that the President can and should take further steps that both advance America's best interests while also helping the Cuban people. For an entire month, the ads will highlight the changes happening in Cuba, and the obvious, that our 52-year-old Cuba policy simply hasn't worked.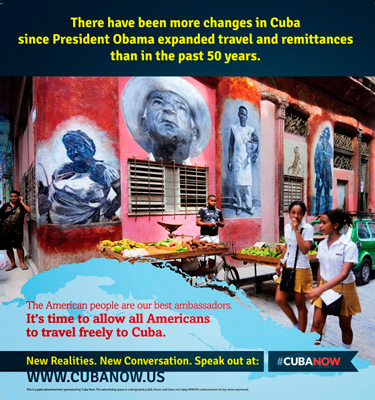 During a conference call on Monday, one reporter said that #CubaNow's stance seems to mirror that of the Americas Society Council of the Americas' Cuba Working Group, which published a memo this month asking Obama to take "a series of small but significant steps…to empower Cuban entrepreneurs."
Another reporter mentioned the Cuba Study Group, where Herrero once served as deputy executive director.
"We have ties with some of these groups," said Herrero, without giving additional details.
During the conference call, I asked Herrero who finances his non-profit organization. Here's our exchange:
Ricardo Herrera: The changes that the president has taken so far have been significant and we would like him to move further in that direction towards helping the Cuban people. We're going to be using every means available through media to help inform and mobilize people who also believe that we need to take a different approach towards Cuba both at the top and at the grassroots level.
Tracey Eaton: You can't say anything about where you're getting the money?
Herrero: Yeah, we're getting the money from individuals, donors from throughout the country who believe in our mission and our supporting us.
Eaton: Can any of them be named?
Herrera: Umm, we will- at this point we're not disclosing the names of donors. We will abide by all the reporting requirements under U.S. law, but what we want is for #CubaNow to really be a space where any American that wants to participate in this conversation and to contribute to this effort can do so without fear of personal attacks or any sort of reprisals. We know even though this conversation, the debate, has evolved significantly over the last few years, there's still too many folks in this sector who don't respect differences of opinion and tend to go after people personally.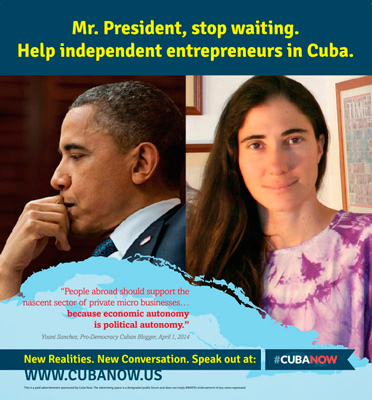 Eaton: I understand. Thanks for that. What motivates you on a personal level because, as you just said, this kind of campaign can produce personal attacks. Do you worry about people attacking you and you group? What motivates you to do this?
Herrera: What motivates me is that my family is – I was born in Puerto Rico but my family is Cuban. They have diverse views on the issue, but they themselves want to see us take a different approach. I just saw my grandfather pass away a year ago and he was never able to go back to Cuba to visit his family home because he felt he couldn't do that under the current government. While at the same time, my other grandfather will tell you that no government should deny someone the right to visit their homeland. And I thought that to me it seems like it's a policy that has not helped the members of my family, the members of my community.
It may have started with noble intentions, but the results have been counterproductive for the most part. And as we've seen over the years, a lot of people of my generation have been presented with this sort of false choice between either you are 100 percent supportive of the embargo or you somehow embrace the Cuban regime.
And what we've seen in the last few years is that there's another way. There is another approach that does seem to bear results, which is one where we empower the Cuban people, increase the flow of resources to the island to help them better take control of their own destiny while at the same time keeping pressure on the oppressors and on the government over ongoing human rights concerns.
Supporters of U.S. sanctions against Cuba say that increasing travel to the island will only help the socialist government.
Herrero said the Helms-Burton Act may have made sense in 1996, but is counterproductive in 2014. U.S. policy has "been a failure," he said. "We believe we are on the right side of history."
#CubaNow said in a statement:
"In addition to the initial round of advertising, #CubaNow will convene experts, stakeholders, and voices of change from the United States and Cuba in the coming weeks and months to dig deep into the changes happening on the island, where the Cuban people themselves are leveraging modest economic reforms into greater economic independence that was once unheard of. An embodiment of the new political landscape, #CubaNow will also work to highlight the growing consensus in the United States for a new approach. The launch and first-of-its kind advertising campaign calling on the President to act marks an unprecedented shift in the debate over Cuba policy.
"The ad campaign features three versions, one focused on Cuban pro-democracy blogger Yoani Sanchez's comments that those outside Cuba should support Cuba's new independent -entrepreneurs; another focused on the fact that our 52-year-old Cuba policy hasn't worked; and a third highlighting the power of people-to-people connections. All of them call on the President to act immediately."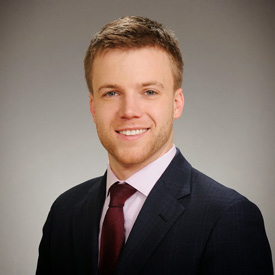 James Williams, director of public policy at the Trimpa Group in Washington, registered #CubaNow's website. Williams' biography states that he manages a portfolio of state and federal government relations, strategic political consulting, and philanthropic and political investment advising for institutional and individual clients.
Before joining Trimpa Group, Williams served as a consultant to the Bonner Group, a leading progressive fundraising consulting firm in Washington, DC, where he oversaw major donor relations and political fundraising. Previously, he coordinated partnerships and fundraising for the German Marshall Fund of the United States, an international public policy and grant-making institution dedicated to improving transatlantic relations. James has also worked for the John Kerry for President Campaign.
Williams serves on the Washington, D.C. Advisory Board of the New Leaders Council, a national organization dedicated to empowering emerging progressive leaders. He is also a Board member of the Project On Middle East Democracy, a non-partisan organization dedicated to examining how genuine democracies can develop in the Middle East.