Pan Am Baseball Qualifier Preview
Peter C. Bjarkman (*)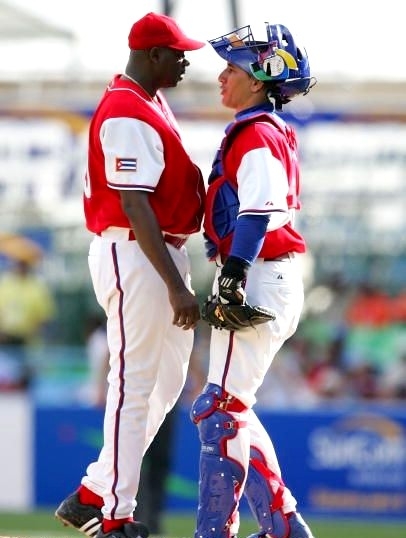 HAVANA TIMES, Sept. 19 — The Pan American Games and World Cup Qualifying Tournament scheduled to open in less than a fortnight (October 1) in Puerto Rico is only one of two highly anticipated October events. Later in the month Team Cuba and several European and Asian entrants will collide in Chinese Taipei during what is now being billed as a final edition of the recently dormant Intercontinental Cup Tournament (October 23-31).
At stake in the Caribbean during the first two weeks of October will be little more than a half-dozen qualifying slots for two prestigious 2011 IBAF events—six teams will earn an entry at next year's World Cup while the top seven will also gain eligibility for the next summer's Pan Am tournament at Guadalajara. The COPABE-sponsored games don't carry with them any prestigious gold medal award or offer any hefty point totals in the IBAF world baseball rankings. But teams heading to San Juan and other island points will nevertheless undoubtedly be playing for that always-important element of national baseball pride, even if the top medals awarded in San Juan on October 13 will not hold quite the same luster as those of more recognized IBAF championship events—like the World Cup itself, the MLB-sponsored World Baseball Classic, or even the upcoming Taiwanese games.
The Caribbean-based affair certainly promises to be a far more entertaining spectacle than the one on tap immediately following in Taiwan, even if only a decade back the latter tournament was still being billed by the IBAF as something of an international championship showcase. The final edition of the IBAF Intercontinental Cup (first played in Italy in 1973 and won ten times by Cuba and only twice each by the Japanese and Americans) will draw a field that promises to be not nearly as strong—Cuba (an obvious main attraction), Asia's "big three" powers, and a pair of European clubs (The Netherlands and Czech Republic). Cuba will be sending the same squad slatted for Puerto Rico (with no more than a possible handful of minimal replacements) on to Taipei.
But neither Team USA nor any of the other North American or Caribbean pros will be traveling to Asia at the end of the coming month. Taiwanese tournament promoters were earlier speculating that several of the Asian entrants (Japan, Korea and the host country) would likely be bringing contingents of their top professionals to the stadiums at Taichung and Douliou. But so far there has been no news from Nippon Professional League sources to suggest that top-flight Japanese league stars might actually be available for the Taiwanese spectacle.
More at stake in San Juan
There will obviously be far more at stake in San Juan for Team Cuba than merely punching an admission ticket for a couple of events looming on next summer's international tournament schedule. The past three years have witnessed a string of disappointing "bridesmaid" finishes in top-of-the-line events that Cuba has normal dominated over recent decades. While Olympic or World Cup silver medals might be coveted in any other ball-playing nation, Cuban fans only greeted with dismay the runner-up finishes behind the Koreans in Beijing (2008) and the Americans in Taipei (2007) and Nettuno (2009).
Merely getting to the gold medal shootout is no longer much of a boasting point for a true baseball powerhouse nation that until recently had done just that in a mind-bending fifty consecutive IBAF showcase events. A most-dramatic walk-off victory over Team USA at last month's Tokyo World University Games has certainly supplied some much-needed momentum for the recently beleaguered Cuban forces. But the recent Tokyo affair was not top-level competition by any stretch—despite some promising university-level talent in the American lineup—and victory over the more potent Puerto Rican, Canadian or American AAA (rather than mere collegiate) prospects would be far more soothing to wounded Cuban baseball pride.
Team USA (managed by Ernie Young) will provide the biggest hurdle for Cuba and the American forces certainly have to rank as an early tournament co-favorite. This will not be a team of spunky but raw collegiate undergraduates like the outfit that nearly bumped off Eduardo Martin's all-star lineup in Tokyo. The American squad may in fact be every bit as talented as the one that ran the table after a surprise opening-game stumble (versus Venezuela) at last fall's European World Cup matches.
The American roster boasts four athletes from this summer's MLB All-Star Futures Game in Mike Trout (outfielder, Los Angeles Angels), Brett Jackson (outfielder, Chicago Cubs), Eric Houser (infielder, Kansas City Royals) and Mike Moustakas (infielder, also Kansas City). Besides manager Young, Team USA will be guided by such other former big league fixtures as Leon Durham (hitting coach), Jay Bell (bench coach) and Carlos Tosca (a native Cuban and former Toronto Blue Jays skipper). Nearly the same Cuban team that lost by a substantial margin to the Americans twice last September in Nettuno (Italy) may now face even greater odds in  its quest to gain at least some small measure of revenge in San Juan. At the very least the Cubans hope to send a loud message that they are still a strong contender for the next edition of World Cup contests. But one of the best American lineups in recent memory should make that anything but an easy task.
The Americans were the first contingent to announce a final roster for the Pre-World Cup matches and USA Baseball has cobbled together an impressive lineup of top prospects on the verge of major league stardom. The group includes a record six ballplayers from the Kansas City organization and three more under contract to the Colorado Rockies; there are 11 men currently playing at the AAA level (only two of them pitchers), 12 from AA clubs, and a single A-level prospect (above-mentioned outfielder Mike Trout).
The USA squad is thus comprised entirely of minor leaguers not on the forty-man rosters of parent big league ball clubs. On the list are a number of raw but promising "futures" from both the hitting and pitching sides of the game, including seven who have previous experience on various past junior and senior-level Team USA rosters. The latter group includes infielder Brian Barden (2008 Olympics, Florida Marlins) and RHP Todd Redmond (2009 World Cup, Atlanta Braves).
USA forces will tune up for their Caribbean tour with a series of late-September matches at the team training base in Cary, North Carolina. On tap as opponents are the strong Puerto Rican COPABE entrant (a single 6-inning game on September 26) and Team Canada (three matches the same week). Both Puerto Rico and Canada will spend the entire pre-tournament week training alongside the Americans at the North Carolina facility and will also face each other in a single 6-inning exhibition on September 27. The exhibition series in North Carolina should provide some clearer insight into the level of opposition that will eventually square off against the veteran Cuban League all-stars.
Cuba with similar faces as in Italy
Cuba's own entry will in large part mirror the one that did battle last September in Italy. Cepeda, Despaigne and Céspedes will again man the outfield and the infield should look pretty much the same with José Abreu (first), Héctor Olivera (second), Yulieski Gourriel (third) and Michel Enríquez (DH, or backup at third) almost certainly in the mix. Only the shortstop post will show a change in personnel; Gourriel could see duty there in a pinch but Ciego de Avila youngster Yorbis Borroto appears as the likely starter.
Pestano will again do the large bulk of the catching as he has for more than a full decade; backup backstops should be national team newcomers Yulexis La Rosa (Villa Clara) and Frank Camilo Morejón (Industriales).  Both Morejón (Tokyo) and La Rosa (Haarlem) were impressive with both bat and glove in their brief debut international trials this past summer. The pitching corps will also provide a similar look with such familiar faces as Yulieski Gonzalez, Jonder Martínez, Yadier Pedroso and Miguel Angel González likely the top starters. Freddy Asiel Alvarez will also be back after a strong September 2009 showing at the last World Cup (especially during late relief against the Americans in the gold medal loss at Nettuno). And Pedro Lazo will still loom large in the bullpen, perhaps for the final time.
But there will also be some significant changes from last September's World Cup group. Veteran southpaw Norberto Gonzalez will be back in the bullpen equation after being overlooked for national team selection last fall. The absence of Gonzalez in Europe seemed to cost the Cubans dearly when Esteban Lombillo's squad simply ran out of fresh bullpen arms in the late going and had to rely on Lazo one time too many against the hefty and savvy American bats. A pair of promising new middle relievers may also be joining the scene with powerhouse righty Dalier Hinojosa (author of a rare perfect game at the Tokyo University Games) and crafty southpaw Robelio Carrillo (who burst on the scene with Villa Clara during last spring's National Series finals).
Carrillo impressed mightily this past summer in Haarlem with a pair of clutch late-inning outings versus the Taiwanese and Americans. Borroto is the clear heir apparent to longtime team captain Eduardo Paret and temporary fill-in Luis Navas at the shortstop slot. And the biggest boast may come from a healthy return of slugging outfielder Alexei Bell. Bell paced the offense two summers back in Beijing, but then later missed the entire 2009 international season after being slowed by a National Series Opening Day bean ball. Nonetheless the muscular Santiago fly chaser rebounded with a record-setting vengeance in National Series #49 (two grand slams on opening day and seven for the campaign) and should now happily complicate the already overloaded Cuban outfield situation.
Exhibition games in Havana with Nicaragua
Cuba will stage its own set of tune-ups in Havana when it entertains visiting Nicaragua for a short series of five exhibition games commencing on Wednesday, September 22. Three games are slated for Nelson Fernandez ballpark in San José (Habana Province), with the final two weekend matches staged in Havana's spacious Latin American Stadium. Those games may not be much of a predictor of success, even though Nicaragua is slatted to play in the same Group B segment of the Puerto Rico shootout. But contests with the largely overmatched Nicaraguans will nonetheless hold at least some significance since they will represent the ultimate trial for a number of players hoping to survive a final cut and thus earn a valued slot on the official 24-man tournament roster.
Several pitchers especially (most like Odrisamer Despaigne, Arleys Sánchez and Alexander Rodriguez) will likely be under the gun as well as under the watchful eye of manager Eduardo Martin during the short Nicaragua series. And probably at least one catcher (likely Yosvany Alarcon of Las Tunas), a pair of infielders (Aledmis Díaz and either Alex Mayeta or Yoilán Cercé), and one outfielder (my guess is Yoandry Urgellés) will be among the nine players ultimately eliminated. (In a surprise announcement this weekend it was revealed that Industriales shortstop Rudy Reyes had suddenly been added to the list of now-34 remaining roster candidates; this action might indicate an injury to one of the mainstay infielders and also raises an element of mystery surrounding the final selection process.)
Lazo and Pestano Nearing Careers End
This tournament will hold one added significance for most dedicated international tournament followers since these games (along with the Intercontinental Cup affair) may well represent the swan song appearances of two of Cuba's greatest performers on the international stage over the past half-century. Pedro Lazo has already announced his imminent retirement with the early winter beginning of the historic fiftieth National Series. Lazo (the island's all-time winning hurler with 257 National Series and post-season victories under his belt) has elected to stick around for at least one more crack at the international circuit after slumping badly with his last tournament outing during the September 2009 World Cup finale.
Also nearing the end of the road is Lazo's longtime battery mate Ariel Pestano, the heart and soul of the Cuban squad since his debut at the 1999 Winnipeg Pan American Games. Pestano (though only 34 at the time) announced previous retirement plans more than a year ago, and then not surprisingly decided to return for several additional National Series go-rounds. The brilliant Villa Clara backstop is easily the best defensive receiver outside of the high profile major leagues. He has also proven to be a clutch offensive performer, peaking with a batting title and MVP honors during the 2004 Athens Olympics. Future big league hall-of-fame hurler Orel Hershiser told this writer at last year's WBC that Pestano displays talents and intelligence behind the plate rarely matched by anyone the ex-Dodger ace had ever seen in a professional major league arena.
International tournaments are not always the most smoothly run affairs and the COPABE event is so far proving to be no exception. There has to date been more than a small dose of mystery surrounding the upcoming tournament schedule and format, and several switches in the original group pairings have also transpired during the past week. But all has now seemingly been clarified and the original announcement of a possible best-of-three gold medal series has happily gone by the wayside. Cuba will play in "Group B" along with six other teams (Venezuela, Mexico, Canada, Nicaragua, Argentina, and the Dutch Antilles). Puerto Rico and Team USA head up a six-team "Group A" alignment (along with Panama, Aruba, Colombia and the Dominicans).
Games will be played in three locales during a week-long round-one round robin that will leave four teams standing in each group. Between October 9 and October 11 the top four of each division will stage a second round robin to determine final one-to-four group rankings. Semifinals will be held on October 12, with the two medal games slated for October 13 (Wednesday). Venues for the games in the second and final rounds are yet to be announced, but the medal games will more than likely be staged in San Juan's Hi Bithorn Stadium, home to the opening rounds of both World Baseball Classic events previously staged on the island.
On the surface, most observers would probably assume this tournament is headed for yet another USA-Cuba showdown finale and thus a repeat of last year's World Cup title match. But the host Puerto Ricans will likely have a lot to say about that since their own squad promises to be filled with a number of highly recognizable if slightly suspect names. The hosts confront the Americans on the second day in a telling preview match in Ponce that should reveal the degree to which the local team is either a serious true contender or mere overrated pretender.
The yet-to-be-finalized "Borinquen" team will have its share of pros, but more of them promise to be fading if not washed-up veterans than promising rookies. There will be some noteworthy former big league names since Juan "Igor" Gonzalez, Carlos Delgado, Alex Cora, Armando Ríos and Luis Figueroa have already been mentioned as forming the team's nucleus. The Puerto Rican squad will thus present a distinctly "veteran" look, much like the Cubans but in stark contrast to the Team USA and Team Canada rosters. Many questions have to loom over a squad of ballplayers whose peak career years are in large part now far behind them. But then again one should never count out completely the impact of the home crowds which will definitely favor the local Borinquen heroes.
Team Canada will also be loaded with budding professional talent and may well make a strong run in the round-one Group B matches. The Canadians face a showdown match with the powerhouse Cubans on the fifth day of action in Ponce and would seem to be to most likely runners-up to Cuba's expected first-round lead. Canada has its share of AAA prospects (nine in number, including three pitchers), though not the impressive corps boasted by the Americans. Canada will also boast a trio of ex-big-leaguers in LHP David Davidson (Pittsburgh Pirates), RHP Steve Green (Los Angeles Angels), and RHP Mike Johnson (Montreal Expos).
The Maple Leaf squad also features an additional pair of former MLB stars in manager Ernie Whitt and hitting-coach Larry Walker. No other teams have yet revealed final rosters and the remainder of the competition thus remains a complete mystery. But the history of similar past events strongly suggests that the Venezuelans and Dominicans (the obvious other big-league oriented countries) rarely field consistently competitive teams for IBAF competitions. Venezuela upset the Americans in last year's World Cup opener but then faded rapidly in round two (Netherlands) of that most recent headline  event; the Dominicans, on the other hand, didn't even qualify for the IBAF World Cup field last time around. (And there have even been some recent circulating rumors that the Dominicans might not show up at all due to continuing financial chaos in that country's governing sports ministry.)
In a nutshell, playing in Group B with the likes of Venezuela and Canada, Cuba seems to own the most direct path to the tournament finals. The longer schedule also favors the Cubans who always seem to survive handsomely in pool play competitions. This type of tournament brings its inevitable upsets since one afternoon of suddenly silent bats or one evening of dominant opposition pitching can spell doom in any given game for even the best of teams. The more games played, however, the better the chances that Cuba builds up the largest victory totals. But nothing is ever certain in short-stretch tournaments on the international level. For starters, the new IBAF tournament "tie-breaker" extra inning rule (with base runners automatically gifted on first and second to start any extra frame) can also supply some strange twists and turns in matches between equally balanced teams. To say the least, it should be a fascinating two weeks on the baseball-rich island of Puerto Rico. Therefore let's end the speculations and allow the games to begin.
(*) Peter C. Bjarkman is the author of A History of Cuban Baseball, 1864-2006 (McFarland, 2007) and is widely recognized as a leading authority on Cuban baseball, both past and present. He has reported on Cuban League action and the Cuban national team for www.BaseballdeCuba.com during the past three-plus years and is currently completing a book on the history of the post-revolution Cuban national team.