Pope Tells Cuba to build "renewed and open society"
By Isaac Risco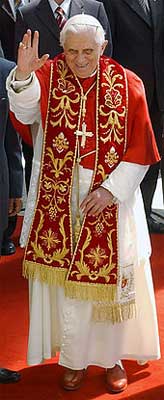 HAVANA TIMES, March 27, (dpa) —  Pope Benedict XVI on Monday called on Cubans "to build a renewed and open society," on the first day of his much-anticipated visit to the Caribbean nation.
"I appeal to you to reinvigorate your faith, that you may live in Christ and for Christ, and armed with peace, forgiveness and understanding, that you may strive to build a renewed and open society, a better society," he said during an open-air mass in Santiago.
An estimated 100,000 people, many of them waving white handkerchiefs, gathered at Antonio Maceo Square in Santiago, Cuba's second-largest city about 900 kilometres south-east of Havana, despite temperatures of 30 degrees Celsius.
Many residents had put Vatican and Cuban flags up on their windows to welcome the pope, and pilgrims traveled from as far as the central provinces of Camaguey and Ciego de Avila.
Benedict went round the packed square in his popemobile, as many pilgrims waved Cuban and Vatican flags. The pope and other church officials celebrated the service, which started about an hour late, in an altar decorated with the Cuban colours of blue, white and red.
Cuban President Raul Castro was in attendance. Local state-sector workers were given the day off so they too could go to the mass, while members of the Cuban Communist Party were also asked to attend.
Raiza, a woman who had waited for the pope at the square since the early morning, said she hoped Benedict's presence could help "solve problems, particularly the blockade."
The Cuban government blames the decades-old US embargo on the island for most of its serious economic problems. The pope was expected to express opposition to the embargo during his visit, in line with traditional Vatican policy.
Preparations for the mass were slightly disrupted when a middle-aged man tried to force his way towards the altar shortly before it began, and shouted "down with communism" before he was detained and escorted away by security agents.
Benedict arrived in Cuba Monday for a three-day pastoral visit, part of a Latin American tour that also took him to Mexico. Castro welcomed the German-born pope at the airport in Santiago, and the two men held hands in greeting.
"I carry in my heart the just aspirations and legitimate desires of all Cubans, wherever they may be, their sufferings and their joys, their concerns and their noblest desires," Benedict said in his first address on the island, as he got off the plane.
The papal visit has been the subject of much anticipation, particularly among Cuban dissidents within the country and Cuban exiles.
Human rights organizations and opposition groups have denounced scores of arrests in recent weeks, and dissidents both inside and outside Cuba have said they wish to see Benedict take a clearer stance on human rights.
Several dissident organizations had requested audiences with the pontiff, although the Vatican said there were "no plans" for such meetings.
"I am convinced that Cuba, at this moment of particular importance in its history, is already looking to the future," Benedict said.
Castro is currently leading a process of gradual reform in Cuba, including the introduction of opportunities for private initiative.
Relations between the Roman Catholic Church and Havana greatly improved under Benedict's predecessor, the late pope John Paul II, who visited Cuba in 1998 and called for greater freedom for both the Church and political dissidents.
John Paul had "left an indelible mark on the soul of all Cubans," his successor said.
After John Paul's historic visit, the Cuban state again allowed public religious celebrations, which had been banned since the early 1960s, and re-established Christmas as the island's only religious public holiday.
Benedict stressed, however, that there is now "a new spirit of cooperation and trust" between church and state.
In recent months, the Cuban Roman Catholic Church brokered the release of scores of imprisoned dissidents, most of whom were forced into exile in Spain.
Benedict was to spend the night at the shrine of Our Lady of Charity, the patron saint of Cuba, near Santiago.
On Tuesday, he was scheduled to travel to Havana, where Castro would officially welcome him to the island.
On Wednesday, the pontiff was to lead a second open-air mass, at the Plaza de la Revolucion in Havana, in what has been billed as the main event of his trip to Cuba.