Private Solidarity Cafe Where the Elderly Eat for Free
By Darcy Borrero (El Toque)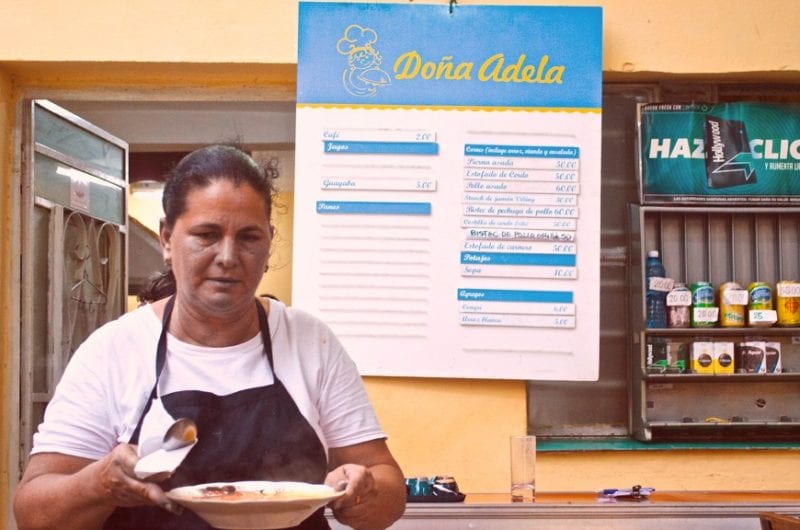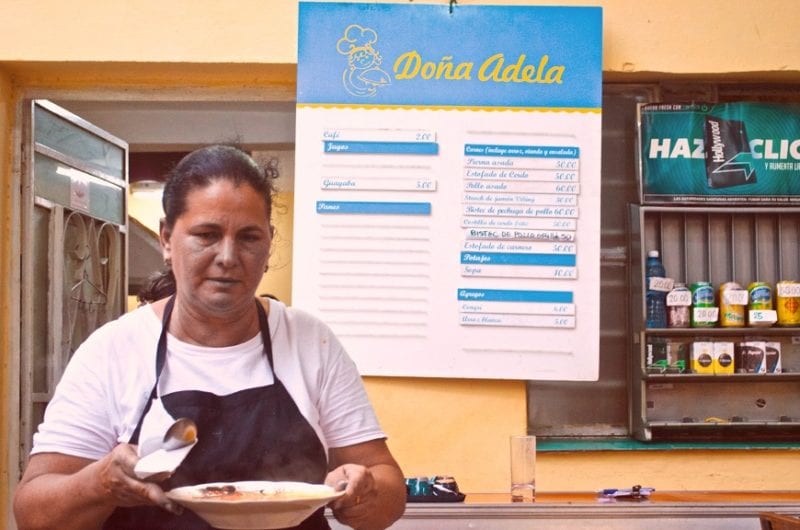 HAVANA TIMES – It's October 8th and Adela Angelbello contemplates not opening her business today after watching the weather forecast on the morning news. She runs a food establishment (which we call a paladar here in Cuba) and it might be the private sector's first solidarity restaurant.
This is why, looking up at the clouds and the downpours that Hurricane Michael has brought, Adela thinks for a long second but then decides that she will open because (she says) "do you know how many people depend on me?!".
Born in Ciego de Avila, and now 40-something years old, Adela is the owner of a paladar on L Street, between 17th and 19th streets, in Havana's Vedado neighborhood, where neighbors and workers in the area go to have lunch and eat for a mid-low price, compared to others. The most expensive thing on the menu costs 60 CUP (Cuban pesos) and includes rice, vegetable stew and mutton. ($1 USD = 25 CUP)
"Lots of elderly people come, who are alone, sick and destitute. I can tell from their mended clothes and shoes, among other signs, and so I give them free food; they become customers of mine."
When Adela says customers, she really means beneficiaries:
"A few days ago, one of the women I help passed away," she said with great sadness. She still has the last SMS messages they sent to each other on her phone. You can read something about a broken fridge, as well as many affectionate phrases. Adela clarifies that she doesn't only help her "old friends" with food, but she also helps them repair an electric appliance when they need to.
One of the stories she remembers with great fondness involves Pepin (Jose Telesforo Velazco Mujica), a 92-year-old man who took his rice cooker to her so she could fix it. And she did. Maybe because she learned from her mother, who "spent her entire life helping others, even if it meant risking going without herself."
And I ask myself whether she does this because she is religious. And she tells me she isn't, that she doesn't follow any religion.
She has only been in this new place for six months, but her reputation runs through the Vedado neighborhood. There are people who have followed her ever since she had a business on the corner of 17th street, which she set up with a relative and was called "Don Bello". And her fame is already being recognized on blogs and social media too.
She left that business so that she could be free to do whatever she wanted, among other things. "Nobody has to tell me not to do this or that, not to give out free food," she says.
"There are self-employed business owners who only worry about making money, but you have to be kind. I want to serve people. Look at me, I own a business and I cook myself," she adds.
Adela has adopted this philosophy and been living by it for years. When she lived in Ciego de Avila, she had a home-delivery food service and she used to take a meal to some old people without charging them a single cent, just like she does now.
"You don't know how many people come and tell me: Adela, how are you going to give out food for free? You're making a loss; this is your business. Even Pepin has said this to me and sometimes asks me to charge him."
But, nothing changes.
"She brings stew to my home, and not just to me, she does the same for others. I used to go before, but now I don't have to walk anymore and I wait for her here," Pepin says, who met Adela thanks to his wife, Esperanza. Both of them say that they have never liked to eat outside on the street. It's always been just them two and they cooked at home for the both of them. However, they broke this routine when they met this woman who brings them free soup.
"We need a lot of Adelas here in Vedado, which is a very old neighborhood, there are lots of elderly people here," 82-year-old Esperanza stresses.
"I applaud Adela and her sisters' actions, who on top of everything keep a quality business going; they have moved twice and they still have their customers; people follow them wherever they move to," Pepin says.
Adela pays 2,500 pesos per month to rent out the new space and she has it booked for a year. She wants to expand because she feels that it is "getting a little small" with her customers. Although, she clarifies that this isn't out of pretension, but rather to have a more comfortable space.
Today, one of her sisters helps her cook and she has hired another five people to do different things, and they each earn 700 pesos per month. A girl with blue eyes, from Sancti Spiritus, serves me coffee and tells me: "don't insist on paying, she doesn't want to charge you."
The girl has a degree in Veterinary Medicine from the Advanced Insitute of Agricultural Sciences, in San Jose de las Lajas, and she half-jokingly says that Adela asks whoever comes looking for a job whether they are from Havana. "If they aren't "from the province" (other provinces), she doesn't hire them!" she smiles.
Adela says that she thought that I came looking for work when I burst into her restaurant asking for her. She thought I looked like a girl who had recently come to see her.
I told her that I wanted to write about her business and she asked me to talk to other people and not to her.
Some people come in. The smell of ajiaco soup, chickpeas, doesn't let me ask. "They aren't ready yet," she tells two or three people who come asking. She asks them to wait and come back in half an hour, they leave their pots behind.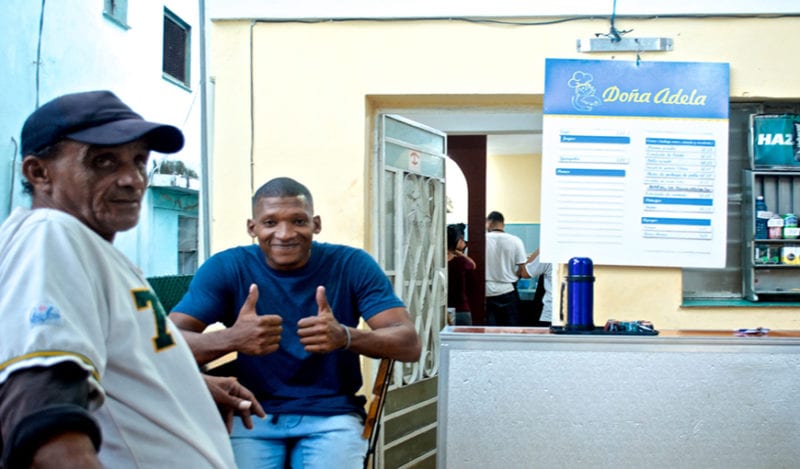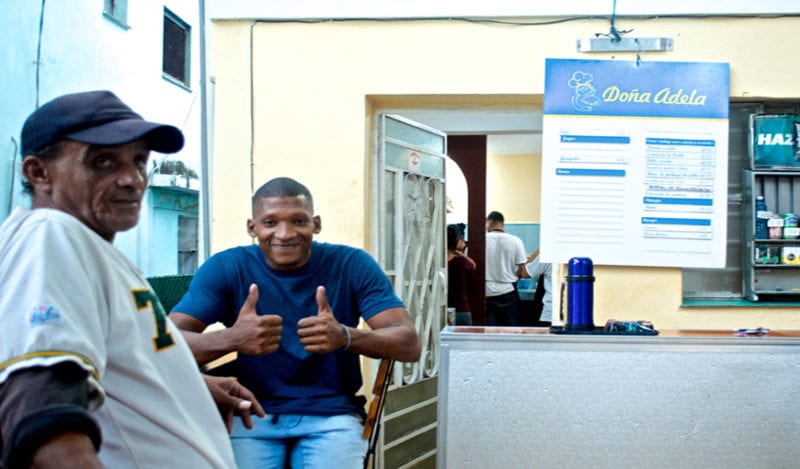 A little while later, Ayme Perez, a 60-year-old woman, comes to pick up her pot. She says that there is quality and quantity there, good service. "They cook very well, nobody else around here compares to them; I come twice a week and get black beans and then I buy food for Sunday on the weekend," she says.
An older man and a young man, both employees at Pan con Perro on 23rd and L streets, enjoy her chickpeas. According to them, they come here every day when they get off work.
At the back, there is a mother and her primary-school age son. They are coming for the first time.
In spite of everything, Adela insists that "today is a bad day". It is for her because she is used to seeing people come in and out of her restaurant in a constant stream. This is the foundation of her business' success, which competes with other private restaurants in the same neighborhood. She does well because of two things: her large clientele base and her kind and positive social responsibility actions. All of this despite Adela not knowing what a "socially responsible" business means.
The experience of this restaurant, while encouraging and maybe the only one among privately-owned restaurants, shares ideas with other private sector fields in Cuba. In recent years, the number of business owners who are adopting a socially responsible business model has increased.
Adela is an self-taught business owner who has created a functional trade network with her community. She gives me an example: "agro-market workers (EJT) on 17th and K streets come here to eat, I have such a tight relationship with them that if two legs of mutton or pork come in, one of them is for me. They even bring it to me here."
This relationship isn't bad at all since Adela gets her produce at this agro-market; therefore, her kindness to others deserves a reward, in some way or another.
Why would you exploit someone? if this is going well anyway, she says while serving up a couple of bowls of ajiaco soup which she will take to Pepin and Esperanza, and the nearly 90-year-old Milda Mickleen. The latter opens her door and happily greets her.
She takes the soup and says thank you.