Report from Havana Jazz Plaza 2012
By Irina Echarry (photos by Elio Delgado Valdes and I.E.)
HAVANA TIMES — The 28th Havana International Jazz Plaza Festival has just concluded, it's an annual event that emerged in 1980 when trumpeter, pianist, singer, bandleader and sideman Bobby Carcasses decided to create a space for this sound that was frowned on by the leaders of contemporary culture of the time.
Trumpeter Julito Padron reminded us of that when, along with pianist Lazaro Valdes, Bobby, and Mozambican composer and saxophonist Ivan Mazuze, each with their group, they started sharing their rhythms on Friday evening.
Meanwhile, in the gardens outside the Mella Theater — since jazz is a genre of musical mixtures — the audience was delighted by the Cuban group Sintesis (with its unique integration of ancestral and contemporary sources of popular Cuban music) playing along with Canadian jazz artist Jane Bunnett, who has participated in these festivals since the 80's.
A little later, inside the theater itself, Joaquin Betancourt was showcased with the youth jazz band and guests, and Arturo O'Farrill generated effusive applause.
In the usual headquarters of the festival, the Plaza Casa de la Cultura, a group of women demonstrated that jazz in Cuba isn't a distinctly masculine genre. These artists included percussionist Yissy Garcia, singer Xiomara Laugart and the Anacaonas.
Although salsa bands are invited to participate in many jazz festivals around the world — and the Anacaonas in particular dabbled in the genre in their beginning — a segment of the Cuban public that regularly attends this event didn't like the idea of having groups such as them, Manolito Simone or Pupy y los Son Son there in the middle of a jazz festival.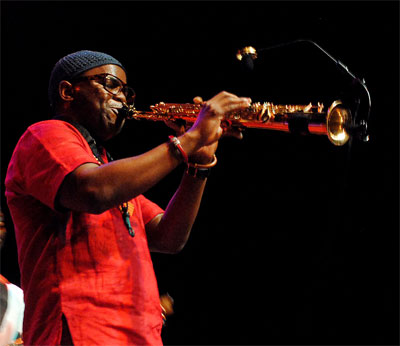 Another annoyance, in addition to not conforming to the advertised program, was that Bobby — who's usually highly respectful of the audience — forgot that not everyone in attendance at the Bertolt Brecht Hall were English speakers. That's the only way we can explain why he only spoke in English.
Nonetheless, music ruled this weekend in the capital. Another highlight was the performance by Cuban-American pianist Nachito Herrera with the Cuban Symphony Orchestra and his tribute to Emiliano Salvador. He also presented his new project: the Havana Jazz Social Club, founded just a few days ago and made up of Cuban musicians.
With artists from more than ten countries — including Brazil, Canada, the USA, Mexico, and Botswana — Jazz Plaza is a prestigious festival that serves to introduce the work of musicians from around the world.
Luckily, despite jazz not always being very well understood here, we Cubans have kept this annual event going with the best of the genre.
Many people still ask what jazz is, and how and why it has transcended time. Others are determined to demonstrate it the best they can …by creating the music.

Click on the thumbnails below to view all the photos in this gallery. On your PC or laptop, you can use the directional arrows on the keyboard to move within the gallery. On cell phones use the keys on the screen.