Sandy's Trail of Death & Destruction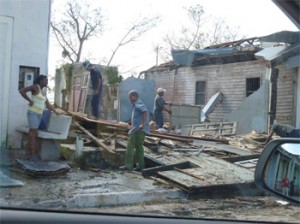 Alberto N. Jones
HAVANA TIMES — As I traveled around the eastern Cuban areas of Guantanamo, la Maya, Songo and Santiago de Cuba, I searched in vain for words to describe the horrifying, devastating and unbelievable trail of destruction, human suffering and death left by Hurricane Sandy, another killer storm that passed through our country.
Thousands of people from local organizations and members of the Civil Defense force feverishly removed fallen trees, electric poles and rubble obstructing roads and highways, as other crews built alternative routes and shored up weakened structures.
The sight of women, elderly individuals and children sifting through debris to salvage whatever was left of their belongings was simply heartbreaking.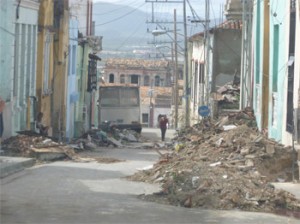 The residents of Santiago de Cuba — the city with the most Caribbean, dance-loving, friendly, loud and hospitable people in our country — are wrapped in an deafening silence of despair, uncertainty and impotence in the wake of the massive destruction suffered by their beloved city.
Hundreds of roads are blocked, while overflowing rivers and creeks have washed away railroad tracks and bridges. Electric and telephone service is down and there's not enough clean drinking water.
That's the short list of the most pressing issues at this moment.
Tens of thousands of roofless or windowless homes, schools, health care centers, nursing homes, daycare operations, sports and cultural facilities are partially or totally destroyed.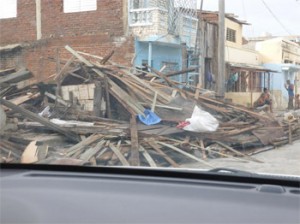 Critical hours lie ahead for hundreds of thousands of victims languishing in the wide swath of destruction created by Sandy; which cut across the town of Banes, in northeastern Cuba, just like Hurricane Ike did in 2008, reducing communities then, like now, to rubble and despair.
For the past 20 years, The Caribbean-American Children's Foundation (at P.O. Box 353593, Palm Coast, Fl., 32135, [email protected]) has extended a helping hand to those in need in our region.
Once again, we're asking every concerned and caring individual to open their hearts in these trying hours and to help us collect and transport vital donations for the desperate victims of Hurricane Sandy in Cuba.