Santiago de Cuba: 50 years of Children's Theater
Photo feature by Janis Hernandez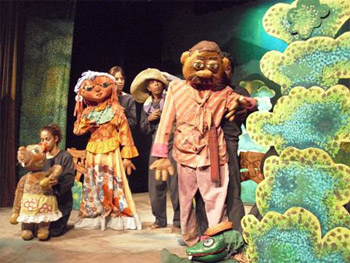 HAVANA TIMES, Dec 8 — For fifty years there wasn't a Saturday or Sunday when children in Santiago couldn't enjoy theatrical presentations dedicated just to them. The "Santiago Puppet Theater" (El Teatro Guiñol Santiago) has been the stage of thousands and thousands of performances offered to youngsters and adults alike.
Various generations treasure fond childhood memories of when they would go hand-in-hand with their parents to "Mambi Hall," where the theater group is housed. There, they learned morals through the fables and stories told by the actors.
With their faces, their voices, their bodies and with the dexterity of their hands, these artists manipulated puppets of all kinds and sizes. Along with new dances and songs, children would always bring home lessons in which good overcame evil.
With a rich repertoire drawn from the classics of world literature (with works such as those by Hans Christian Andersen, the Brothers Grimm, Charles Perrault and Astrid Lingren), the children of Santiago have warned Little Red Riding Hood when the wolf was coming, sung along with the Musicians of Bremen and learned new things from Pippi Longstocking.
But not only have these classics been staged. Fables from here on the island, tales by Latin American writers and Afro-Cuban legends also have delighted the youth of Santiago. The actors have presented everything from works by Jose Marti, such as La muñeca negra; to the character from Maese trotamundos by Javier Villafañe, and of course Los chichiricú de la charca and the Güijes of the Pataquines yorubaá.
With the use of dissimilar acting techniques and design, but with relentless imagery tested by time, the technicians and artists of this group have dedicated themselves to giving children their very best: that little being that dwells inside all people of good will.
Having marked its 50th year of existence on September 1, "Los Guiñoleros" returned to their theater after its having undergone a complete restoration. They now have a beautiful center for sharing their art.
This photo spread was taken on a Sunday at around 5:00 in the afternoon, where the work presented was a creation by a famous Santiago native, Don Emilio Bacardi Moreau. The title of the work was Liborio, la jutia y el maja.

Click on the thumbnails below to view all the photos in this gallery. On your PC or laptop, you can use the directional arrows on the keyboard to move within the gallery. On cell phones use the keys on the screen.