Second Generation Cuban-Americans
By Marcos Bronstein*  (Progreso Semanal)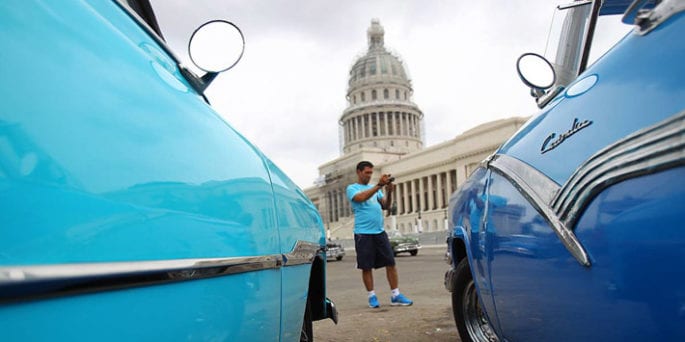 HAVANA TIMES — "We wanted to come see our parents' and grandfather's country," the two brothers told me whose father I met a long time ago when we were children and then teenagers. They speak Spanish with the accent of those who were born in the United States, but learned it at home, eating rice and beans with "pork" meat.
"We are happy because we were able to visit our grandfather's and parents' house and to see the school where "Dad", papa, studied," he corrected himself smiling, while we walked through Central Havana's streets.
They are Frank and Charlie, brothers, second generation Cuban-Americans, for whom the island had been the forbidden homeland it was for their elders up until recently. And now they just jumped onto a plane and flash: Cuba.
They tell me that they were allowed to go inside their father's home and also inside the school where he used to study. "Everybody was very friendly, I didn't see any animosity on their part," said Frank, who is the eldest of the two. He has a degree in Political Sciences. However, Charlie, the youngest brother, who studied Business Administration, notes that there are people who harass them to buy cigars or be their tour guides, "that's annoying." Nevertheless, both of them agree on the fact that Cubans are "nice people."
While walking back along Obispo Street towards the Malecon, they tell me that they are sad to see the state many houses are in, more so if you add in the contrast of the homes in their father's old neighborhood: Miramar… Both of them believe that this is due to neglect, "everything needs to be maintained and here it is even more obvious."
Our music closes in on us as we walk through Old Havana. They are pretty familiar with this music, as "there, at home, granddad has albums from his day, a lot of Benny (More), "cha cha" (cha cha cha) and also of musicians who produce Cuban style music there, which is catchy, although we don't know how to dance very well," both of them agree.
But, there are a lot of problems, "first, the economy, you can see it in Cuba's infrastructure, streets, extremely slow and expensive internet connection," Charlie points out. However, "people tell us that everything is changing," Frank says. And Charlie, more relaxed now, adds that "others (people) complain this is going too slowly" (the change)…
"You have to come and get a better idea of everything to know what Cuban reality is, what's good and what needs fixing. We can't let ourselves be led astray by everything that the media tells us, everyone sees it from their own… I wouldn't know what the right word in Spanish is," he says. Perspective, I say to him. He gestures with his head that that's more or less it.
Talking about politics, what can you tell me about Trump?, I'm interested. They answer with an expression in English which I don't catch. But they don't shy away from the subject.
"Trump is a disaster, but he is a part of America (the US) and he will bring us down, that's my opinion," Frank points out. "My father voted for Hillary, I am an Independent voter, like many of my friends. I voted for Bernie (Sanders), a decent man, with a good background, but… no way. Politics all over the world are out of focus right now, the legislatures are in the hands of the powerful who aren't interested in dealing with what's most important: the people. You here in Cuba, have looked for something different." But have we been successful? I ask. "I think there's still a lot more that has to be done, although the intention is noble, all you have to do is put it into perspective and push it forward."
With what? The question immediately escaped my lips.
"According to statistics, you have a highly-trained work force… I have met some, I think they should be given a way to work… the government should mobilize internal resources," he answers.
Charlie interrupts saying "I get the sense that there is too much state control… regulating the market is fine, but suffocating it isn't, of course," he adds, "we aren't Communists, but we believe that there (in the US) and in Cuba too, something different and more humanist could be done."
Frank changes the conversation and admits that as well as the reasons for his trip, mentioned above, he was curious to get to know Cuba's reality. A lot is said about this from different standpoints. "In Florida, nothing good is said or they publish very biased articles. I, for example, search for Cuban blogs online. There, now with Trump in office, they are saying that Cuba is going to enter chaos… bye bye Obama."
Charlie smiles and quickly says that the chaos "is Trump, we have it at home." "The US needs to change, but not with Trump, we need more efficient and humanist policies, the poverty rate will increase and so will the number of helpless people."
I pointed out the fact that Trumpcare was defeated. He replies smiling: "that was the first inning, they'll look for another way and with Cuba too, don´t be over confident," he says.
And so, between walking and talking, we say goodbye. I did a favor for their father, my childhood friend and I enjoyed the interesting exchange I had with these two boys, which in my opinion, are looking for experiences which will enrichen them.
*Translation by Havana Times