TEXT AND PHOTOS BY DALIA ACOSTA*
LOS PALACIOS, Cuba, January 14 (IPS) – The wind was ripping the tiles off the roof of her house, her father-in-law felt his body trembling to the bone, and her husband tried to protect her with a table propped up by mattresses, but as she lived through the worst moment of her entire life, Cuban teacher Gladis San Jorges could think of only one thing: "Oh God, the school! The school!" she cried.
August 2008 was coming to an end and Hurricane Gustav was wreaking havoc in the province of Pinar del Río, at Cuba's westernmost tip.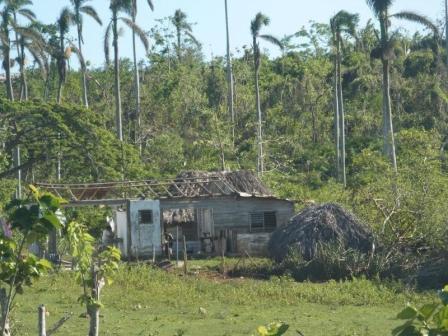 "We had put all the school supplies in a safe place, but we couldn't prevent the hurricane from tearing off the roof. I couldn't stop thinking about my kids and how they were going to be left with no homes and no classroom," says the 41-year-old teacher who works in the school of La Vigía, a neighborhood in the municipality of Los Palacios.
San Jorges is not your regular teacher. Her life changed a few years ago when her school joined the National Green Map Network and she took over coordination of a project that went beyond simply identifying sites of interest and charting them on a piece of paper, by providing an invaluable tool for the community and the local environment.
"The Green Map was a life changing experience — for me, for my school and for the local children," she says as she tries to explain the strong ties that connect her with a single-story building that was left roofless, its walls drenched and its playground and vegetable garden totally destroyed. "We had to move the school temporarily to an open area," she says.
Based on a methodology created in 1992 by Wendy E. Brawer, founder of the U.S. eco-design firm Modern World Design, the Green Map System encourages communities to engage in mapping out their area's cultural, social and green resources to create a "portrait" that is used as a comprehensive inventory for decision-making and as a practical guide for local residents and tourists.
Since the system went global in 1995, Green Maps have spread to 500 cities, towns and neighborhoods in 54 countries, developing from a network of regional nodes and local projects, which operate according to the needs of each place and independently from the main initiative.
In Cuba, the national project is coordinated by the non-governmental Felix Varela Center and has groups working throughout the country, involving approximately one thousand mapmakers at all levels of education, including universities.
"We provide technical assistance and working materials to the groups," Liana Bidart, the Center's project coordinator and head of the National Green Map Network, tells Tierramérica.
"After being trained in the methodology, the members of the network are encouraged to participate in communication and cooperation workshops. The idea is to prepare them to negotiate, deal with conflicts, and work with other social stakeholders to find solutions to problems affecting their communities," she says.
A map for action
One of the first things that San Jorges and the other teachers at the "Rafael Morales" elementary school learned from the National Green Map Network's working method was that they did not necessarily have to turn to their local government for solutions to their problems; the community itself could solve them.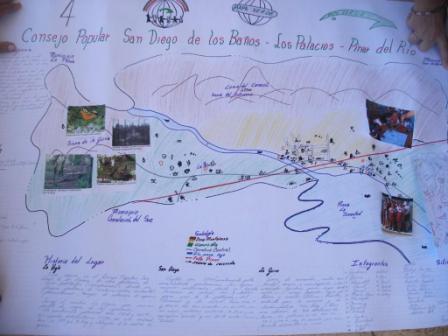 Driven by the philosophy that "little by little, things get done," the group has accomplished a number of things, such as preventing a neighboring agricultural cooperative from irrigating their crops with polluted lake water, eliminating small garbage dumps, and putting a stop to the practice of burning off sugarcane before harvest-time.
"The Green Map has taught us things we didn't know, but it's also changed us as individuals. And the children are happy. They not only participate in the map's preparation, but also in the whole process of dealing with problems. Many times it's the children themselves who go out to talk to people, to convince them," San Jorges says.
When Hurricane Gustav hit the area, the school's Green Map group realized that due to the magnitude of the disaster it would take time for the government to come up with solutions. And so they decided that it was time to put into practice everything they had learned.
"We saw the state the school was left in and we decided not to wait for government help. We went to the nearest cooperative, got the roofing material and replaced the roof ourselves," says San Jorges, convinced that none of this would have been possible if the school had not joined the Green Map Network.
The Felix Varela Centre donated the paint for the walls. Teachers, parents, centre volunteers and students came together to work and repair the school in a single day. The humidity trapped in the walls may seep back out, but at least for now "the children are happy to be back in their classrooms."
In early November, La Vigía was the first school that was restored in Los Palacios, a municipality hit by two hurricanes in a row, affecting all 43 elementary schools in the area. The government had the necessary resources to conduct repairs, but it was just getting started.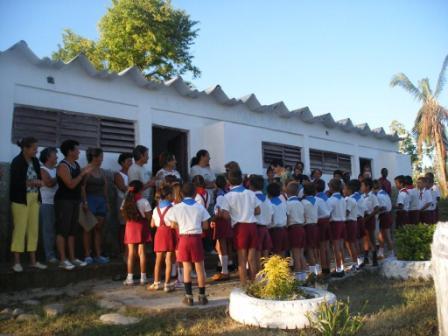 Curbing vulnerability
On the night of Aug. 30 and the early hours of Aug. 31, after devastating Isla de la Juventud, in southern Cuba, Hurricane Gustav swept through Pinar del Río. At the Paso Real de San Diego weather station, in Los Palacios, the wind gauge was burst by winds traveling at 340 kilometers per hour — a record speed for Cuba.
Less than eight days after Gustav — the most violent tropical storm to hit this Caribbean island nation in the last 50 years — the people of Pinar del Río were visited by the wrath of Ike, which made landfall in eastern Cuba and affected almost the entire island, moving out through northern Los Palacios, the same route taken by Gustav.
"After Gustav, Ike seemed like a breeze, but even so, it did a lot of damage," San Jorges says. More than lamenting the material losses, she thinks back on how distressed they felt during those days, how they were terrified that a new disaster would fall on them, and that they would lose the few trees and houses that had been left standing.
The two hurricanes damaged over 2,000 schools around the country. United Nations officials in Cuba report that the hurricanes caused considerable post-traumatic stress and psychological damage to the population, especially to the nearly 390,000 children and adolescents whose schools were destroyed.
"These children have suffered an enormous trauma. What we've been through has been hard enough for us adults; imagine what it must be like for them. Most barely have a home left to sleep in; many have lost everything. Going to school is the only thing they have that can make them feel a little better," says San Jorges, who is now working with her group to re-chart the Green Map.
They will have to take a different approach. "We're going to use the Green Map as a community tool to promote alternative practices and reduce the risk of damage from natural disasters," Bidart says.
Bidart and San Jorges are going over the map designed before Gustav: the landscape has changed. Sites which were once of interest may no longer be relevant. They need to identify areas vulnerable to flooding, places that can be used as shelters and sites that need to be reforested, and propose tree species capable of withstanding strong winds. "The children will have a lot of work," the teacher concludes.
(*This story was originally published by Latin American newspapers that are part of the Tierramérica network. Tierramérica is a specialized news service produced by IPS with the backing of the United Nations Development Program, United Nations Environment Programme and the World Bank.)