By Mike Schirtzer*
HAVANA TIMES — The plane lands in Havana at terminal 2, which is only for flights from the U.S. and Caribbean islands. It was empty, the complete opposite of JFK; no planes parked, no planes taking off, very few rundown warehouses. There was very little action for a major city. The plane leaves you off on the runway; you walk to the terminal and then go through immigration control.
The officer asks if you I had been to Africa, took one half of my visa, took a digital photo of me, stamped the other half of the visa, and then I entered the baggage area. Weird, I have never experienced going through metal detectors to enter a country after immigration. The baggage area had only one belt. It had not been painted in years and was decaying. There were a lot of government officers at the airport, as many officials as passengers it seemed.
My girlfriend and I exited the terminal. There were a lot of people with families waiting for their relatives from the New York. Luis, our local guide who had been recommended by a friend, greeted us. His background is in economics, worked in the wine industry, traveled the world for business, has lived abroad, including time in London and has daughters and granddaughters in Miami, although he has never been. We began to walk and talk as he welcomed us to Havana.
Almost immediately one police officer stopped Luis. Two other officers called him over where their police car was parked in a near empty parking lot in front of the airport. We were told to stand on the side. Luis exchanged pleasantries with the officers; he shook their hands and said "Buenos Dias". They started questioning him and asked for his papers. Luis was really calm, talking to them nicely, and even smiling. He lit a cigarette, leaned against the tree, and easily responded to their interrogation. It was clear he had been in situations like this before.
After about five minutes the youngest officer, who had first questioned Luis, came over to my girlfriend and asked her in Spanish how she knew him. She responded in Spanish that he was a friend of a friend and was picking us up. She was as calm as Luis. I was definitely more nervous on the inside, but just stood around looking at the airport and occasionally glancing at what was going on. I had never before been stopped leaving an airport and although this seemed normal from Luis' body language, I was extremely concerned, but trying hard not to show it. The questioning ended after about 10 minutes. Luis shook their hands said goodbye and told us "Let's go." He then said, "Welcome to Habana!" sarcastically and laughed. Apparently anytime stuff like this happens or something that is unique to the city occurs, the locals say, "Welcome to Habana."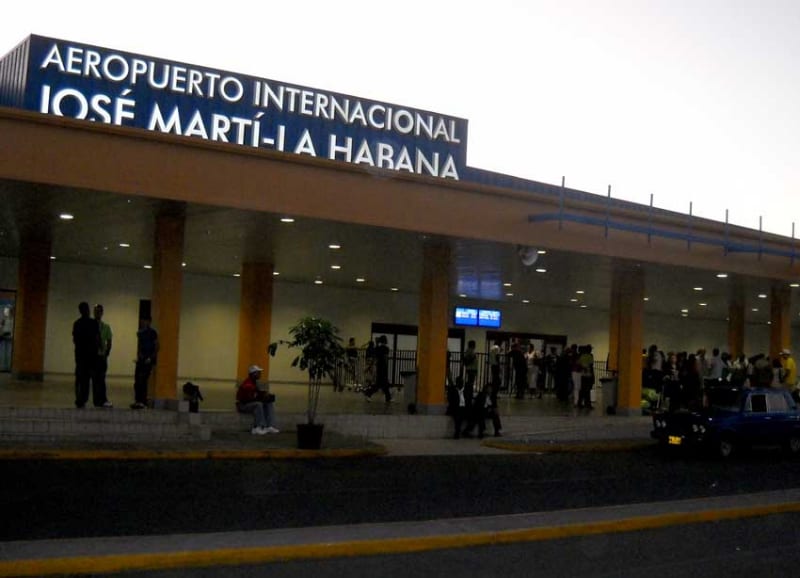 Luis explained that the police told him he could not pick up people at the airport unless you're a taxi or relative. He knew that they were looking for a bribe. He asked the three officers to show him where it says you can't pick up friends at the airport. He laughed as he was telling us this. It was a lie, but had he offered money they would have taken it he said. "This is all part of what's happening now, with better relations with the USA, and more tourists coming in. The police officers do not know how to act and are trying to make money off of it." Luis told us we should not be worried about police in Havana. They are easy to talk to and will help you when you need it. He reassured us we would be fine. He thought it was humorous, but apologized several times for the incident.
We exited the airport in his Soviet wagon, from the 70's or early 80's, with seats that do not go back, windows that you roll down slowly and like much of Cuba, no air conditioning. As we're driving into the city, the country feels so different. It was old and charming all at the same time. I noticed a bunch of one-story houses that had one window in the front, clothes hanging on the side to dry, doors and windows wide open and people congregating out front. It is scorching hot out, the sun shines down hard, but everyone is out front talking, looking relaxed, laughing, and just happy to be with each other. It reminds me of growing up in Brooklyn in the early 90's. No matter how hot it was in the summer, people were always out: talking, shopping, and getting stuff done.
As we're driving, Luis tells us he can exchange money for us through his friend at a better rate than the official one. He called someone on his cell, we stopped at his building, the guy came out with CUCs (Cuban Convertible Pesos) and we gave him our U.S. currency. Obviously, we were somewhat concerned about exchanging money on the street, but Luis seemed trustworthy, and came highly recommended by my friend. We later learned in fact it was a great rate, because the official change houses charges 10 percent extra for converting US dollars. The gentleman with the CUCs greeted my girlfriend politely, hugged Luis, and made the exchange. He, like most Cuban men, was well dressed in nice shoes, pressed slacks, and a button down shirt. It's easy to see how prideful the Cubans are in how they carry themselves. He took the U.S. dollars and put it in his pocket without ever counting what we had given him. My girlfriend told him in Spanish to count, but he said it's fine and returned to talking to Luis. I counted the Cuban money. Looking back it was apparent I made a mistake. I'm sure I was supposed to just take the money and put it in my pocket too, not count it, I feel bad about it now.
We arrive at the Casa Particular, a bed and breakfast run by a friend of Luis. Jose is the son of the lady that runs this place. He is an editor of TV shows at the local station. He told me in any other country he would be "making a lot more money" doing what he does, but that he really loves it. Jose also said the family earns most of its money from this business. When Luis told Jose the police story, he laughed and said, "Welcome to Habana." Jose and Luis explained to us the dual currency, CUPs are supposedly for locals, which is how they are paid; and CUCs are for tourists, but essentially the preferred currency that everyone wants to use. They again both uttered "Welcome to Habana."
The apartment was two flights up in a four-story building. It was beautifully decorated with art on the wall, statues, showpieces, rocking chairs, and a dining room set that had been there before the revolution. The room we were in had a small private bathroom, comfortable bed, and cold air conditioning. Although the houses are all old around Cuba, look run down from the outside, and haven't had a new coat of paint in many decades, they are extremely well taken care of, immaculately clean, and decorated with a sense of pride and tremendous style.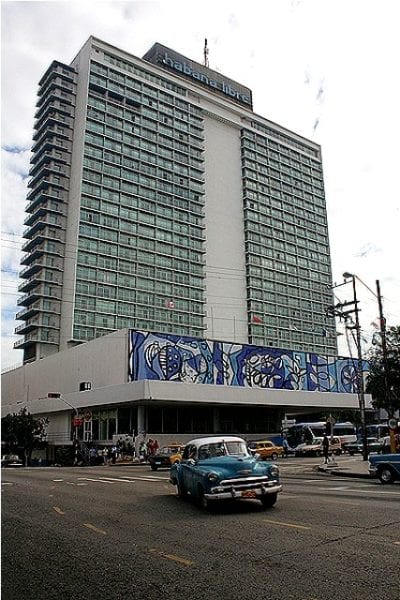 The old Havana Hilton is directly across the street with a beautiful Art Deco façade on the second floor and the avenue out front is always bustling. Tourists always notice the famous antique cars. Of course it is awesome to see a 1940's Chevy driving down the street, but I found the pulse of the city even more impressive. Havana is always moving, slower than New York, because of the extreme heat, humidity and blistering sun, but moving at its own pace. There are always people congregating; on corners, in front of houses, at stores, the taxi stands, at the local bus stops. There are just groups of people or families having conversations, gossiping, having fun. I thought about what it is like back in the States, people standing alone staring into their phones. This was a pleasant difference, one that I miss. I can't help but wonder once the Cubans get their wish of Wi-Fi everywhere, will they miss these moments like I do?
We did come across one of the few public Wi-Fi spots. Everyone had their phone out and was on a video call or on Facebook. They purchased scratch off card from an official Internet store, 2 CUCs for an hour. Apparently there are some shady fellows on the street also selling these cards, but I am not sure of how that is. Interestingly, the people on Wi-Fi are in groups. Three teenagers are gathered around one device, one family looking at a laptop, it is a communal activity. I would think that's due to the lack of devices, but no one is standing by themselves on the Wi-Fi, It's all groups.
At a local restaurant that is probably state owned, we find some authentic Cuban food. In NYC the Cuban restaurants always give us yellow rice; in Cuba every place serves Moros y Cristianos, which is much better! When night falls even more people come out. Many are fixing their antique cars in the cooler temperatures. We saw some houses that were once grand and beautiful, yet even with the old paint they still had charm. We make it to the well-known Malecon, the sea wall where all of Havana's young residents come to do what kids used to do before Internet and video games: standing around gossiping, playing jokes on each other, listening to loud music, flirting with other teens passing by, drinking some homemade cocktails, or buying snacks and ice cream from the local vendors. People are laughing, couples are arguing, it all reminds me of how we grew up in Brooklyn. There are far more people on the street than in their houses. It was a Tuesday night in Havana that felt like a Saturday night in 1920's New York.
Luis met us early in the morning to begin our tour. We had a delicious breakfast made by our hosts: coffee, bread, and fruit. The guava pink juice blended with ice and water was my favorite. We visited all the must see sights of Havana, Luis drove us for part of it and walked us for the other. The landmarks were as great as your favorite travel site will tell you, but Luis was fascinating. He knew the history and explained it from Columbus to the wars with Spain and of course the revolution. We learned his father was in charge of the fishing industry and friendly with the Castros, but got in trouble with Fidel on two separate occasions. The first time was in the early 60's when Fidel demanded that fishing be done differently, when Luis' dad told Fidel that he was wrong, he was immediately fired. A few years later when his dad was given the same position, Fidel demanded the fishing industry catch 10 million fish, when his dad explained that in the best of circumstances without any hurricanes, bad storms or other nautical issues the best they can do was 8 million. Sure enough he was fired again. The catch ended up being around 6 million, as his dad predicted. Luis laughed loud while telling the story; his dad had probably laughed just the same. "Welcome to Habana."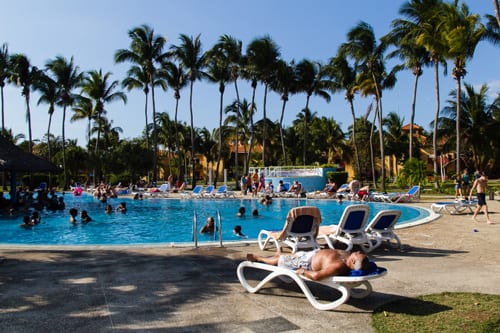 Luis said of Fidel he has his faults and strengths. He describes Fidel as having a "high IQ, really intelligent, a great leader who people want to follow, and a fantastic speaker." He talks of the good Fidel has accomplished, "a country with great education, everyone can read and write, medical care for all, not plenty of food, but enough to survive." "We get our rations, but the coffee they give us is terrible, the good beans go for the tourists!" Luis is especially proud of their foreign policy, "The U.S. has military all around the world," he begins, "we don't have any, but 70,000 doctors worldwide. What does that say to you?" Luis said that with such pride and reiterated, "If a country needs medicine or doctors, we come!" He then goes back to what happened when we landed, feeling that it was "dangerous" because we'll go back and "tell our friends," which he inferred will discourage American tourism. He brings up what was wrong with Fidel, "He was too worried about the Soviets, thought he was an expert in everything, and did not modernize Cuba."
Like every Cuban we met, he too is convinced that American tourism is the panacea for most of Cuba's ills. After traveling to other Caribbean countries I can't say I agree, but the Cubans are so excited about the prospect of American tourism, maybe they should check with their neighbors. He tells us "I'm sympathetic to the left in this country. I believed in the revolution, but we must accept some capitalism. That's what Raul is doing." He describes Raul as "not as smart as his brother. He is too reliant on advisors and ministers, some good, some bad." Luis believes Cuba has to fix its infrastructure (sounds familiar) and is not yet prepared for all the American tourists, but believed they will come anyhow, "Welcome to Habana." He brings us to the docks where old warehouses and piers are being prepared for cruise ships, new hotels, and markets. One warehouse is already an artisan market called San Jose. We found young Cubans selling art, leather, touristy trinkets, artisan goods, and clothing. Unfortunately, there are more vendors than customers. At one point it seemed we were the only customers in this vast, old warehouse.
He said everyone in Havana is opening "casa particulars" and "paladars" which are restaurants run out of people's houses. "There are more of these than necessary. When the Americans come there will be too little. We do not have the capacity to handle when you (Americans) come." But then said how "there is too much supply, not enough demand right now." He then uttered his now famous phrase, "Welcome to Habana!"
Wherever we went in Havana there was construction, Luis told us this was because the pope is coming. They are painting, fixing streets, and cleaning everywhere. "Everyone in Habana wishes the pope would visit every three months" he not so jokingly said. Luis spoke to us about the economic problems, "Cuba was spoiled under the Soviets, like a bad child. We took everything and gave nothing other than sugar." He continued. "The world works on credit and debt. Raul and his advisors are moving Cuba to build credit. But we are not there yet."
I then asked him, "What happens after Fidel and Raul are gone?" He laughed hard and for a while, then began, "No one really knows. There are ministers, advisors, some old guys from the revolution, and some younger. Many are corrupt or just bad." He laughed again and then began to speak more. "The Internet will change everything. Our young people want it, the country needs it, but what will happen, no one knows." He then repeated my question, "After Raul, I don't know. Does Raul know?" He asked me. I answered, "He may know, but history shows us his wishes may not come true. Maybe whoever takes over will do so for a short while or maybe the dissidents…" He stopped me right there and laughed loud "Never, never will the dissidents gain power, our government is not set up like that. Maybe they win one local election, but never will they win, not in Cuba." I asked what the people want. He answered, "The people don't know about dissidents. There is lack of information. When I traveled I read the news, I watched TV, I used Google, and I knew what was going on. Now I don't know what's going on anymore and I'm too old to care. I love Cuba. I love Habana. This is my country, my city, I know what's wrong here, but I love it!"
Towards the end of our tour he told me he could have made so much money working in the wine industry, how he was offered a job in California, could live with his family in Miami, "But this is my city, my country, and I love it here." His pride for Cuba, yet willingness to admit its ills is something we Americans lack. We too often feel it's dishonorable to critique the U.S, while Luis easily said what was wrong, but also knew what was right. This I respected more than anything.
We finished our tour with some shots of Chivas Regal scotch that I brought from the states for him that my friend Ryan told me he loves. He was happy to have it. We discussed how good Cuban rum is and of course the cigars. It's part of the reason he loves Havana so much, "Can't get cigars and rum like this anywhere else in the world!"
A story Luis told about Cubans sums up our experience in Habana: "A hurricane came and destroyed all the houses near the coast. The old guys sat in front of one torn down house playing dominoes. When a reporter asked how they can play in front of such destruction they said tomorrow is another day."
"Welcome to Habana."
——
(*) HT reader Mike Schirtzer is a teacher from Brooklyn, New York.