What's Happening in Cuba during Global Climate Change Week?
In the capital, a march led by young people, similar to those held in over 150 countries, did not take place because of a lack of government authorization, although there have been small manifestations.
By IPS Cuba
HAVANA TIMES – Amidst tension, disagreements and misunderstandings with the government, young people in Cuba led low key initiatives on September 20th during the global climate strike, and they continue to carry out small awareness-raising activities this week.
A group of animal welfare advocates took a photo in the Hotel Nacional's gardens, holding up a sign that read: "The climate is changing. Why aren't you? Take action now!!!", made by young activist Beatriz Batista in response to the global call for a week of activism, from September 20th until the 27th.
Batista posted this photo on her Facebook page, along with facts relating to the environment and global warming, such as the Caribbean country's high dependence on fossil fuels and an increase in average temperatures.
"The thing is, this strike wasn't accepted here," the young woman told IPS, about the fact that Cuban authorities didn't respond to the authorization request filed by the Cuban section of the youth organization Fridays For Future #FFF (School Strike for Climate).
[The fact is the Cuban government is wary of any type of citizens initiative that is not organized by official channels and approved organizations.]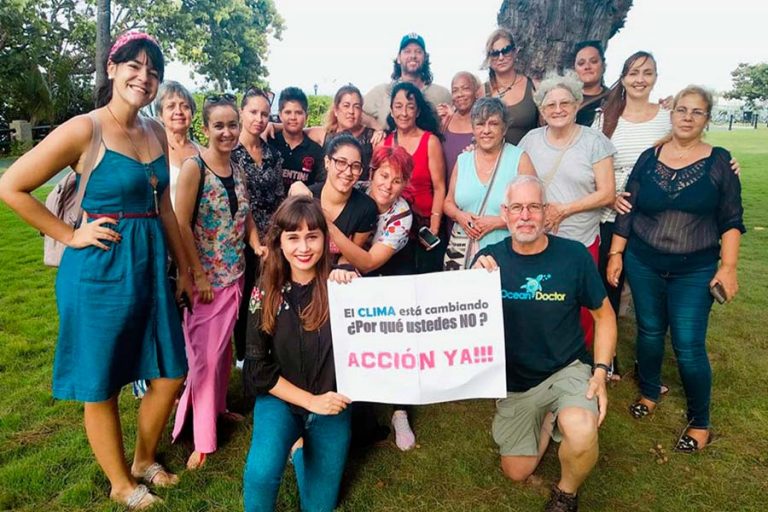 This global movement takes inspiration from Greta Thunberg, the Swedish teenager who stopped going to school on Fridays in mid-2018 so as to protest outside of Parliament in her own country and to get the government and the international community talking about the grave consequences of climate change.
People from over 150 countries responded to the call made on September 20th, with small actions and mass protests, mostly attended by young people and children.
Cuba and the global call against climate change
On the morning of September 20th, Cuba's FFF team canceled the march that was scheduled to take place from Plaza de San Francisco de Asis up to the Capitolio, because they didn't receive a response from the government in regard to the authorization request they put in on July 18th so that the country could join the global movement.
Cuba's FFF coordination team told IPS Cuba that their specific participation in the bike ride also scheduled for this day in the afternoon, alongside the Bicicletar La Habana project (which has been promoting bicycle use as an alternative, healthy and eco-friendly mode of transport since 2015), was also denied.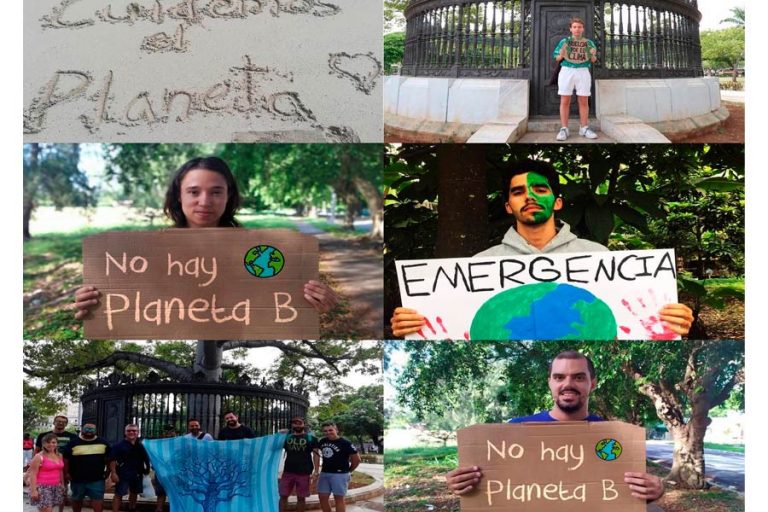 Participants of the project managed to carry out their cycling, albeit in isolated groups, leaving Parque de los Martires, on the border of the capital's Central Havana and Vedado neighborhoods.
Some cyclists left comments on Facebook saying that they wanted "to raise awareness about the climate crisis the planet is experiencing and to recommend bicycles as an alternative."
However, they lamented that their project "was misunderstood by police officers and State Security agents who blocked their way. The situation makes us really wonder why our authorities and government aren't helping us in the fight against climate change."
Taking an alternative route, young people chose to post updates on their social media, showing photos with environmental phrases that alluded to the global campaign.
Journalist and writer Darcy Borrero shared the fact that a group of young people came together "in Parque de la Fraternidad, in front of the Latin American ceiba tree, to talk about the environment and read poems."
Photos uploaded to her Facebook page show Borrero and other people in this park, where they said they walked "around the living space that welcomes you, in a place free from pollution", up to Emboque de Luz, at Havana's Bay.
In cities such as Santa Clara in the country's interior, 250 km east of Havana, similar actions were held by FFF Cuba members in this city.
Climate Week
Meanwhile, on September 20th, government press published the story that children, teenagers and young people were celebrating the "Cuba for climate" day in the Monte Barreto Ecology Park in Havana's Playa municipality.
They emphasized that these celebrations, promoted by Cuba's Youth Environment Network and Youth Technical Brigades (BJT), would run from September 15th-30th.
Jeiller Carmona, the national BTJ president, stated that the agenda of Cuba for the Climate "includes a broad program of activities directly linked to the State's program to tackle climate change," known as Tarea Vida.