A Cuban Bookseller who Enjoys Literature 
By Ivett de las Mercedes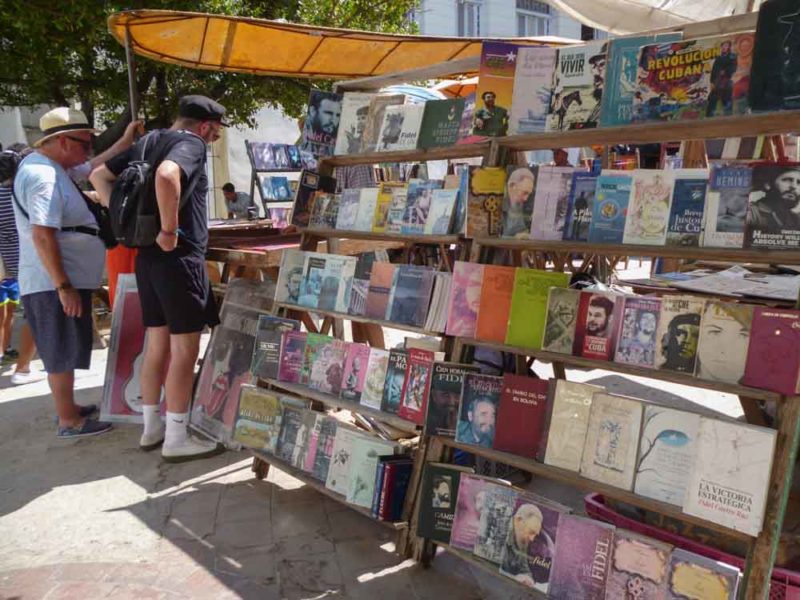 HAVANA TIMES – It is becoming increasingly hard to find a good bookseller nowadays. A bookseller is that person who gives us a synopsis of the book we are going to buy, as well as any interesting piece of information about the book in question or its author. Eighty-two-year-old Domingo Galindo keeps literary masterpieces in a room.
HAVANA TIMES: What do you think is the most important feature of a good bookseller?
DOMINGO GALINDO: Nowadays, there are very few people who know what this profession really is. According to the majority, we are just people who sell books, and this is what appears on our self-employment licenses. Personally-speaking, I am a lover and expert in literature, although I'm not a professional. This characteristic not only allows me to buy good books, but also to sell them.
Sometimes, a very knowledgeable person comes in looking for something specific, or the latest work of a certain writer, and helping others, while we help ourselves at the same time, is really gratifying. A bookseller who knows nothing about literature will only accummulate and pile up copies that they won't ultimately sell a lot of the time. You have to be up to speed with new releases in the publishing world, not only in Cuba but abroad as well.
You also have to keep them in order, books need to be classified not just by their country, but by subject too. Sometimes, I stop by at other booksellers' businesses and can't figure out how they sell anything. I know one who has bags of books all piled up, and he has no idea what any of them are about.
HT: Your business is a little off Old Havana's main streets. Do many foreigners visit?
DG: I don't like competition; I prefer peace and quiet. Most of the foreign visitors know what it is they want to buy when they come in. The ones coming for the first time, if they aren't coming to pick something up, normally buy books about the Cuban Revolution and its heroes, Afro-Cuban religions or a book by one of the great writers, especially Ernest Hemingway. If they didn't, then I would probably be dusting them off year after year.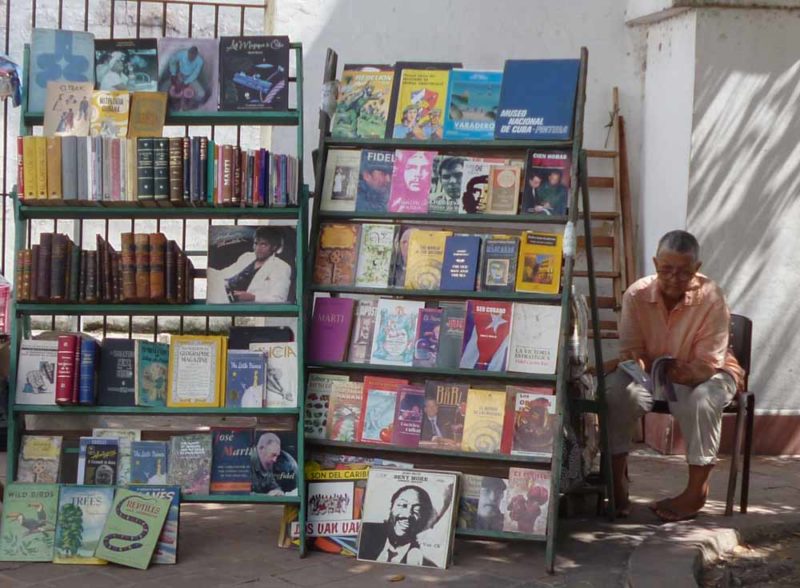 HT: How do you get a hold of so many books?
DG: There are suppliers and sellers. There are people who are strapped for cash and find themselves forced to sell books they hold very dear and it's a sad situation. People don't want to let go of them and hold them close to their chest, until they have no other choice but to leave them on my table. When that happens, I tell the customer not to worry, that I will only sell it to somebody who will know how to appreciate its value.
They normally bring me the books here, but when there are lots of them, they will bring me a list, I pick the ones I want and then go by to pick them up. Of course, this means spending time and money. Once I'm back in my room, I check them one by one to make sure that there aren't any ripped pages or that the binding isn't coming off, as well as checking for any trace of bookworms; I fumigate here every month to make sure there aren't any.
HT: Do you consider yourself to be a book lover?
DG: I have always been surrounded by great books. My father had a huge library, books were my first friends. It's a shame that there are people today who don't know their value and how they teach us to dream, to visit remote places and meet incredible people. Unfortunately, young people in Cuba today don't like reading, they just like music and dancing. I imagine that this has 99% to do with their families. We all know that if parents read at home, their children will grow up to be readers, most of the time. It's sad to think that future generations won't know the beauty of reading a book with pages.
HT: Do you have any idea what might happen to printed books in a few years?
DG: I am sure that printed books will never disappear. There will always be book collectors, just like people collect vinyl records and phonographs. Touching a book is as much a personal experience as it is a special one, it's something that feeds your soul. We can't deny technological and scientific breakthroughs, e-books serve and will serve their purpose. They both give us knowledge, company, but only a printed book will give us that smell of wood. I believe it brings us closer to the author, to everyone who has been involved in the process of its creation. I'm convinced that decades will pass by before this happens, there is a long road before families and societies until new generations take up the good habit of reading again.
HT: Do you think visitors appreciate your job?
DG: I'm sure they do, being in contact with books gives you a feeling of peace, everyone who passes through the doors of my room will enter a welcoming environment where knowledge and pleasure invite them in. Plus, there is no better company for any reader looking for a good book than an experienced bookseller who will always give you recommendations and suggest new books.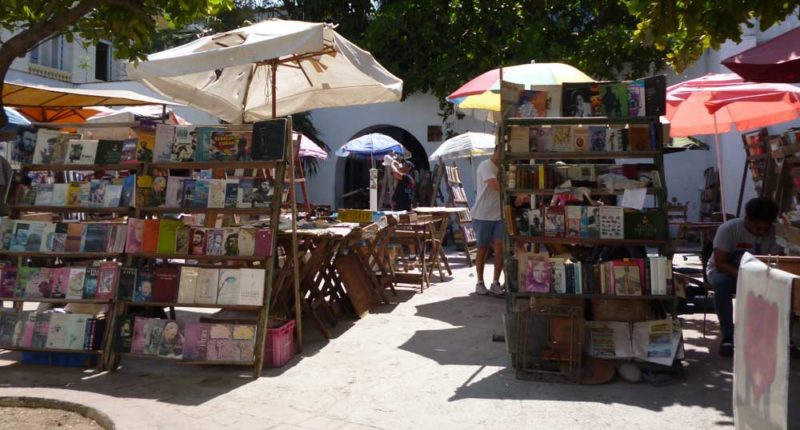 HT: Have you heard about the new theories to do with the prolonged use of computers, tablets and cellphones to read?
DG: I have watched some documentaries that talk about dry eye and the need to use drops, but I believe that this has a solution: less screen time or more drops. The important thing is that the number of readers increases every minute that passes by. E-books are also wonderful, just imagine, you can carry thousands of books in your shirt pocket!
HT: Being self-employed means you have to pay a monthly license. Are you able to make a living from book selling?
DG: I was a Spanish Language and Literature teacher at a high school. I retired many years ago, I receive my pension, I have to pay 60 Cuban pesos per month for the license. Some customers leave me a tip, but there are days I don't sell anything and other times I have to put them on sale. I do it from the heart, I believe it's more important that people take the book home.