A Cuban Who Moves on Wheels
By Yusimi Rodriguez

HAVANA TIMES, Dec. 8 — I met Rodolfo three days ago while taking photos on the Malecon seawall. He mistook me for a foreigner visiting Cuba and offered to take a picture of me with his own camera: an ingenious device made of empty beer cans, a piece of wood, a spring and some wire.
By activating some mechanism, the lens opens up and a spring pops out with the face of a doll on the end. My smile was almost inevitable, at least during the first few seconds. Rodolfo spoke with me from his wheelchair.
Five years ago, at the age of 48, he had an accident in which he lost both of his legs. He was a driver for a company that had sent him to Pinar del Rio Province for something related to his job. He crashed into a truck and had to retire early. Now he gets a monthly check of 205 pesos in national currency (a little more than $9 USD).
But Rudolph is not a person to be pitied.
Rodolfo: I made this camera myself. I come out here almost every day and I ask foreigners if they want me to take their picture. They get a kick out of it when I flick the switch that snaps the camera and makes the doll come out.
They give me money and maybe something else – a pen or some candy. A person can't live on 205 pesos a month. If you stay inside your house, nobody's going to give you a piece of bread, a meal or anything. Also, I have a good time here, I meet people, I make friends.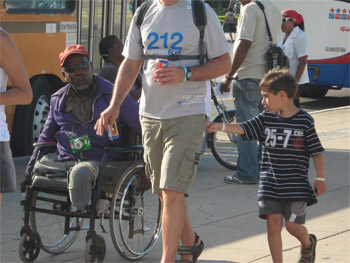 Rodolfo lives on the edge of the Vedado neighborhood. He gets up early and rolls his wheelchair all the way to Old Havana. Sometimes he needs help. Some people don't lend him a hand, but others — the majority — help him out gladly.
Rodolfo: Recently, a Jehovah's Witness pushed me from Infanta Street all the way to 23rd and 12th street (more than a mile). I told him that I didn't have any way to pay him for the big favor he had done for me. He replied that I could pay God with my goodness.
I couldn't confine satisfying my curiosity, so he let me take a photograph of him. He also asked me questions. When I told him that I spoke English and German, he talked to me in in both languages.
Rodolfo: Recently, a German told me that if I didn't speak German, he wouldn't give me anything.
He learned phrases from other languages in his dealings with tourists. He outdid me, and now he can communicate in English, German, French and Japanese.
But his life is not limited to going to the Malecon seawall to meet tourists so that they'll give him something or just talk and laugh with him for a while.
Rodolfo: I play in a small band in Cojimar. I go in my wheelchair from Vedado to Curita Park, where I can catch one of the "cyclo-buses" that carry people with bicycles and motorcycles through the Havana Bay tunnel.
It all started because I used to go to a place where the group played so that I could offer tourists to take their pictures with the little camera I invented. It was funny and they would give me a little money. But the musicians realized that the tourists were giving more money to me than to them, so I was made a member of the group.
They taught to play the "chekere" gourd and I learned a few songs (he sang a short piece for me). So I became a musician kind of by accident. I'm not a professional, of course, but I can hold my own pretty well. We play traditional music, songs like "Guantanamera" and "Comandante Che Guevara."
The group members are not paid a salary. They pay licensing fees and taxes as self-employed workers, so they have permission to play along the Cojimar seawall. They make their income from what tourists give them. Rodolfo, being physically handicapped, is exempt from paying taxes.
Yet the man continued to amaze me.
Rodolfo: This year I participated in the "Marhabana" marathon for the third time.
HT: Do you live alone?
Rodolfo: Yes. My parents died, my sister too. I have a brother who lives abroad. But occasionally I go out with a woman to have a good time for a little while. I have a girlfriend in the Parcelacion municipality (many miles away from Vedado)
He confessed that sometimes he wakes up with the fear of dying, which makes him sad. But then he'll try to cheer himself up and go on in his daily struggle because he wants to live for many years more. I assured him that he would, and he said goodbye with a warm smile.