Among Roosters, Interview with Cuban Painter Ernesto Cordova
By Warhol P.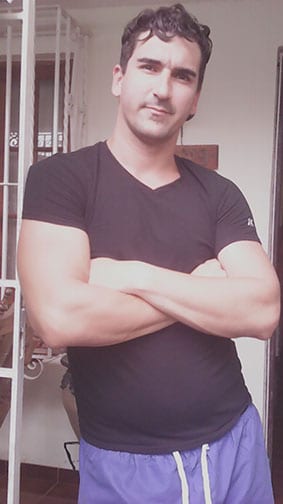 HAVANA TIMES — Ernesto Cordova is a young painter who, a few years ago, formed part of the Museology Restoration and Conservation Center, located in Old Havana, which no longer exists today.
Today, I had the chance to interview him and enjoy his extensive work, which includes a combination of drawing, painting and photography.
HT: What is your inspiration when you work?
EC: I find inspiration in reality. I normally take a photograph and I capture a moment which is recorded through my lens and then I transfer this image onto a canvas, as long as there is a concept and a good aesthetic. I can work on canvas, cardboard or on a simple board. I concentrate on expressionism, on drawing freely, and without losing my characters; I create atmospheres which can be abstract too.
HT: How would you define your style?
EC: I'd say it's a mix, because we live in a time now where a mix of different styles is used a lot. I'm a lot more interested in the concept because with regard to styles, I use everything available to me, and over the course of my work, I'm interested in exploring other materials that can enrichen my art. The important thing for me is not to stick to what's traditional, I believe that opens up an artist's scope and gives him more opportunities.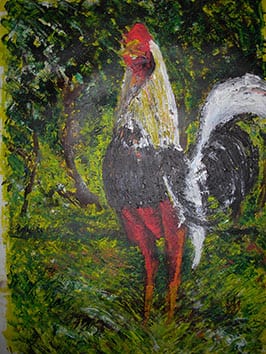 HT: What is the name of your new collection?
EC: My new collection focuses on roosters, there are already some artists who have worked with the image of roosters, but I wanted to create my own project on this subject. I've currently made ten pieces which I've called "Clean Stroke". These are pieces which stand perfectly well alone as independent pieces because I made every one of them using a different style.
HT: Has it been easy for you work as an artist?
EC: When you live in a country where there are a lot of problems just to get basic, essential items, I don't think that this limits you, on the contrary, like Einstein once said, "who ever overcomes crisis, outdoes himself without being overcome." Taking this as a reference has really helped me when it comes to creating.
HT: As well as painting, would you like to explore another art form?
EC: Yes, sculpture.
HT: How do you get your work to be seen?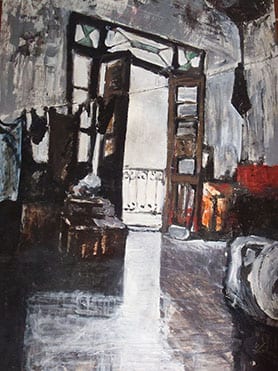 EC: Well, here, everything is a challenge. Unfortunately, you need the help of somebody authorized in galleries, to promote your work and then look for somebody interested in your work, and it's quite hard to enter the world of art, and you already know that for us Cubans, nothing is easy.
HT: I know that as an artist you're interested in selling your work. Have you been able to find a means of doing so here in Cuba?
EC: Here in Cuba, no. I still haven't managed to find a way, because as I said, it's complicated.
HT: Has any artist influenced your work?
EC: Yes, a lot of artists have influenced my work, from both a conceptual and technical point of view. Some of my influences come from impressionist painters, while others are more contemporary.
HT: What does the art scene in Cuba look like to you?
EC: It's complex, and humans are circumstantial beings, therefore, that depends on how the artist himself experiences it. However, in Cuba there are a lot of really talented people, and not just in the art world, in other art forms too, there is a lot of creative potential.
HT: You recently traveled to Panama, did you go there just to exhibit your art?
EC: Yes, I went to exhibit and promote it and the outcome was really good for me, in terms of selling, everything went super well. Something which here in my own country is very difficult because of all the stupid requirements they ask of you. For example, in order to sell your work, it's compulsory that you be registered at Creator offices, but in order to do that, you have to have graduated from the ISA art institute. I don't believe that they really take talent into account. This is something that I still haven't managed to get my head around, because I think that in order to be an artist, whether a musician, photographer, actor or painter, you don't necessarily need to have studied in a school. There are a lot of experiential artists out there, it's already been proven. Art is an expression of your soul, so I don't believe that you have to belong to an institution to make art and to be able to sell what you, the artist, makes.
HT: Now, with the new openings in our country, do you not believe that it will be possible in the not too distant future to create your own gallery in order to exhibit your work and that of other artists, and that you'll be able to sell works freely at these exhibitions?
EC: Look, we all have dreams, and you always need to believe in something so you can make it come true. It would be wonderful for me to have a gallery where I could exhibit not only my own work but also help out other artists by exhibiting and selling their work. That would be the future.
HT: What do you think it takes for someone to become a great artist?
EC: Dreaming, observing, having a lot of imagination and flair, the skill to look at simple things and find their depth, that's very important when creating and to become a great artist. Not many people can do it, it's difficult.