Interview with Cuban Rocker Eddy Escobar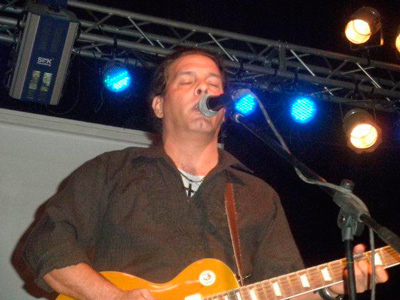 By Irina Pino
HAVANA TIMES —With a repertoire of rock-and-roll classics that have been carefully selected so as to set the band apart from others, Eddy Escobar's band has secured a loyal group of followers at venues around Havana, such as the Maxim Rock and Yellow Submarine. The quality of the band's performances attests to the agelessness and boundlessness of rock and roll, a genre that will continue to carve out a space for itself in Cuba.
HT: Tell me about your first steps in the world of rock.
EE: In 1996, I put together a trio called EFA ("Eddy, Frank and Adrian"). We took part in the international Beatles music festival in Cuba, a gathering that was held on the island until 1998. We had only three acoustic guitars and we played on demand, whatever Beatles song or any other thing the audience asked for. Later, I played with Nertamid, Eternum and Dimension Vertical. I also had a joint project with Osamu and we played together at the Yellow Submarine.
HT: How many band members are there? Are they all music graduates?
EE: We have drums, keyboards, a bass, three guitars. We also have Naibi, another singer. William is our other lead guitar and he also sings a number of pieces. The drummer, pianist and Norwegian guitarist all have formal training.
HT: Have you made any of your own music? Have you recorded any albums?
EE: With Eternum, I recorded a demo for Cuba's Radio Rebelde station. I wrote a number of my own songs in English, but they don't sell as much. You have to look for a record label, approach a broadcaster, look for a market and launch your stuff there.
HT: How long have you been playing with this band?
EE: We first played at the Yellow Submarine on September 19, 2012.
HT: You design the arrangements?
EE: Yes. We respect the original arrangements, we don't make our own versions. We try to imitate the voice of the original artist as much as possible.
HT: You're also the musical director?
EE: Yes, I direct all performances.
HT: You are quite versatile. Did you study music?
EE: Thank you. And no, I play several instruments by ear.
HT: I see a lot of guitars here.
EE: There are three guitars and a bass. I got my hands on two lead guitars and rhythmic one, which I play. I sing, play the mandolin and the piano. There are songs that officially call for three guitars, the Metallica version of Whiskey in the Jar, a traditional Irish song, needs three guitars. It is a very peculiar sound, it's rockabilly, something not very common in Cuba. Hotel California is played with three guitars…
There are already several bands that play rock-and-roll classics that are doing this. Our band is draws from this.
HT: You play several rock genres.
EE: What we don't play is trash metal. We do rock from 1954 all the way up to Bruno Mars.
HT: All your pieces are dance music…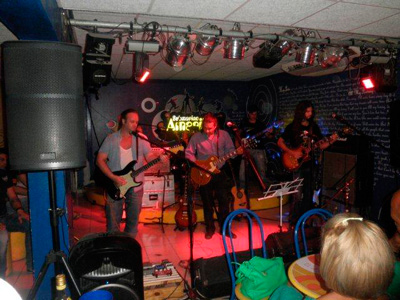 EE: You can dance or listen to it. As for me, I would rather have the audience sitting and listening. But the beer comes along, the blood begins to get hotter and people want to dance.
HT: What about Blues?
EE: Of course, the band plays Blues numbers.
HT: Have you played any folk music?
EE: I love folk music, Simon and Garfunkel, America. Sometimes, I do solos with the acoustic guitar.
HT: Have you considered playing something by Bob Dylan?
EE: I like Dylan a lot, Like a Rolling Stone (his most famous song, according to Rolling Stone magazine) particularly. But to truly enjoy his music you have to understand his lyricism, his poetry. His voice is very nasal, monotonous; if you don't understand the lyrics it becomes boring. The audience has the last word. Bear in mind we're not in an English-speaking country. I want to play something by James Taylor and Neil Young. We'll do things in due course, we're not against doing any particularly genre of rock, provided they are palatable oldies by these artists.
HT: Do you speak English, or do you only sing in English?
EE: I speak English, French and Czech. I think in English, in fact.
HT: Do you play only at the Maxim Rock and Yellow Submarine? There are very few venus for rock and roll…
EE: Yes, there have never been many venues for rock. Timba and reggaeton are the order of the day here. We've gotten other offers, but they haven't been good, financially speaking.
HT: Have you considered staging a rock-and-roll classics festival?
EE: I want to throw together a rock-and-roll classics festival before New Year's and invite all Cuban rock bands, even metal bands, if they want to join in. It could be at the Maxim Rock, the Cabaña fortress complex, wherever we can.
HT: Do you define yourself as a rocker or as a musician?
EE: I'm both a musician and a rocker. I can sing you a song by Tejedor as easily as one by Led Zeppelin. I like the Cuban band Los Van Van, especially their older songs, and Puerto Rican salsa. I listen to anything I consider good music: Mozart, Chopin…and that's not rock and roll. Who hasn't cried listening to a bolero?
HT: Why do you believe your band has so many followers? What makes your band different?
EE: We have good musicians. We play songs other bands don't play. We haven't discarded the possiblity of doing our own music in the future. I write music, William writes music. We could then only play covers on a certain day. For the time being, it's what puts food on the table. We play for audiences, they're our raison d'etre. Working for five people isn't the same as working for a hundred. We try to give our all.
HT: We wish you the best for yourself and your band.