Joe Torre: Baseball Can Unite Cuba and the USA
By Ronal Quiñones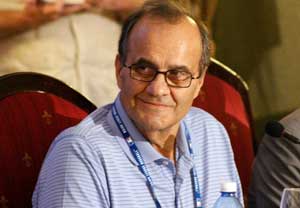 HAVANA TIMES — Baseball could achieve what diplomacy has failed to bring about, or, at least, that's what former US manager Joe Torre believes.  He expressed his confidence the sport will bring the Cuban and US people closer together.
Wearing a blue jersey with stripes – horizontal stripes, to set him apart, perhaps, from the uniform he wore during his glory days with the New York Yankees – the most successful baseball manager of recent times offered Havana Times an exclusive interview.
"Baseball has but one language. I'm a positive person and, knowing what baseball means to both countries, I think everything's going to work out," said the current Major League Baseball chief officer.
The 75-year-old New York manager acknowledged that negotiations to normalize the contracting of Cuban players by the Major Leagues are underway, part of an attempt to satisfy both governments, and that falls outside of the realm of baseball as such.
"None of that is going to be fully settled with this visit, because, to start with, there won't be any 'official' talks until both governments become involved. That's precisely what all of us hope for, and I'm sure Cubans as well," he said.
Currently, Cubans playing in US teams have no choice but to abandon their country of origin and many arrived in the country risking their lives, and then invoking the Cuban Adjustment Act. In view of this, the Major League Baseball (MLB) delegation headed by Torre will touched on this issue with Cuban authorities during their three-day visit to the island.
"It's thrilling to be able to work with you. I wanted to bask in the passion that I know Cubans have for baseball. I know the game means everything to many here, as it does for us."
If one is to talk about Torre and Cuba, there's one name one cannot fail to mention: that of pitcher Orlando "Duque" Hernandez. "The Duque helped us win several World Series and what always impressed me about him is that he always knew exactly how to pitch. He had a competitive spirit which I've also seen in other Cuban players I've known. There's something more than pitching skill there, and, when you can step on the mound, impress the fans and show others how competitive you are, that earns you a lot of respect."
"For example, the Duque got to pitch during the first game of a World Series we played in. I had a star of the stature of Roger Clemens on the team, but, when I asked him who should pitch in the first game, he said: "the Duque." That shows you how much respect he earned from his teammates."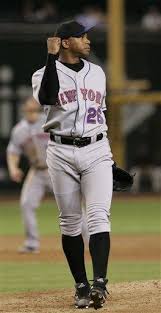 "I remember the first time he pitched; it was against The Mets. In the eighth or ninth inning, I went to the mound to ask him for the ball and he didn't know what I wanted, he didn't want to hand it over, he felt confused. It was something of a battle, because he didn't understand I didn't want to be disrespectful, that I merely wanted to give him a rest. The thing is, in Cuba he'd gotten used to finishing the games he started as long as he felt ok. When he explained that to me, we understood one another."
"I'm old enough to remember when Don Zimmer and Bob Gibson spoke to us about Cuban baseball, because they'd played here as amateurs and during spring training, and one's always curious. Later, I would get to see the Duque play and, now, I see Abreu, and I like seeing where players come from. Something I see in Cuban players in general is that they're very competitive; they know how to play and love what they do. This isn't a job for them, which is another reason I wanted to see junior players here in Havana, to enjoy how they experience baseball, because I know it's a kind of religion here."
HT: How does one succeed in the world's best baseball leagues?
Joe Torre: To be successful, the first thing you need is good teammates. I was lucky to have that. The mere fact of having to play in a country that isn't your own is difficult, because, much of the time, you can feel alone and, even though you're able to connect with someone in particular, you could get transferred to another team for pure business reasons and you have to learn to deal with that.
In the past, many left Cuba risking their lives, and we hope that changes in the future, so that we can all live in harmony. In the end, baseball is just a game, and, when you finally get to put on a Major League uniform, the only thing that should matter is knowing who you're playing with, because baseball is a universal language.
It's not easy. Many probably know they can make it, but they have to test themselves to be sure. The ones I've seen certainly have the discipline; they are focused on what they want and on being competitive.
HT: You were born Joseph Paul Torre, and became renowned as a New York Yankees manager. However, out of modesty, you are reluctant to acknowledge your own merits at the helm.
Joe Torre: I had very special players. People say I did a good job, but I say I had a team of players that made me proud to put on the uniform day in and day out. They know how to play but, more important, they never stopped surprising themselves with their achievements or wanting to repeat them. They were ambitious and never settled for good enough, they always felt they had things still left to do.
HT: What special moments with the Bronx Bombers do you recall?
Joe Torre: 1998 was a very good year because we won 125 games in the regular season and the post-season. It was magical. Probably my favorite year was 1996, my first title. The Yankees hadn't won a World Series in nearly 20 years and we weren't anyone's favorite team. To top things off, we'd lost two successive games against Atlanta. But we then managed to win four games in a row and that will always be a special memory for me. Some think the defeat at the hands of the Diamondbacks (2001) was the most painful, but I say that was one of the most thrilling Series in history, despite the fact we lost. That was the year of the September 11 attacks and that made the post-season even more moving for us.
If we add the fact the US president went there to pitch the first ball, for the first game held in New York that year, where we won two games as if by magic, then, you can imagine how thrilling it was. Arizona simply played better. We had the lead in the ninth inning of the seventh game, and the best closer ready to finish the job, and we couldn't do it. I always say I was blessed to have Mariano Rivera in my team. One thing that made him and his teammates the best was the fact he never looked for excuses. They gave their rivals credit when they proved better than us. I am very proud of all of them.
HT: To conclude, can you share your experiences with the Dodgers?
Joe Torre: It's interesting, because, when I was growing up in Brooklyn, the city of New York had three baseball teams: the Dodgers, the Yankees and the Giants. When I was young, I hated the Dodgers and the Yankees because I rooted for the Giants, but, as time went by, those teams would become my baseball career. My time with the Dodgers was also very special, because we got to the Championship Series two years in a row. For me, the Dodgers are like the Yankees of the National League.