Cycling for Cleaner Air in Latin America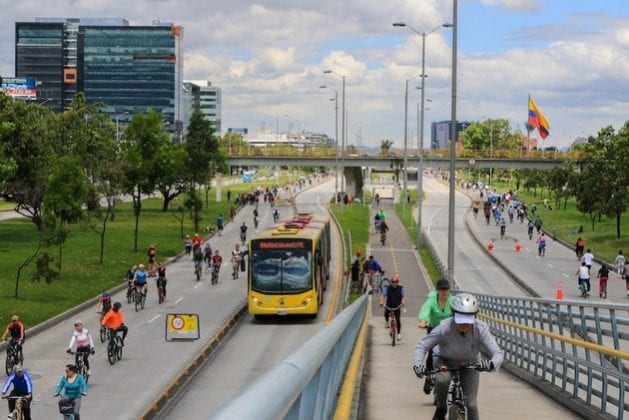 HAVANA TIMES – Transport produces 25% of emissions in Latin America and the Caribbean. While the air in most of the region's capitals has become almost unbreatheable, cycling has captured the imagination of thousands of Latin Americans.
Four of the region's largest cities have taken measures to promote sustainable mobility alternatives that reduce pollution, and they are encouraging bicycle use as a concrete measure to clean the air.
Four successful initiatives are changing the way Latin Americans move about in their everyday lives.
Transforming mobility in a megacity
In 2010, the public bike service "Ecobici" invaded Mexico City's congested streets. Mexico City has one of the highest pollution rates in Latin America.
Ecobici offers a low-cost alternative to reduce car use in the Mexican capital, where approximately 5 million cars circulate its streets.
Today, 170,000 people have signed up onto the system and 60 million journeys have been made. About 20% of users stopped using their private cars or taxis, and now they favor cycling as their means of transport. About 95% believe that it is thanks to this system that urban mobility has improved, according to an official survey.
Ecobici started operating with 85 bike stations and 1200 bikes. Now, there are 480 stations and over 6800 bikes, 340 of which are electric and include touchscreens with real time maps and USB chargers.
The service covers 55 neighborhoods in the city, spanning across some 38 km2.
Mexico City's public bicycle network is the largest in Latin America and the Caribbean, a region where cars have traditionally been a status symbol, but bikes are quickly gaining popularity.
Within the region, a total of 12 cities have public services like this one, reports a 2015 study by the Inter-American Development Bank (IDB).
The public and free bicycle service in Buenos Aires is also called "Ecobici", and 2500 bikes are distributed among the city's 200 stations. The service in Ecuador's capital is called "BiciQuito" and already has over 1000 bikes available at 25 stations.
Bicycles, part of a healthy lifestyle in Bogota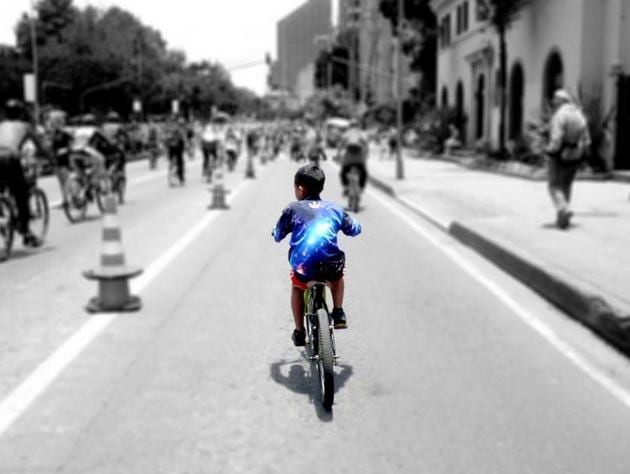 Cycling has become a part of thousands of inhabitants' lives in Bogota.
The Colombian capital has the largest cycle lane scheme in Latin America, with 540 km of lanes for exclusive bicycle use. In 2015, at least 5% of journeys were made by bike, according to the IDB.
Like other capitals within the region, Bogota was designed for cars. However, since the 1970s, government authorities understood the importance of promoting bicycle use and began to build the first cycle lanes. Approximately 2 million people use these cycle lanes today.
Cycling forms part of a healthier lifestyle, especially among children. A recent study discovered that children aged between 6-10 years old, who use Bogota's recreational lanes on Sunday, have six more minutes of vigorous physical activity (on average) than those who don't.
However, many people criticize the program due to the fact that some of these cycle lanes are only open on Sundays, focussing more on cycling as a form of leisure than a sustainable form of transport.
As a result, city authorities have decided to take a bold step forward and open a discussion so a policy about bicycle use can be formulated.
Bogota City Hall hopes to reach 580 km of cycle lanes by the end of 2019, as part of its plan to convert Bogota into the "bicycle capital of the world".
Civil science to tackle pollution in Buenos Aires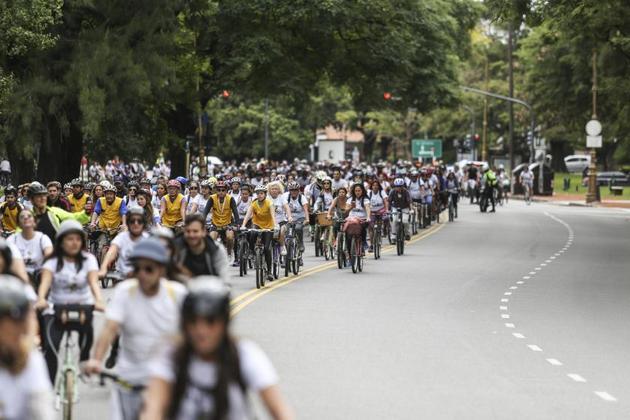 Bicycles also help monitor the air quality index. In Buenos Aires, 30 voluntary cyclists measured the concentration of particulate matter using sensors they had installed on their bikes.
Facilitated by Cambridge University's Open-Seneca project, the device allowed them to locate where people are at a higher risk of being exposed to high levels of pollution.
One of the project's objectives "is to present a report with these results to the Argentine Congress so that they can create anti-pollution legislation," said Matias Acosta from Cambridge University, the institution that is promoting the project with support from the Canadian and British Embassies in Argentina, and the National Commission on Sustainable Development.
Open-Seneca, a civil science project, hopes that people all over the world develop and use these low-cost sensors so as to give visibility to the pollution problem and provide governments with reliable data that drives concrete measures in order to tackle pollution and create cleaner air.
"Today, we are starting a new era. Volunteers have gone out on their bicycles to monitor the air quality index, so that we can all take care of the environment and people's health," Sergio Bergman, the Secretary of Environment and Sustainable Development, said back in May.
Data collected by cyclists will be registered with measurements on Buenos Aires' automatic atmospheric monitoring network. The figures from this network are being published daily on the city government's website.
Costa Rica: bicycles at the heart of a national policy
Costa Rica is offering fiscal incentives to companies who promote bicycle use among its staff. This has been stipulated in a law that was recently passed and regulates the use of bicycles as part of a strategy to decarbonize the country by 2050.
More and more companies have exclusive bicycle parking facilities, showers and changing rooms for employees, as well as other facilities.
Transport generates over 40% of greenhouse gas emissions in the Central American country.
In an effort to reduce transport-related contaminants, the government has opted for clean mobility, and the law on bicycle use is one of the first steps that has been made towards this.
The law demands better infrastructure for cyclists and road safety education, a subject that will become compulsory for all students at public and private schools. The document also encourages and regulates municipal systems of shared bicyles.
Public and private initiatives that promote bicycle use are already growing in the country. BiciBus, a company that provides advice to people who want to replace their cars with bikes, is one of them. The Ciclo-Incluyente badge is another one, which companies who are bike-friendly receive.
Last year, a team supported by both groups traveled 917 km by bike from San Jose to Panama City in order to raise awareness about the role bicycles play in building cleaner and healthier societies.
This article was originally published by UN Environment – Latin America and the Caribbean, which IPS- Inter Press Service has a special agreement with in order to spread their content.