More Venezuelans Seeking Asylum in Europe
By Michel Winde, Emilio Rappold and Denis Duettmann, (dpa)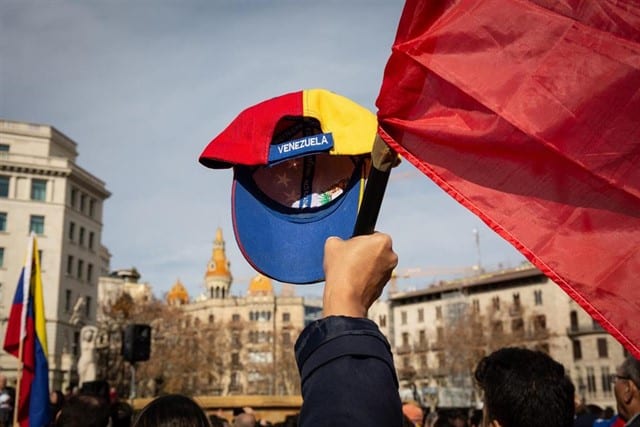 HAVANA TIMES – Venezuela's political crisis has had little effect on Europe to date, but the number of people seeking asylum is rising steadily, with no end to the standoff in Caracas in sight. Spain has borne the brunt of the influx to date and has been slow to process applications.
Estefania doesn't really expect anyone in Europe to understand the tragedy that is facing her homeland. She looks both sad and angry. But her words speak volumes.
"It doesn't matter if you are rich or poor: The crisis is a brutal slap in the face every single day," the Venezuelan woman tells dpa.
It was in September that the 25-year-old Estefania decided she had finally had enough – enough of the lack of food, medication, water, the rampant crime, the arbitrary bureaucracy, the power shortages and the often kilometre-long lines outside of shops.
She sought a student visa and got on a plane to Spain. With a heavy heart, she left her parents behind in a country "where you cannot live anymore." She says she was one of the last in her group of friends to pack up her bags.
When Europeans discuss the immigration crisis, they rarely think of people like Estefania, who is currently looking for a better future in Madrid. And yet, the crisis in this Latin American country has affected Europe as well.
The number of Venezuelans seeking asylum in the 28-nation European Union or in neighbouring Switzerland, Liechtenstein, Norway and Iceland doubled in 2018 to 22,500, according to the Brussels-based European Asylum Support Office (EASO), which presents its annual report for 2018 on Monday.
Those numbers have risen steadily over the past few years. While just
25 Venezuelans sought asylum in January 2015, applications passed the
1,000 mark in March 2017 and reached 3,500 in April. A total of
18,400 have sought asylum between January and May of this year.
The cause is a serious economic and political crisis that has prompted 4 million Venezuelans – out of a population of 31 million – to leave home. Some 1 million have left the country since November alone, according to the United Nations refugee agency, UNHCR.
Most of them seek asylum in neighbouring countries, with about 1.3 million making their home in Colombia.
An end to the crisis is not in sight. The country has been at a standstill amid a bitter power struggle between President Nicolas Maduro and the self-declared interim president, Juan Guaido.
Catherine Woollard, head of the European Council on Refugees and Exiles (ECRE), says that while the situation is "alarming" for Venezuela and South America, the impact on Europe has been limited.
Just 4 per cent of asylum seekers in Europe came from Venezuela last year. But things could change if the numbers increase: "There's the risk that political panic will arise," she warns.
In Europe, Spain has borne the brunt of the influx to date and has been slow to process applications. Just 400 Venezuelans have been granted asylum "on humanitarian grounds." Woollard called on the EU to focus on stabilizing the region, but said the European Union "also has to continue to allow people to seek asylum here."
About 19,000 of the 22,500 Venezuelans seeking asylum last year applied in Spain. Some 90 per cent of asylum seekers in the first three months of this year also sought refuge in Spain. In addition to sharing a common language, Woollard notes that many Venezuelans have relatives in Spain or are of Spanish descent.
Life for Estefania, who has no Spanish connection, is uncertain. But when she remembers stories from fellow students, who were pulled from their sleeping quarters and tortured for days, ostensibly because of their political views, then she knows she made the right decision.
Her student visa expires in June and she says she does not want to apply for asylum. Instead, she is hoping for an extension or work visa through her journalism work. If that doesn't work, she would return to South America, possibly Chile – anywhere but back home.
So far, there has been little discussion in Spain about the levels of immigration. That is partly because those who first fled to Spain were Venezuela's elite and integrated quickly. Then came Venezuela's fast-shrinking middle class, people like Estefania, who is being supported financially by her parents.
That has started to change over the past few months as poorer Venezuelans are now looking to the EU, according to media reports.
Among this new group is Andres, a 28-year-old who left behind his wife and two children and works illegally in a suburb of Madrid. He lives in an apartment with seven other immigrants and says he is saving on food in order to send as much money as possible back home.
"I cry every night," Andres tells dpa.