All Set For Chavez's Funeral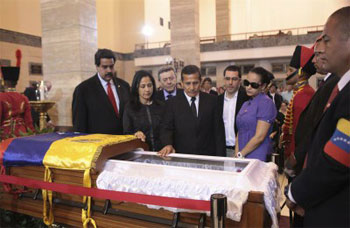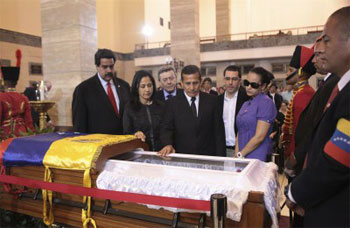 HAVANA TIMES — Official delegations from over 50 countries, as well as thousands of Venezuelans, are now concentrated around the Caracas Military Academy, where at noon the official funeral of President Hugo Chavez begins, reported dpa news.
This will not be a total farewell, since plans are for Chavez to be embalmed and his body put on permanent display. Nonetheless, today's acts are considered the formal farewell to the Bolivarian leader.
Attending the ceremony are presidents Raúl Castro (Cuba); Evo Morales (Bolivia); Daniel Ortega (Nicaragua); Rafael Correa (Ecuador);  Sebastián Piñera (Chile); Laura Chinchilla (Costa Rica);  Juan Manuel Santos (Colombia); Mauricio Funes (El Salvador); Otto Pérez (Guatemala); Porfirio Lobo (Honduras); Enrique Peña (Mexico); Ricardo Martinelli (Panama), Ollanta Humala (Peru); and José Mujica (Uruguay).
Argentina's Cristina Fernandez and Brazil's Dilma Rousseff came to Caracas but returned to their capitals.
Chavez followers flocked to the site en mass, most of them wearing red shirts or Venezuela's tricolors. "The struggle continues, the struggle continues," chanted groups today in subway stations, while other passengers looked at them but without any incidents.
Today is a day of rest in Venezuela, as part of the nation's period of mourning. The subway is running for free so "Chavistas," mostly the grassroots poor, can travel to bid farewell to their president.
Also to take place on Friday is the swearing in of Nicolas Maduro as the interim president, who will lead the country while a new election is organized, noted dpa.