Brazil's Bolsonaro 'Stable' after Seven-Hour Surgery
By Andrea Sosa Cabrios, dpa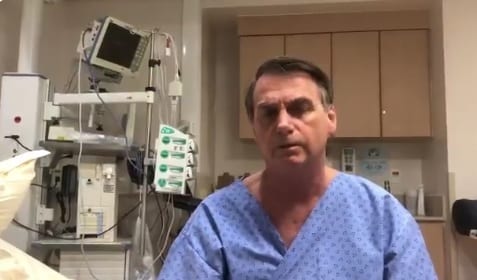 HAVANA TIMES – Brazilian President Jair Bolsonaro was "clinically stable" after undergoing seven hours of surgery on Monday, a spokesman for the presidency said.
The surgery was performed to remove a colostomy bag Bolsonaro was given after being stabbed at an electoral campaign rally in September.
The operation at Sao Paulo's Albert Einstein hospital "went without complications, with no need for a blood transfusion," spokesman Otavio Santana said at a press conference.
The 63-year-old president will stay in hospital for about 10 days, working from there, according to newspaper O Globo. His deputy, Hamilton Mourao, will be in charge for 48 hours.
Bolsonaro on Sunday published a video on Twitter showing him wearing a hospital gown, saying: "A big hug to all and see you soon! God in command."
The president was operated on three days after Brazil was hit by the rupture of a mining dam, which left 60 people dead and 292 missing.
Bolsonaro sustained serious injuries in a knife attack during an electoral rally on September 7, forcing him to undergo several surgeries.
His attacker, who said he had acted on "God's order," was arrested.
The far-right former army captain was sworn in as president on January 1.