Caribbean States Support Dialogue in Venezuela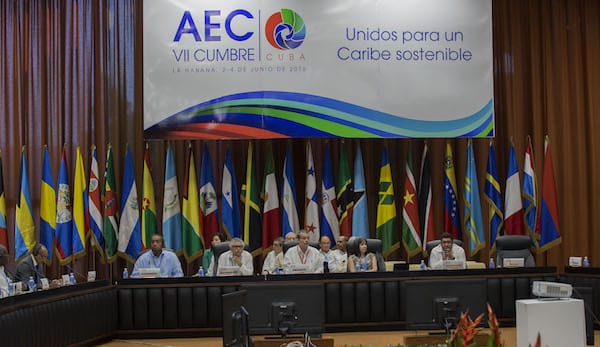 HAVANA TIMES — The Association of Caribbean States (ACS) supported in Havana over the weekend a resolution which backs political debate in Venezuela between opposition parties and the government of Nicolas Maduro.
The ACS document highlights "efforts to create dialogue" by the Venezuelan government and supports the mediation effort between Maduro and the opposition, spearheaded by former presidents Jose Luis Rodriguez Zapatero from Spain, Leonel Fernandez from the Dominican Republic and Martin Torrijos from Panama.
The Caribbean states also underlined the need for a dialogue that seeks "political stability, social development and economic recovery" in Venezuela.
The document also showed its support for different initiatives which "lead, in adherence to the Constitution and whilst respecting human rights" to "resolving their differences and towards consolidating a democracy."
The resolution was passed days after Maduro's Government clashed with the Organization of American States (OAS) secretary general, Luis Almagro, who asked for the Inter-American Democratic Charter to be invoked this week.
Article 20 of the Inter-American Democratic Charter authorizes Almagro to summon a Permanent Council "when the democratic order has been unconstitutionally interrupted in a member state, which seriously impairs its democratic order."
Almagro's initiative implies the beginning of a process which would ultimately lead to Venezuela's suspension from the inter-American body.
The tense meeting that took place on Wednesday at the OAS concluded with a reconciliatory document which didn't ask the Government to allow the recall referendum which the country's opposition were encouraging.
The 7th Association of Caribbean States Summit is the first international forum where the Venezuelan President has taken part since the controversial meeting which criticized the country's domestic policy.
The Venezuelan president rejected Almagro's initiative and challenged him to do it. "I dare you," Maduro said challenging the OAS' secretary general.
"Venezuela is going to struggle on with or without the Democratic Charter, Venezuela isn't going to be defeated if you want to corner us, we're going to keep fighting. Venezuela won't surrender, it won't kneel down," Maduro declared at the Havana meeting.
The Heads of State and Government from the ACS' 25 member states have also approved the "Havana Declaration" which ratifies the validity of the "Proclamation of Latin America and the Caribbean as a Zone of Peace", which was agreed on during the 2nd Summit of the Community of Latin American and Caribbean Nations (CELAC), which was held in Havana in January 2014.
The Association of Caribbean States was founded in 1994 in Cartagena de Indias, Colombia, with the aim of promoting consultation, cooperation and concerted action amongst all the countries in the Caribbean.
The ACS' member states are Antigua and Barbuda, the Bahamas, Barbados, Belize, Colombia, Costa Rica, Cuba, Dominica, El Salvador, Granada, Guatemala, Guyana, Haiti, Honduras, Jamaica, Mexico, Nicaragua, Panama,  the Dominican Republic, Saint Kitts and Nevis, Santa Lucia, Saint Vicent and the Grenadines, Surinam, Trinidad and Tobago, and Venezuela.