Chavez Arrives in Cuba for New Cancer Operation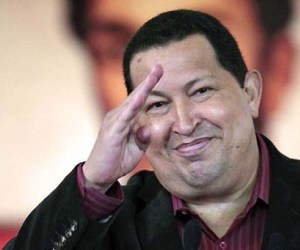 HAVANA TIMES — Venezuela president Hugo Chavez arrived in Cuba to undergo a fourth cancer operation in 18 months, with some people fearful that his health is worsening, reported DPA news.
His Cuban counterpart, Raul Castro, welcomed him at dawn today at the Jose Marti International Airport in Havana, reported the island's media. Public television showed pictures of the Venezuelan leader getting off the plane wearing sportswear and hugging Castro.
On Sunday, Chavez received authorization from the Venezuelan parliament to travel to Cuba again for surgery.
The South American leader said on Saturday night that malignant cells had again been detected in his body and therefore it was "absolutely essential" to undergo another operation.
Chavez has never specified what kind of cancer he has. It's only known that it's located in his pelvic area.
In his message, the 58-year-old president spoke for the first time about the possibility of his being unable to continue in office. Chavez, who on October 7 won yet another six-year term, said Vice President Nicolas Maduro would be the right person to succeed him in the event of "any circumstances" that prevented him from continuing.
The president had just left Cuba on Friday after being there for nine days, during which time he underwent hyperbaric oxygen treatment to strengthen his bones after several sessions of chemotherapy and radiotherapy that followed the previous surgeries in 2011 and earlier this year. Medical exams, said Chavez, had determined the presence of new cancer cells.
In recent weeks, rumors about his health had begun to circulate, with Chavez himself having spoken about new discomforts, which led him to reduce his public appearances following the election campaign for his fourth term.
The opposition voted on Sunday in Caracas in support of travel authorization for the president, but at the same time they asked for more transparency regarding his illness.
Opposition leader Henrique Capriles, who was defeated in the October elections by Chavez, criticized both the designation of Maduro as a successor. In Venezuela there's no "line of succession," said Capriles, who also expressed his "solidarity" with Chavez.
Messages of support for the Venezuelan president came from all over Latin American, while media sources close to the government reported on marches in Caracas in support of Chavez.
Cuba has also followed the recent announcement about Chavez with particular interest. Government-run media on the island broadcast the Sunday address live and in full.
Venezuela is the main strategic ally of Cuba, whose economy depends on oil supplies on concessionary terms from Caracas.
Raul Castro's government has so far guaranteed Chavez complete discretion regarding his medical treatment. Since mid-2011, a number of trips have been made to the island by the Venezuelan leader, who has undergone three operations and received chemotherapy and radiotherapy treatments – always in complete secrecy.
No official information has been provided about the location of Chavez in Havana, though it is assumed that he's at the Medical Surgical Research Center (CIMEQ), which is the best equipped hospital in Cuba, located to the west of the capital.