Colombian Protesters Return to Streets Amid Disputes with Government
By Sinikka Tarvaine (dpa)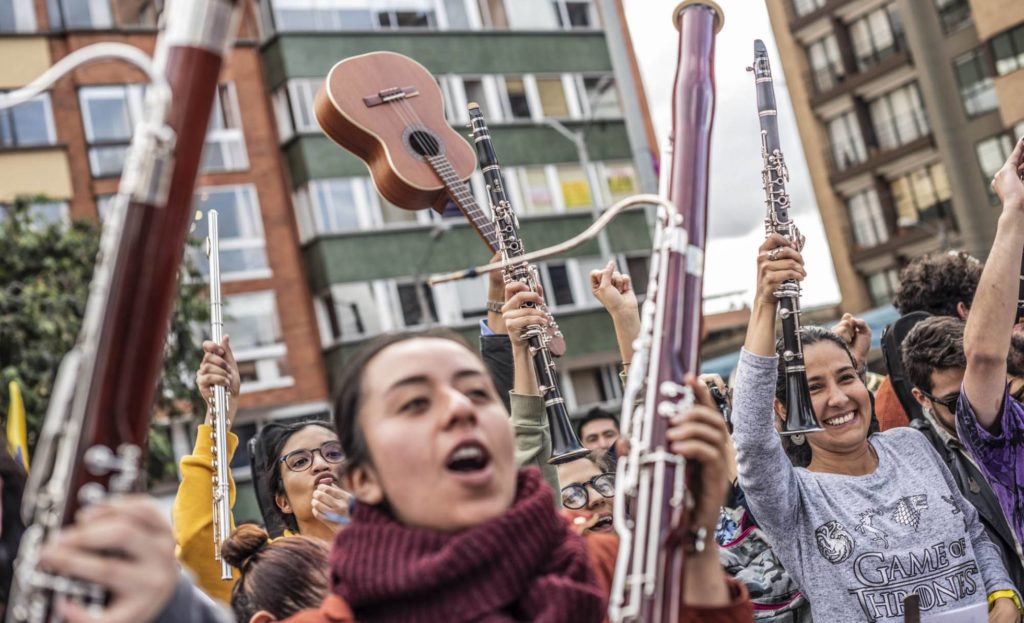 HAVANA TIMES – Colombians across the country took to the streets on Wednesday after the government failed to reach an agreement with the organizers of protests that have continued for two weeks.
Road blocks and marches were initially reported in cities including Bogota, Cali, Cartagena and Cucuta. Large numbers of police gathered in Bogota's central Bolivar Square in case violence erupted there.
Some Bogota shopkeepers formed "human chains" to prevent looters from entering their establishments, broadcaster Caracol reported.
The protests started on November 21, when an estimated 250,000 Colombians marched against alleged government plans to raise the pension age and to lower the minimum wage for young employees, a funding shortage for education and the killings of hundreds of community leaders by armed groups.
Protesters also oppose plans to reduce company taxes and demand the full implementation of the 2016 peace deal with the guerrilla group FARC, including the protection of its former fighters, dozens of whom have been killed.
Wednesday's marches were the third nationwide ones, while smaller rallies have been staged daily. Some of the demonstrations have turned violent, leading to clashes, looting and acts of vandalism.
The National Strike Committee, which represents the protesters, is demanding the dismantling of the riot police ESMAD, which fatally injured a young demonstrator on November 23. The protests have claimed at least five lives so far.
President Ivan Duque's government this week accepted the strike committee's request for talks, but a meeting on Tuesday failed to produce an agreement.
The two parties disagree on the extent to which other economic and social sectors should be involved in the talks, and the government also refused to keep the ESMAD out of the streets on Wednesday.
With the protests, Colombia joined a wave of civil unrest in Latin America that has swept countries such as Ecuador, Chile and Bolivia.