Costa Rica Shuts Doors to New Cuban Migrants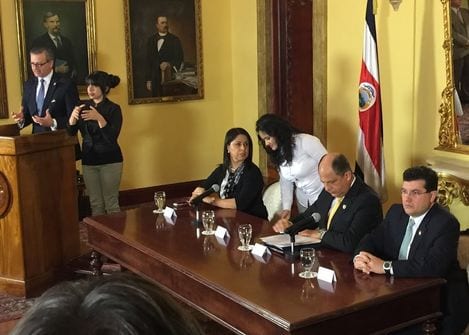 HAVANA TIMES – The Government of Costa Rica announced on Friday that it will not grant more temporary visas to Cuban immigrants and decided to break with the political forums of the Central American Integration System (SICA) for their lack of solidarity with the migration issue, reported dpa news.
"There was no improvisation, no tantrums or disrespect (…). I have advocated regional integration for 30 years, I am an integrationist President, so the exit is a source of frustration and sadness," said Costa Rican President Luis Guillermo Solis.
"I do not understand how three countries reached an agreement to stop supporting the other members of the system," he added.
The Costa Rican director of Immigration, Kathya Rodriguez, announced at a press conference, attended by Solis and Foreign Minister Manuel Gonzalez, that the measure concerning visas takes effect on Saturday December 19th.
Immigration officials have granted 5,000 temporary visas to Cuban immigrants to their country in a bid to continue their journey to the United States. There is also another 2,000 visas pending. [It is understood that these will be processed but no further ones allowed].
However, given the fact that thousands of migrants are stranded in Costa Rica because other countries in the region refused to allow them to enter and pass through their territories, Rodriguez warned that the Costa Rican government will not grant more new visas starting Saturday.
President Solis confirmed the withdrawal of Costa Rica from the political forums of SICA and justified the decision with the lack of solidarity with the immigration problem facing his country from Nicaragua, Guatemala and Belize, who refused to allow the over 6,000 Cuban immigrants to pass through their territory.
The presidents of SICA held a summit Friday in El Salvador, but Costa Rica was unsuccessful in having the migration crisis discussed so as to find a solution.
Both Solis and Gonzalez were "sad and frustrated" by the attitude of SICA and especially Nicaragua, Guatemala and Belize, which led them to abandon the summit.
The migration crisis broke out just over a month ago when Costa Rica dismantled a gang of smugglers (coyotes) who contacted the Cubans in Ecuador and promised to lead them to the United States in exchange for large sums of money.
The operation left thousands of Cubans adrift.
Those Cubans had left their country legally to Ecuador, which allowed them to enter its territory without a visa until December 1st. Once in Ecuador, and after crossing Colombia and Panama, they reached the southern border of Costa Rica.
There, the government decided to grant them temporary visas to enable them continue their journey to the United States, which grants special treatment to all Cubans who reach its territory by land.
The crisis worsened when on November 15 Nicaragua shut its border to the Cubans and used tear gas and rubber bullets to return around 850 migrants to Costa Rica.
Then, while Costa Rica sought an alternative humanitarian corridor to allow the Cubans to move on, Guatemala and Belize also refused to receive them.
The problem was addressed by Solis with the president of Cuba, Raul Castro, during a recent visit to Cuba.
Some 5,000 immigrants are currently housed in almost thirty shelters located in various parts of the border area of Costa Rica with Nicaragua.