Cuba Caravan Crosses US-Mexico Border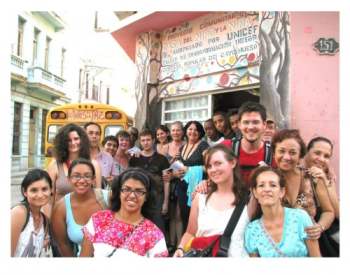 By Circles Robinson
HAVANA TIMES, July 20 — A large caravan of humanitarian aid for Cuba crosses over the US-Mexico border at Reynosa, Texas on Wednesday en route to the Gulf Port City of Tampico and a boat loading for destination Havana.
Pastors for Peace is not new at this type of enterprise; this is their 22nd caravan to Cuba, challenging the half century US blockade and travel ban on the neighboring island.
The group also sent caravans to Nicaragua during the Contra War years of the 1980s.
One big difference this summer is that the organization's founder, Rev. Lucius Walker, is not present, having passed away on Sept. 7, 2010.
Walker was a crusader for normalized US-Cuba relations and is held in high esteem from the Cuban government. Through his efforts around a hundred underpriveledged US young people have been studying medicine at Cuba's Latin American Medical School on full scholarships.
"We don't believe we will have any problems crossing," said the Rev. Tom Smith, co-director for Pastors for Peace.  In some years the caravan was harassed by US customs and had some of its aid, including computers, confiscated.
According to the organizers, the group heading across the border includes more than 100 US, Canadian and European citizens.  The 100 tons of aid includes computers, tools, medicines, solar panels, school supplies and 14 vehicles including seven school buses.