Cuba First Into Baseball World Cup
By Peter C. Bjarkman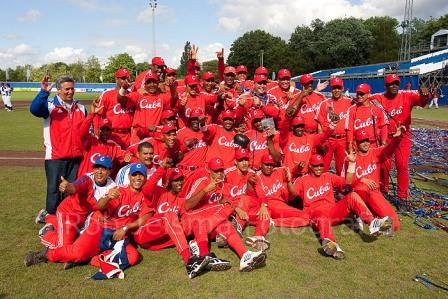 HAVANA TIMES, Aug. 17 – With baseball's true "World Series" only three weeks away, Cuba has expanded its lead over runner-up Korea in the IBAF world baseball rankings, Cuba's gap over Asian powers Korea and Japan expanded with a gold medal triumph at the recent Rotterdam World Port Tournament.
The latest poll is the third since the IBAF began its world rankings on the heels of last summer's Beijing Olympics. The latest IBAF poll also accompanied news that once again the International Olympic Committee has voted down both baseball and softball was medal sports for the 2016 Games that will likely be held in Tokyo, Rio de Janeiro, or Chicago.
With Olympic baseball having fallen by the wayside for the foreseeable future, next month's IBAF World Cup takes on added significance as the one true measure of baseball's legitimate "world championship" status.
More will be written about the upcoming IBAF tournament on this page in coming days. But an early indication of this year's favorite might be gleened from the fact that defending champion Team USA (which captured its first-ever crown in Taiwan in November 2007) has yet to even name an official roster.
At the same time the Cubans are immersed in a month-long highly competitive domestic all-star series to winnow down their national team roster from its current size of 56 candidates. The Americans will begin World Cup warm-ups with a brief four-game exhibition series (versus Canada's entry) in Cary, North Carolina on September 3-6.
On those same dates 2007 runner-up Cuba (winner of 25 previous World Cup crowns) competes in the Italian Baseball Week (with Italy, Venezuela and Chinese Taipei).  World Cup first-round action opens up in five European locations on September 9, with Cuba playing in Barcelona and Team USA slotted for Germany.
This month's IBAF rankings also included women's baseball for the first time, with Japan, the USA and Canada filling the top three slots. The top twenty in the men's rankings were as follows:
1. Cuba (1209.68 points)
2. Korea (984.82 points) (Winners at the 2008 Beijing Olympics)
3. Japan (947.00 points (Winners of the first two World Baseball Classics)
4. USA (889.32 points) (Defending 2007 World Cup Champs)
5. Chinese Taipei (591.82 points)
6. Holland (412.57 points)
7. Mexico (302.75 points)
8. Canada (280.19 points)
9. Venezuela (233.18 points)
10. Puerto Rico (215.39 points)
11. Australia (214.11 points)
12. Panama (212.32 points)
13. Dominican Republic (135.68 points)
14. Nicaragua (131.25 points)
15. Italy (130.88 points)
16. China (125.00 points)
17. Thailand (58.50 points)
18. Spain (54.50 points)
19. Philippines (50.83 points)
20. Brasil (41.50 points)
To read more from Peter C. Bjarkman check out www.baseballdecuba.com.  For Bjarkman's Havana Times coverage of the last World Baseball Classic visit: http://havanatimes.org/?p=5062