Cuba Hosts Xi Jinping for Two-day Visit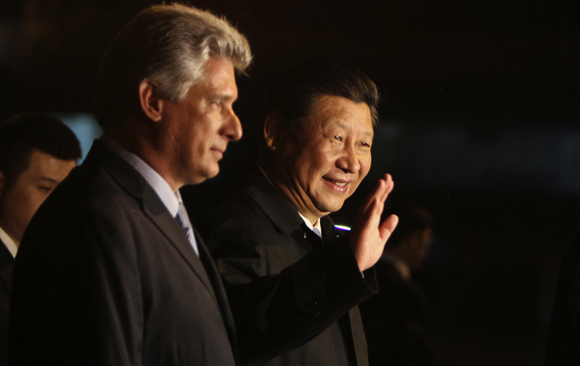 Ladyrene Pérez/ Cubadebate
Ladyrene Pérez/ Cubadebate
HAVANA TIMES — Chinese President Xi Jinping arrived in Cuba for a two-day visit on Monday evening, the culmination of his tour of several Latin American countries during the last week.
Xi arrived from Caracas, for the last leg of his tour of the region. The Chinese president was welcomed at the airport by Cuban Vice President Miguel Diaz-Canel, dpa news reported.
Before Venezuela, where Xi and President Maduro signed several new accords, the Chinese leader visited Argentina and Brazil, where he attended the summit of the BRICS group of emerging countries (Brazil, Russia, India, China and South Africa), among other activities.
Xi is scheduled to meet Tuesday in Havana with his counterpart Raul Castro. The two leaders will also sign agreements in the framework of the official agenda. The Chinese president will travel Wednesday to Santiago de Cuba in the east of the island, from where he will depart back to his country.
His agenda in the capital includes a special ballet performance at the National Theater. No mention was forthcoming whether Xi will meet with former President Fidel Castro, who usually informally receives important foreign visitors at his home.
The Chinese leader's visit was preceded on Monday by the holding a bi-national business forum in Havana, in which 13 Chinese companies participated.
China is Cuba's second leading global trade partner, second only to Venezuela.
The Chinese entrepreneurs received information on the new Foreign Investment Law, which came into effect a few weeks ago in Cuba. The government of Raul Castro seeks to boost capital inflows to address the country's economic crisis.
Cuba authorities introduced the Chinese delegation to the free trade zone around the mega-port of Mariel, on the outskirts of Havana. The island seeks to create an industrial pole with the participation of foreign capital.
With Xi's visit to the region, China greatly increases its influence in Latin America. In Caracas he signed 38 bilateral agreements with his counterpart Nicolas Maduro.
The Beijing government will receive a sharp increase in oil supply from the South American country, which will increase considerably from the current level of about 524,000 barrels a day.
The increase will be covered by a new credit line of US $4 billion (2,960 million euros) to Caracas, which should ensure the supply of one million barrels of oil daily through 2016.
Xi also announced over the weekend in Buenos Aires his country's investment there of almost $7 billion for the construction of two hydroelectric dams and the modernization of the railway.