Cuba: Lula Meets with Castros, but Unable to See Chavez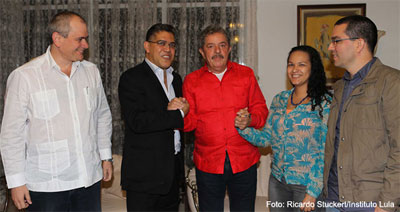 HAVANA TIMES — Former Brazilian President Luiz Inacio Lula da Silva took advantage of his participation in a forum in Havana to meet with Cuban leader Fidel Castro and President Raul Castro, however he was unable to see Venezuelan President Hugo Chavez, who has been there recovering from cancer surgery since December 11.
According to the Instituto Lula, yesterday the ex-president was able to meet with Chavez's daughter, Rosa Virginia; Venezuelan Foreign Minister Elias Jaua and the medical team treating Chavez, reported DPA news on Thursday.
"They told the former president that Chavez has been recovering well from the operation that took place in December," indicated the institute in a brief report.
Chavez underwent a fourth operation in Cuba on December 11 for cancer in his pelvic area. Since then, the Venezuelan leader has not been seen in public or heard on radio.
After having had very "delicate" health, Chavez has recovered somewhat from his surgery, according to reports from the government in Caracas.
Lula also held a meeting with Fidel Castro on Wednesday after accompanying Raul Castro to visit the Brazilian-financed development project at the Port of Mariel, whose photos have been released by the Lula Institute website.
Having stepped down from power in 2006, the 86-year-old Cuban leader usually receives high-level foreign visitors at his home in Havana. In January he also met with the president of Argentina, Cristina Fernandez de Kirchner, and Peruvian President Ollanta Humala.
Lula, who governed Brazil between 2003 and 2010, participated in the Third International Conference for World Equilibrium, held in the Cuban capital. The forum also celebrated the 160th anniversary of the birth of Cuba's national hero, Jose Marti.
During a speech at the closing ceremony, the former Brazilian president appeared wearing a red shirt in tribute to Chavez. He also criticized US President Barack Obama for his policy toward Latin America.
Cuba was the first leg of an international tour of the former trade unionist, who will continue on tomorrow to the Dominican Republic, where he will meet with President Danilo Medina and former President Leonel Fernandez.
On Saturday Lula arrives in Washington, where he will make the inaugural address on Sunday at a conference of the United Automobile Workers union (UAW) before returning to Brazil the same day.