Cuba Regrets US Decision to Withdraw Diplomats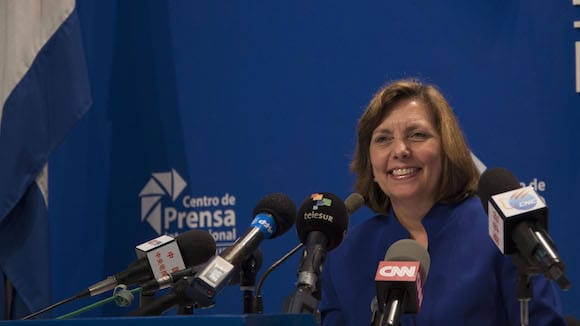 HAVANA TIMES – The Cuban government today called the United States' decision to withdraw most of its diplomatic personnel on the island "hasty," and said the decision would affect relations between the two countries.
"We believe that the decision announced today by the US Government through the State Department is hurried and will affect bilateral relations," said Josefina Vidal, the United States director of the Cuban Foreign Ministry.
Vidal reiterated on State television the will of the Cuban government to continue "active cooperation between the authorities of the countries," which restored diplomatic relations in 2015.
Washington announced earlier on Friday that it will reduce its diplomatic representation by more than half and warned its citizens not to travel to Cuba because of mysterious "attacks" that affected 21 members of its staff.
Among other symptoms, government workers have allegedly suffered from hearing loss, dizziness, tinnitus, headaches, fatigue, cognitive problems and difficulty in sleeping.
The first cases were known but not made public in November 2016 and the most recent were recorded in August, a senior State Department official said today.
The withdrawal of most of the staff will mean suspending the issuance of regular visas at the US Embassy in Havana whose operations will be limited to consular assistance to US citizens.
The United States also suspended meetings with Cuban authorities on the island, although these bilateral meetings will continue to take place in the United States.
The measure undermines the climate but does not mean the rupture in diplomatic relations between the two countries, resumed under the Obama administration after decades of confrontation.
Raul Castro's government has assured that it has nothing to do with these events and Washington has not directly accused it.  However the Trump government does blame Havana for not protecting the diplomatic staff as required by the Vienna Convention.