Cuba Tracking Hurricane Irma 9/1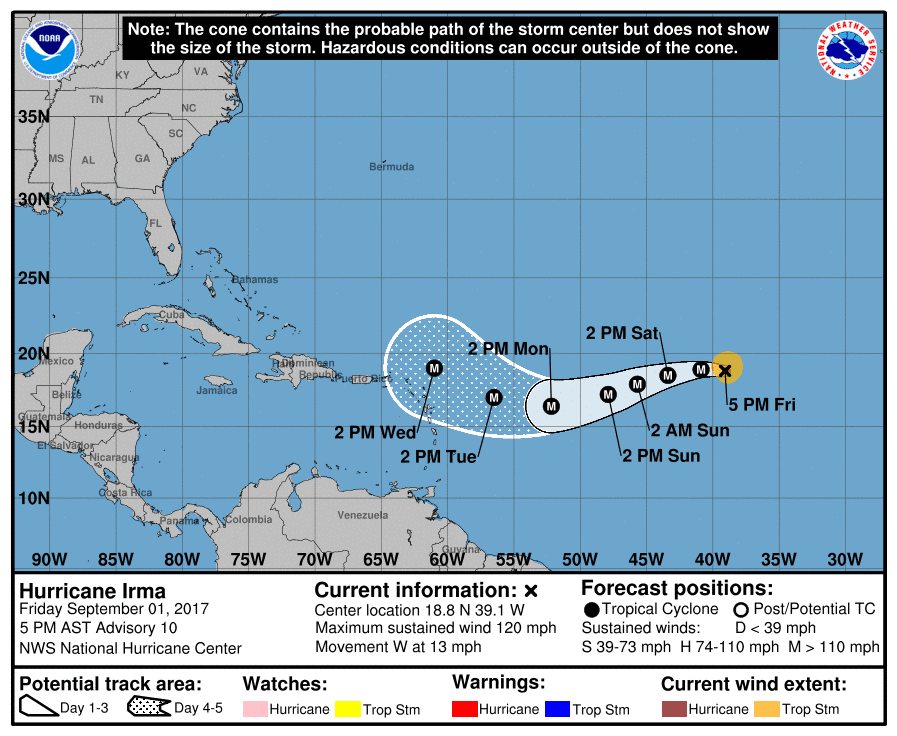 HAVANA TIMES – While still too far away to predict a path in the Caribbean or towards Cuba and/or the United States, Hurricane Irma continues to be a monster storm packing 120 mph winds moving west from the eastern Atlantic.
With the destruction from Hurricane Harvey and hopes of reconstruction on the minds of residents and officials on the Texas and Louisiana Gulf Coast, Irma is lurking in the shadows. In a best case scenario the powerful storm will skirt land and remain in the Atlantic.
At 6 PM (ET) on Friday, the Cuban weather service (INSMET) reported the center of Hurricane Irma at 18.8 degrees north latitude and 39.3 degrees west longitude, positioning it about 1,480 miles (2,385 kms) east of Antigua, in the northern group of the Lesser Antilles.
During the day the hurricane has inclined its trajectory toward the west and moves at the rate of 12 mph (20 km/h).
The storm is expected to maintain its intensity over the coming days as it moves west with some fluctuations, says INSMET.