Cuba Tracks Forming of TS Irene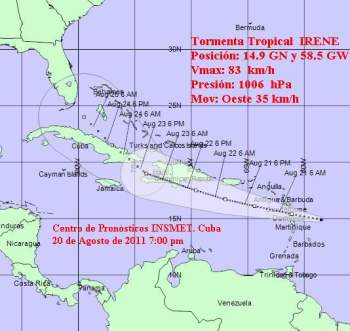 HAVANA TIMES, August 20 — Tropical Storm Irene formed in the eastern Caribbean on Saturday as TS Harvey made a landing in Belize.
In its initial projection the Cuban Weather Service (INSMET) sees Irene possibly reaching the southwestern Dominican Republic by Monday evening.
The storm currently packs 50 mph winds and is moving swiftly west at 22 mph.
The National Hurricane Center in Miami has announced a Tropical Storm Warning for Puerto Rico and the Leeward Islands.
Meanwhile TS Harvey has weakened slightly over land and could be downgraded to a Tropical Depression in the coming hours.  Belize City remains under a Tropical Storm warning as Harvey moves west.