Cuba Visited by UN Investigators on Weapons Found on North Korean Ship
By Café Fuerte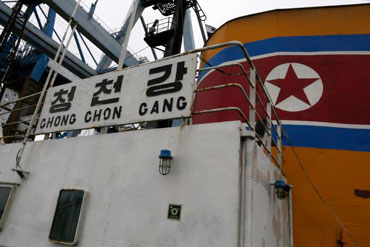 HAVANA TIMES — UN Security Council sanctions committee experts were in Cuba last week to meet with senior government officials. The investigators were seeking details on the Cuban weapons found in July on the North Korean ship Chong Chon Gang.
The investigators concluded their visit on Friday, confirmed Ambassador Sylvie Lucas of Luxemburg, the president of the sanctions committee of the international body .
Lucas told reporters that "the consultations were about the discovered shipments" in the North Korean freighter, but declined to elaborate on the visit.
On August 13-15, the experts had visited Panama to inspect the seized equipment and obtain a first-hand account from the local authorities. The visit to Cuba was a vital part in the research commissioned by the United Nations.
Report in Brief
It is expected that the report on the case of the controversial cargo of 240 tons of Cuban military equipment will be issued in the coming days and sent to the Security Council to assess possible sanctions against Cuba.
Havana-based diplomats linked to the Security Council offered more details about the investigation, which focused on interviews with government officials and officers of the Armed Forces to determine how the aircraft, Mig -21s, rockets and explosives found below 10 thousand tons of sugar were delivered to the ship.
"They [the experts] did their work with the full cooperation of the authorities, I think the visit was very positive," said one Western diplomat from Havana.
The source, who requested anonymity, said the visitors thanked the government for having maintained a "frank attitude" during the investigation.
The visit ended just 48 hours before the Cuban Foreign Minister Bruno Rodriguez Parrilla traveled to New York to speak before the UN General Assembly, which on Tuesday will vote on a new resolution to condemn the US embargo against the island.
Cuban Foreign Minister in NY
Rodriguez was received in the early hours of Monday in New York by the Cuban UN representative, Rodolfo Reyes. It is not expected that his speech to the plenary will include references to the incident of the North Korean ship.
Although a sanction on Cuba regarding weapons found in the Chong Chon Gang seems inevitable, hosting the visit by Security Council experts eases somewhat latent tensions and opens a window to a complicated resolution in the case.
Cuba has maintained a long silence on the incident, after an official statement that described the cargo occupied by the Panamanian authorities as "obsolete defensive weapons" to be repaired and returned to the island.
But Panama officials have brought to light that some of the weapons had been recently used and were combat ready, as well as the discovery of a considerable amount of undeclared explosives.
The expert panel of the Security Council was created in 2009 to investigate the sanctions imposed on North Korea after its repeated threats to build nuclear weapons.