Cuba's Yoan Moncada Signs with Red Sox for $31.5 Million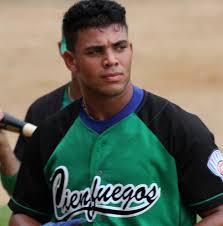 HAVANA TIMES (dpa) — Cuban baseball player Yoan Moncada received the largest bonus ever for the signing of an international amateur player for signing with the Boston Red Sox for a total of about US $31.5 million, said MLB.com on Monday.
According to the article on the website of Major League Baseball (MLB), Moncada, 19, "will receive a signing bonus in excess of the 8.27 million received by the Cuban Yoan Lopez from the Arizona Diamondbacks in January."
Moncada has been one of the most sought after prospects during the Major League postseason. Up to ten teams were attempting to land him during the six weeks before he opted for the Red Sox.
He can play second base, third and shortstop and debuted with Cienfuegos of the Cuban League at age 17.
Unlike many of his countrymen, Moncada did not escape the island or desert from an international tournament to seek residence in another country. Instead he was given a release from his team. The government of Cuba gave him a passport and he left legally by plane in July of last year to a Central American country, from where he trained and received scouts from major league teams.
On February 3, according to MLB.com, Moncada became a free agent, allowing him to sign with a MLB team.
Following the resumption of diplomatic relations between the US and Cuba, MLB already announced this month that it will no longer require the permission of the US Treasury Department to sign a Cuban player.
Now the only thing required is an affidavit from the player that ensures he will not return to the island and that he is not a member of the Cuban government or the Communist Party. Moncada is the first Cuban to sign under the new guidelines.
The Cuban ballplayers are breaking wage records left and right. In December, 2014, Yasmany Thomas signed a six year contract with the Arizona Diamondbacks for $ 68.5 million.
However, Thomas did not exceed the record for the most amount of money in a first contract for a foreign player, which is in possession of his compatriot Rusney Castillo, who in August 2014 agreed to join the Boston Red Sox for $72.5 million.
Now Moncada joins Castillo in Boston, which will increase the number of Cuban players above the 25 who played in the majors last season.