Drugs and Internet Devices Seized from Cuba Travelers
Fabian Flores  (Cafe Fuerte)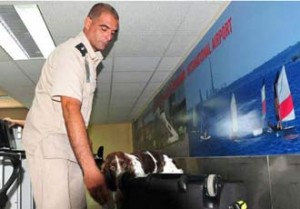 HAVANA TIMES — If you travel to Cuba this summer, be sure you know the contents of any package someone asks you to carry in your luggage for them. Cuban customs authorities are now on the lookout and you could suddenly find yourself in a tight spot.
Cuban customs recently divulged further information on its current battle against packages for third parties, issuing warnings about cases in which drugs and Internet communication equipment were seized from the luggage of travelers.
In a video made for Cuban television and uploaded to the webpage of Cuban customs, authorities reveal that, of the 19 cases of drug smuggling reported this year by the Jose Marti International Airport, 13 involved packages sent by third parties.
The figure is high if we consider it was issued before the end of the first half of the year. In 2013, Cuban customs detected and frustrated 43 attempts to introduce drugs into the country, 35 of which involved operations at Havana's airport.
"We've found that the drugs are being concealed in toys, ceramic objects and flashlight batteries," said Jorge Jimenez Cabrera, head of customs at Terminal 3 of the Jose Marti International Airport.
Drugs in Household Appliances
Cuban authorities have also found drugs in household appliances, personal hygiene products, computer desk shelves and packaged food products.
Anti-drug efforts are coupled with a hunt for any devices that could be used to skirt restrictions on Internet use on the island.
"Authorities have seized satellite reception system, wireless communication devices, Wi-Fi systems and systems for interconnecting networks," Jimenez Cabrera added during a television interview.
Drugs and Internet connection technologies are two of the main targets in Cuba's current customs searches. In the report, Maydel Tarre Cala, head of legal affairs for customs, explained that, following the detection of such violations, the cases would be referred to the competent authorities, and travelers could be charged as accomplices or the perpetrators of acts contraband or drug trafficking.
The issue was discussed by the Commission for Constitutional and Juridical Affairs, which convened prior to the plenary session of the legislature on Saturday. Drug trafficking, the trafficking of hard currency and precious metals and the contraband of cultural heritage items, were among the chief crimes included in a report drawn up by customs, in conjunction with Cuba's National Revolutionary Police (PNR), in connection with the fight against these criminal activities at the country's different points of entry.
Two Women From Miami
Only a week ago, on June 28, two women from Miami were arrested upon arrival on charges of attempting to introduce marihuana into the country through packages they carried for third parties. The two are in a Cuban prison waiting for their cases to be cleared up.
Customs Resolution 24/2007 establishes that travelers are not authorized to carry items for third parties, unless these abide by current legislation. Those who risk transporting such items assume the administrative and legal repercussions stemming from the nature of their contents.
Tarre Cala explained that, following the detection of such violations, the cases would be referred to the competent authorities, and travelers could be charged as accomplices or the perpetrators of acts contraband or drug trafficking.
Last year, the PNR reported that, since 2011, it had conducted 15 investigations implicating Cubans residing abroad in attempts at introducing synthetic cannabinoids into the country for the purposes of selling them as drugs.
The Central Criminalistics Laboratory of the Cuban Ministry of the Interior identified 11 different formulas of synthetic cannabinoids and 25 commercial variants, contained in envelopes of anywhere from 1 to 10 grams.
An Eye on Incense Packages
Drugs have also been found in dietary supplements and condiment bottles or concealed in incense and beverage packages.
"Thanks to the effective work of customs authorities, a greater number of drug trafficking operations, chiefly conducted via air routes, have been frustrated. The drugs were destined to the internal market," a text published in the customs webpage reads.
The article adds that, for "regular drug consumers" who come into the country, current customs regulations establish three measures: an official, written warning, the confiscation of the substance and a fine of 100 Cuban Convertible Pesos (CUC) – 200 CUC if the traveller has marihuana seeds in their possession.
Daniel Noa Monzon, chief inspector of the Customs Fraud Department, pointed out that the drug most commonly brought into the country is cocaine (arriving from South America), followed by marihuana and so-called synthetic cannabinoids (herb cuttings impregnated with synthetic substances that produce effects similar to those of marihuana). The latter are brought chiefly from the United States.
At the airport, customs uses ion and body scans and X-ray equipment for dispatched and carry-on luggage, as well as canines.
At the end of May, Cuban customs published its first warning regarding the carrying of packages for third parties and announced it could entail criminal prosecution for travelers. Unofficial rumors of new weight restrictions for luggage arriving from the United States have also begun to circulate.