Eastern Cuba Seas to Swell from TS Isaac
by Circles Robinson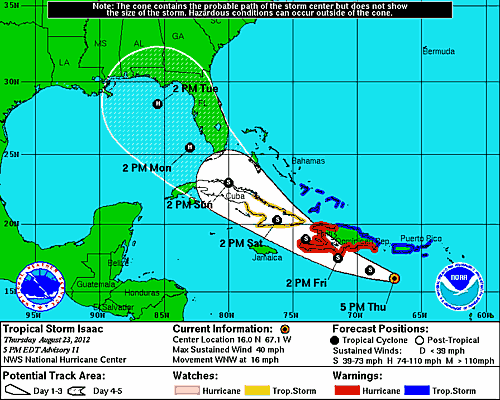 HAVANA TIMES — As Tropical Storm Isaac churns swiftly into the mid Caribbean a warning is out for heavy seas on the northeastern coast of Cuba with possible flooding in low-lying areas beginning Friday afternoon.
The Cuban Weather Service INSMET issued its latest report at 6:00 p.m. local time (EDT) reporting that Isaac maintains 40 mph winds and a central pressure of 1003 millibars.
The storm has slightly picked up its movement speed to 16 mph.
The center of the storm was located by the Cuban forecasters at 180 miles south-southwest of San Juan, Puerto Rico and 230 miles southeast of Santo Domingo, Dominican Republic.
The National Hurricane Center (NHC) in Miami reports that a hurricane warning is in effect for all of Haiti and the southern cost of the Dominican Republic.
A tropical storm warning is in place for Puerto Rico as well as the British and US Virgin Islands, the southeast Bahamas and the Turk and Caicos Islands and the north coast of the Dominican Republic.
Cuba's Eastern provinces from Camaguey to Guantanamo are under a tropical storm watch at this point, while waiting to see the further development of TS Isaac.
The NHC is currently predicting that Isaac could have hurricane strength before approaching the Florida panhandle early next week.
Havana Times will bring you its next report on Tropical Storm Isaac at 8:00 a.m. EDT on Friday.