Ecological Boat Carries Out Mission in Cuba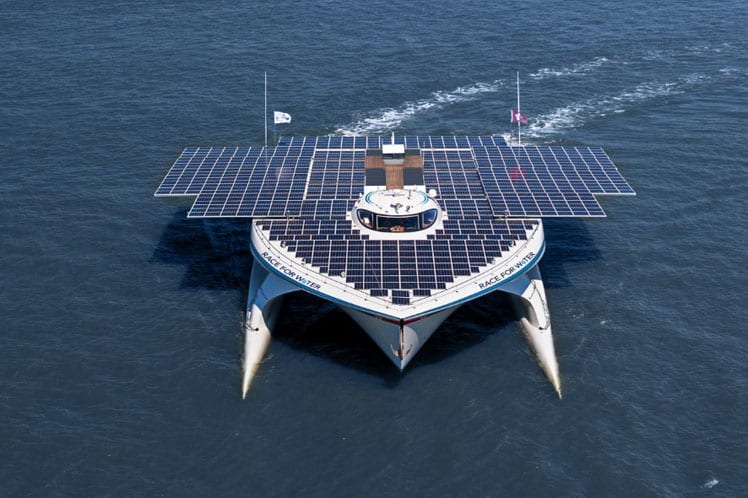 HAVANA TIMES – With a futuristic design covered with solar panels, the Swiss ship "Race for Water Odyssey" docked in the port of Havana with the aim of exchanging with Cuban scientists about the contamination of the oceans with plastic debris, reports dpa news.
"Cuba is an island and therefore it is important to manage the waste at sea and also to know the best way to preserve the ocean," said Camille Rollin, spokeswoman for the "Race for Water Odyssey" foundation.
The ship is considered the largest hybrid catamaran in the world, using only clean and renewable energies such as solar and hydrogen in its propulsion system.
The deck is occupied by more than 500 square meters of solar panels, while hydrogen is obtained from sea water and also adds a type of kite that when deployed doubles the speed of the ship with the force of the wind.
The vessel arrived in Cuban waters on Thursday night from the Bahamas and will remain on the island until August 8. During its stay in Havana it will receive school visits and hold workshops with Cuban scientists.
"The 'Race for Water Odyssey' project seeks to find solutions and share experiences around the global problem of pollution of the oceans with plastic waste," said Serge Pittet, director of the foundation.
The stay of the boat will be used by the Center for Environmental Studies of the central Cuban province of Cienfuegos, who will be able to know first-hand the technology that is used to determine the type of plastic in the oceans and how this problem is handled.
"New ideas, innovations, proposals, solutions, are profitable through the exchange of ideas, experiences and visions," said the Swiss ambassador to the island, Marcel Stutz, during the presentation of the boat.
Among the objectives of the "Race for Water Odyssey" foundation is the promotion of innovative solutions capable of transforming plastic waste into energy resources.
The catamaran began its journey in 2015 with a team of 15 people, including the five crew members who operate it. For five years they will tour the world and their next destination is the Dominican Republic.