Fidel Castro Attends Art Opening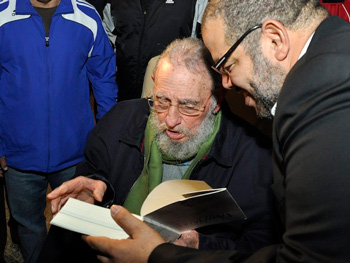 HAVANA TIMES — Former Cuban President Fidel Castro was out in public in Havana on Wednesday evening for an art opening, reported dpa news.
Castro, 87, attended the opening of an art space in Havana's Playa district, noted the Cubadebate official website.
The only image shown of Castro was with his back to the camera, pointing to an art installation.
The Cuban leader, retired from power since 2006, has become active in public in recent weeks after months of silence.
After nearly 8 months out of the public eye, in December the official press published photos of him at home with the Venezuelan President Nicolas Maduro and during a visit to him by the Franco-Spanish intellectual Ignacio Ramonet.
Castro also published an article honoring the late South African President Nelson Mandela.
The former President delegated power to his brother Raul in 2006 after suffering a severe intestinal disease. In the early years after giving up office he frequently published opinion pieces in the Cuban press, increasingly scarce in recent times.