German Ambassador Expelled from Venezuela
By Ella Joyner and Sinikka Tarvainen (dpa)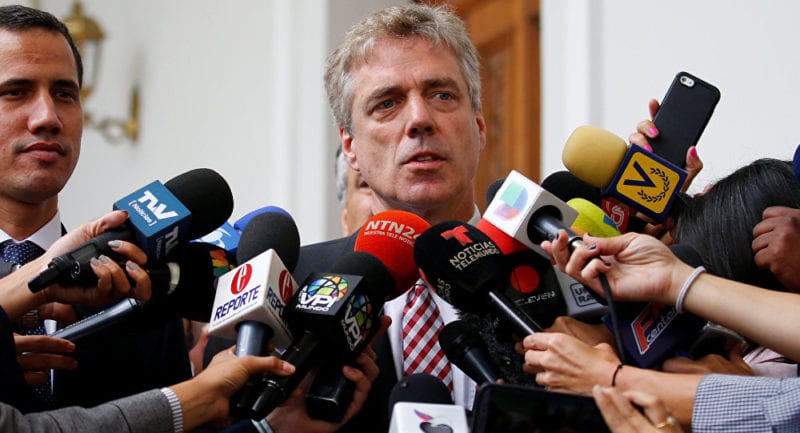 HAVANA TIMES – Germany's ambassador to Venezuela was declared a persona non grata on Wednesday, as Caracas said that Daniel Kriener had intervened in the country's internal affairs.
The ambassador had acted "in clear contravention of the norms that govern diplomatic relations," Venezuela's Foreign Ministry stated on its website.
Germany is among the countries backing opposition leader Juan Guaido, who is trying to oust President Nicolas Maduro from power. Kriener was among European diplomats waiting for Guaido at Caracas airport when he returned from a Latin America tour on Monday.
The diplomats were believed to have wanted to pressure the government not to arrest Guaido.
The Foreign Ministry did not give concrete details on Kriener's alleged interference, but said Venezuela would not accept a foreign diplomat acting "in clear alignment with the conspiracy agenda of extremist sectors of the Venezuelan opposition."
The German Foreign Ministry confirmed the declaration of the ambassador as persona non grata. "We are currently coordinating our next steps, also with our partners on the ground," a ministerial spokeswoman said.
Kriener assumed his ambassadorial post only last year but must now leave the country within 48 hours.
Venezuela's military intelligence service, meanwhile, detained a US journalist who reported from Caracas, the Venezuelan journalists' trade union SNTP said.
Intelligence officials searched the residence of Cody Weddle, confiscated his equipment and took him away, the union tweeted.
Weddle is a freelance journalist who has lived in Venezuela for four years, reporting for outlets including ABC and the Miami Herald, according to his Twitter account.
Maduro's government arrested and deported several foreign journalists recently, accusing them of not having the permits needed to work in Venezuela.
German journalist Billy Six has been in custody in the country since late last year on charges of spying and rebellion.
US National Security Adviser John Bolton on Wednesday reiterated that Washington supports Guaido in his search for a democratic transition and "is pursuing several new diplomatic and economic initiatives in support of that transition."
"The United States is putting foreign financial institutions on notice that they will face sanctions for being involved in facilitating illegitimate transactions that benefit Nicolas Maduro and his corrupt network. We will not allow Maduro to steal the wealth of the Venezuelan people," Bolton said in a statement.
The United Nations High Commissioner for Human Rights, Michelle Bachelet, meanwhile expressed concern about "a spiral of accelerating and strongly negative trends" in the South American country.
"The situation in Venezuela clearly illustrates the way violations of civil and political rights – including failure to uphold fundamental freedoms, and the independence of key institutions – can accentuate a decline of economic and social rights," Bachelet told a session of the UN Human Rights Council in Geneva.
"It also shows how those swiftly deteriorating economic and social conditions give rise to even more protests; even greater repression; and further violations of civil and political rights," she added.
The situation has been exacerbated by international sanctions, and "the resulting current political, economic, social and institutional crisis is alarming," Bachelet said, announcing a deeper discussion of the country's human rights situation on March 20.
Venezuela's political crisis has escalated since Guaido, who heads the opposition-dominated National Assembly, declared himself interim president in January.
Dozens of countries are backing Guaido, who wants Maduro to resign and fresh elections to be held.
Maduro, who won a second 6-year term in an election boycotted by most of the opposition last year, has presided over a massive economic crisis.
Inflation is running at millions of percent, large numbers of people are facing food and medicine shortages, and millions have fled the country.
Guaido's attempt to bring humanitarian aid into Venezuela was blocked by the army last month.