Government Discredits and Refuses Access to OAS Working Group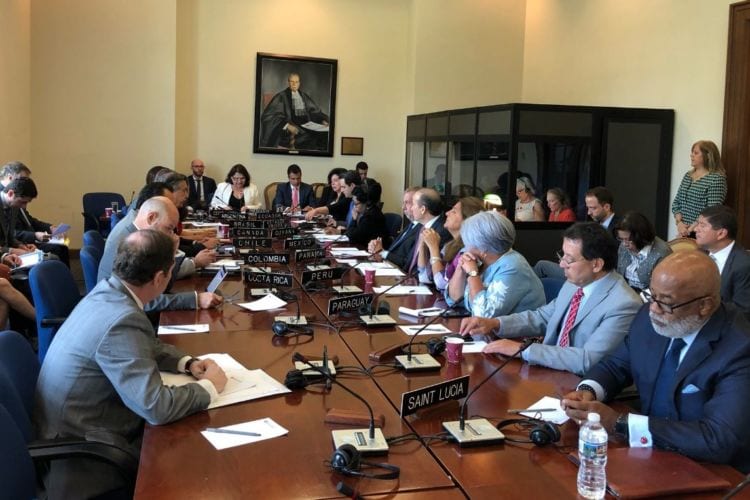 "They aren't welcome," official statement claims.
They claim that the "interventionist" working group is led by Washington and its presence in Nicaragua is unacceptable.
HAVANA TIMES – Daniel Ortega's Government has declared the presence of a Working Group for Nicaragua created by the Permanent Council of the Organization of American States (OAS) "unacceptable", which they called "interventionist" and went on to say that they wouldn't open their doors to let them follow the crisis that has gripped the country, the bloodiest since the '80s.
"The National Reconciliation and Unity Government of Nicaragua declares the presence of the interventionist commission, created on Thursday August 9th by the US Government in the Organization of American States, in our country unacceptable," Ortega's administration pointed out in a statement.
The Government has stressed that this Working Group was made up by and being led by the US Government, from the OAS, in their eagerness "to continue intervening in Nicaragua's internal affairs," and so "they are not welcome in our country."
"Therefore, they will not be received in our homeland," said the Ortega government.
The Government explained that these statements were issued "in accordance with Nicaragua's sovereign security policies, codes of national dignity, "and respect for state decisions."
The creation of the Working Group, which seeks to support the national dialogue process and contribute towards finding solutions to the crisis that Nicaragua is currently facing, was approved on August 2, via a resolution which received backing from 20 of the OAS' 34 active member states.
The Commission is made up of representatives from Argentina, Brazil, Canada, Chile, Colombia, Costa Rica, Ecuador, United States, Guyana, Mexico, Panama and Peru, and intends to collaborate in the national dialogue process in this Central American country and articulate support, monitoring and verification measures.
Ever since April 18th, a socio-political crisis has broken out in Nicaragua which has left at least 317 people dead, confirmed by the Inter-American Commission on Human Rights (CIDH), which has also been discredited by the Ortega government.
Protests against Ortega and his government began after social security reforms were announced and they became a demand for him to renounce the presidency, after 11 years in power, because of accusations of abuses of power and corruption.
(Information taken from EFE)