Havana Weather for August 25-31
Expect some rain
By Yanet Diaz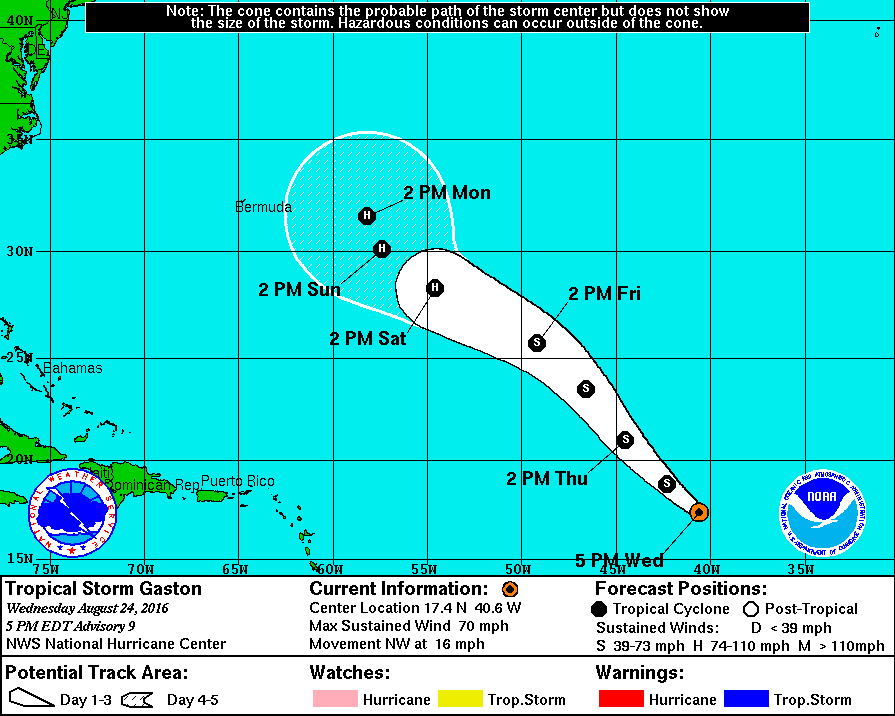 HAVANA TIMES – A slight deterioration in weather conditions over the weekend is expected, thereby increasing the chance of showers and thunderstorms. Predominate moderate trade winds, with speeds between 15 and 25 km/h, and slightly stronger in the afternoons.
Maximum temperatures will be between 32 and 34° C (90 and 93 F) and the lows ranging between 23 and 25° C (73 and 77 F). The sea surface temperature will be stable at 29° C (84 F).
Meteorological conditions:
Tropical Storm Gaston has intensified in the last few hours, west of Cape Verde and it continues to move northwest at about 30 km/h, having sustained winds of 70 mph and gusts up to 90 mph . Meanwhile, in the eastern Caribbean a tropical wave embedded in a low surface pressure and is causing convection over the whole arc of the Lesser Antilles. This system is likely to become a tropical cyclone during the next two days, as it continues moving west-northwest with convection, winds and rain associated with it, deteriorating weather conditions along its path.
Weekly forecast valid from Wednesday August 24
Thursday, August 25, max 33° C (91 F) min 23° C (73 F)
Partly cloudy, rainy afternoon
Friday, August 26, max 34° C (93 F) min 24° C (75 F)
Partly cloudy
Saturday, August 27, max 32° C (90 F) min 24° C (75 F)
scattered showers
Sunday, August 28, max 33° C (91 F) min 24° C (75 F)
scattered showers
Monday, August 29, max 33° C (91 F) min 24° C (75 F)
Partly cloudy, rainy afternoon
Tuesday, August 30, max 33° C (91 F) min 25° C (77 F)
Partly cloudy
Wednesday, August 31, max 33° C (91 F) min 25° C (77 F)
Partly cloudy