Isaac Leaves Cuba, But Stays Close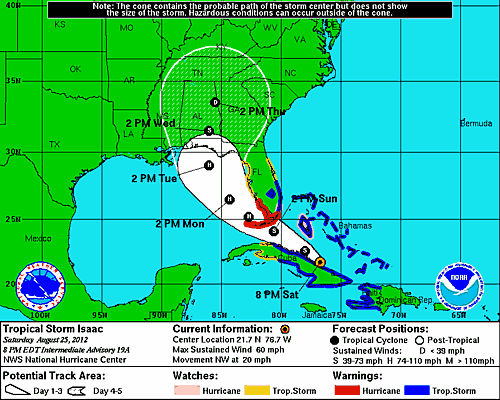 HAVANA TIMES — The center of Tropical Storm Isaac left Cuban territory near Guardalavaca, Holguin at 4:00 p.m. on Saturday afternoon with no loss of life or serious injuries reported thus far.
At 8:00 p.m. local time Isaac was located by the National Hurricane Center (NHC) at 80 miles (130 km) east-northeast of Camaguey, Cuba and 375 miles (605 km) east-southeast of Key West, Florida.
Currently packing 60 mp/h winds (95 kp/h) Isaac will continue to bring rains, at times intense in the eastern provinces of Cuba especially in mountainous areas, warns the Cuban Weather Service (INSMET).
The forecasters note that the rains will extend to the central provinces of the country by Sunday.
Heavy sea swells dangerous for navigation and coastal flooding in low lying zones will take place during the next 12-24 hours in parts of the southern and northern coasts of central and eastern Cuba.
With Isaac's continued close proximity to the island the Civil Defense authorities advise the population to remain attentive of any orientations.
Isaac made a landing on Cuban soil shortly after 11:00 a.m. local time near Punta de Maisí in the far east of the island.
The Cuba News Agency reported over a thousand residents of Baracoa, Guantanamo evacuated as well as a total power outage there with electric posts and lines down on the transmission line coming from Moa, Holguin.
Losses in agriculture and any housing or economic infrastructure damage will be made known in the coming days.
Isaac is expected to continue on a northwest track and gain in strengh to become a hurricane by sometime on late Sunday or early Monday en route to a new landing possibly on the  Florida Panhandle.