Isla de la Juventud Forces Ciego de Avila to Play Game 7 on Saturday
By Ray Otero (baseballdecuba.com)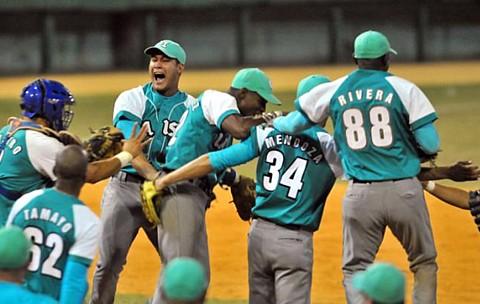 HAVANA TIMES — Against the wall, the Isla de la Juventud Pirates managed a 5-3 win over Ciego de Avila on Friday to force a deciding game seven of the Cuban baseball championship series on Saturday afternoon at 4:15 p.m. in Ciego de Avila.
Playing aggressively, Isla managed to get their first batter on base in eight of the nine innings. Ciego starter Alain Sanchez only lasted 2/3 inning after allowing two runs on hits to Julio Pablo Martínez, Rigoberto Gómez and Jorge Luis Barcelán, the last a double.
It was a lead the Pirates would never relinquish, adding two more in the second inning off left-handed reliever Leorisbel Sanchez.
But it wasn't so easy for the winners, as their starter, lefthander Darien Nuñez, was once again the victim of poor control. After three walks he had to go to the showers having managed only one out in the first inning.
Isla manager Jose Luis Rodriguez was fortunate that his first reliever, Javier Vazquez, was at his best, going 5.2 innings before giving way to closer Hector Mendoza, who allowed two runs in the ninth but managed to save the game with his three inning performance.
Julio Pablo led the Isla offense with 3-for-3 and two runs scored, along with Rigoberto Gomez 3-for-5 with two RBIs.
The pitchers announced for the decisive game seven tie-breaker are Yander Guevara for host Ciego de Avila and Yoelkis Cruz for Isla de la Juventud.