Justin Bieber Says He's in Cuba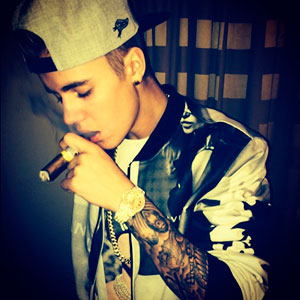 HAVANA TIMES — Justin Bieber says he is somewhere in Cuba today, possibly getting away from the legal mess created by some eggs splashed on the house of his neighbor in Calabasas, California.
The highly popular 19-year-old Canadian pop star said on the Instagram social network today "I'm in Cuba and I love Cubans."  He did not say where exactly he is in Cuba nor how long he would be staying on the island.  He posted a photo of himself smoking a Cuban cigar.
While the leading official Cuban website, Cubadebate.cu, said there was no confirmation of Bieber being in Cuba, the truth is that nobody enters the island without being registered by Cuban immigration authorities.
Justin's home was searched by authorities on January 14 in connection with the egging incident.  Since the raid Justin has been snowboarding in Aspen, partying at a Miami strip club and now says he is visiting Cuba.
Editors Note: On Thursday several news sources are reporting that Bieber was arrested while driving under the influence of alcohol on Wednesday night in Miami. Neither these sources, the Cuban media or Bieber have confirmed or denied the singer's statement that he had been in Cuba.