Lenin Moreno Ahead in Ecuador Presidential Elections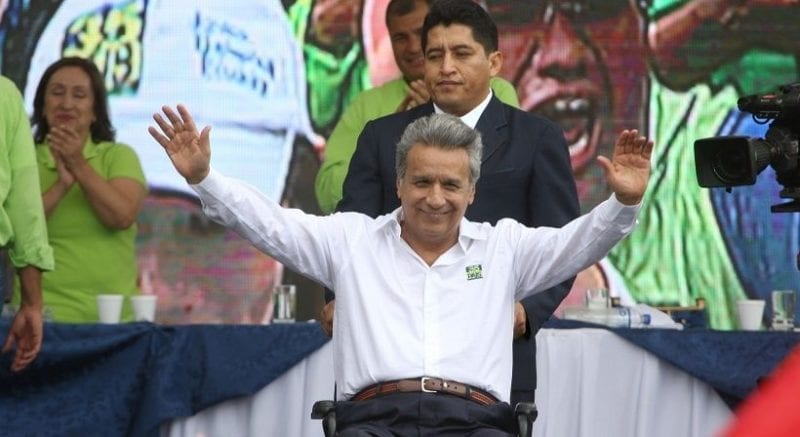 HAVANA TIMES –  The governing party candidate, Lenin Moreno, is close to becoming the new Ecuadorian president, according to preliminary data released by the National Electoral Council (CNE) with 94.18 percent of the votes counted today, dpa reported.
The CNE indicated that 51.07 percent of valid votes correspond to Moreno and 48.93 so far to the conservative Guillermo Lasso. In proclaiming these results the CNE did not officially award the victory to Moreno.
"Today the country decided at the polls," announced Council President Juan Pablo Pozo, who praised "the democratic decision of the people at the polls," noting that citizens "spoke in peace."
"There has not been a gift of a single vote here," Pozo said of the CNE's scrutiny work.
The electoral body indicated that the number of votes reached thus far by Moreno is 4,823,513 and that of Guillermo Lasso is 4,621,654, a difference of around 200,000 votes.
For his part, Lasso said tonight in statements to local television that he does not accept the results and that he will contest them.
For its part, the private NGO Citizen Participation announced the investigation of a quick count, which did not yield results, but its president Ruth Hidalgo said there was "a technical tie" with a difference of 0.6 percent.
"We have completely accurate data. We won the elections!"Moreno told a crowd of supporters gathered at a hotel in the capital, where he followed the course of the scrutiny.
After the polls closed, the pollsters showed opposite results from the exit polls, which gave triumphs to the two contenders.
After the CNE pronouncement, Moreno said that in his government he will increase the "quality and warmth in all programs" and said that tonight he made a "responsible commitment" with all Ecuadorians.
Hundreds of sympathizers from each political faction were separated by the Police outside the CNE headquarters in Quito, in a vigil to guard the votes.