New Charges Fabricated against Nicaraguan Demonstrators and Released Prisoners
The regime seeks to disguise the political prisoners and keep them in prison.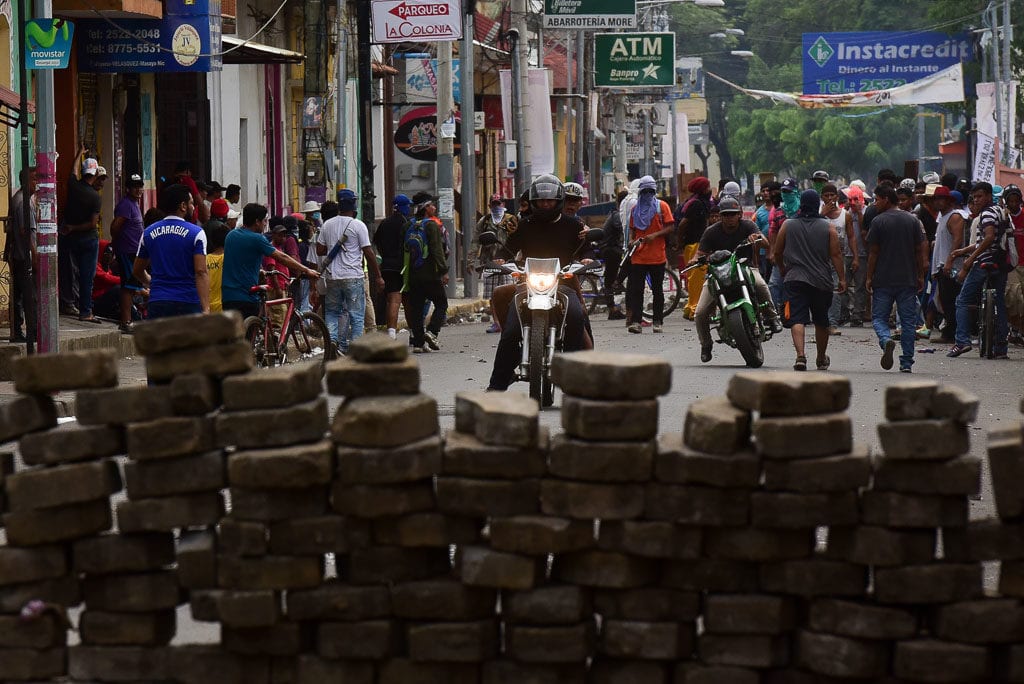 "They want to add other charges just to harm us more," complains Bryan Aleman, released political prisoner.
By Maynor Salazar (Confidencial)

HAVANA TIMES – Bryan Aleman was rearrested by the police and transferred with violence to the Masaya police station on March 19th, four days after being released from jail. In the police station, the agents warned him that if he didn't cooperate by informing on those who continued leading the flash protests in that city, they wouldn't leave him or his family in peace.
"I told them that I didn't know anything, that I just got out of jail. They said: 'You don't want to cooperate? Then we'll just give you another problem. We'll add a new accusation, so that you can't get out.' I told them: 'Do whatever you want. I don't know anything about what you're asking me.' They got mad and left me in jail for four days," recounts the 20-year-old.
Aleman was captured for the first time in July 2018, and he spent eight months in the La Modelo jail in Tipitapa. His case, in which he's accused of terrorism, illegal arms possession, aggravated theft, simple kidnapping and supposed participation in the burning of the Masaya mayor's office, is still open.
Adding new crimes
When he got out of jail on March 23, his lawyer informed him that now he was also being accused of attempted murder in the case of Julio Cesar Amador Garcia, and that he should appear at the initial hearing this May 14.
"They want to put this charge on me purely on a whim, because I wouldn't collaborate with them. That event they're talking about never happened, I don't even know that man," Aleman asserts.
Veronica Nieto, his lawyer, agrees that the new accusation proves that the government has no intention of freeing the political prisoners, and estimates that the opening of new charges is to imprison them once again for common crimes.
"The political prisoners who've been released feel that they've merely had a change of setting, since they're spied on constantly by the police and also by civilians who come by on motorcycles. That harassment is just a continuation of the psychological torture," Nieto adds.
Bryan is the first political prisoner who has been accused of another, common, crime after being released from jail. The accusation hinders his total liberation through the agreements signed by the Civic Alliance and the government during the negotiation sessions that are currently at an impasse.
Between February 27 and April 16, some 240 political prisoners have been released from the prison setting to house arrest or family coexistence. The latest ones to be released (around 70 prisoners) are apparently fully free, but none of them have a document of confirmation.
"They want to add other charges just to harm us more. They're not leaving us in peace," Aleman complains. His lawyer maintains that the new accusations should also be considered political.
New strategy
In addition to opening new legal processes against those released, the regime is also accusing other demonstrators of common crimes.
Julio Montenegro, lawyer for the Permanent Commission for Human Rights, analyzes that the objective is to reduce the visibility of these trials, so that the citizens aren't included in the lists of political prisoners.
In the last two weeks, Montenegro has received some 80 complaints from demonstrators accused of theft, drug possession, or other common crimes. The majority of these don't figure in the denunciations of the human rights organizations.
"The majority have had common crimes imputed to them, crimes that we feel have not really been committed," he affirms. In Montenegro's judgement, this new strategy in the criminalization of protest is to press charges for common crimes against those who facilitated water, food or medicine during the protests.
Montenegro explains that the registry is now becoming difficult, because family members opt not to expose the underlying political cause, but to follow the legal process established for common crimes.
"If this isn't stopped, there'll be an incomplete registry of the political prisoners who've been tried for common charges. It makes the persecution imperceptible," he states regretfully.
The case of "The she-wolf"
Edward Enrique Lacayo, known in Masaya as "The She-wolf", was arrested by hooded men in civilian clothes on March 15 in the town of El Ostional, Rivas department, when he was fleeing towards Costa Rica. Edward was a leader of the Monimbo protests; after the government's "Operation Clean-up" in July of 2018, he went into hiding to avoid capture. Now the police assert that they've detained him with six blocks of cocaine, and they accuse him of drug trafficking.
Montenegro, his lawyer, affirms that Edward was carrying only his clothes and that he wasn't detained by the police, but by hooded civilians "who don't have the legal authority to make arrests."
Esthela Rodriguez, Edward's mother, adds that he's innocent, and that they're accusing him to get revenge. She has also had to leave Masaya. "When I learned that he'd been arrested and that they were accusing him falsely, I screamed. It was horrible what I felt, indescribable beyond measure. Right up until now, I'm still in shock," she says.
Rodriguez has denounced the case to the Permanent Commission for Human Rights and confirmed that her son is in the La Modelo prison, together with the common prisoners. "I'm afraid that they'll have him killed," she says.
Montenegro regrets that the political prisoners continue to be "pieces in a board game" for the political negotiations.